First Limousin Prize Show & Sale Report
In what is hoped will be an annual event, the first Limousin Society Prize Show and Sale took place at the Bishops Castle Sale of Suckled Calves and Weanlings on Thursday 21st November.
Will Forrester, of the British Limousin Cattle Society Council, attended to present the prizes and commented: "Bishops Castle Market is very well known for the high quality of the livestock it sells and, as there is a proliferation of Limousin breeders in the area, the Council felt is was the ideal venue to sponsor its first Prize Show.
"Farmers have a lot to contend with and more work than ever is needed to support them. This Prize Show will help raise the profile of the breed and we'd like to follow up the sales made today to demonstrate what these calves can achieve as store cattle. We know that at almost every fat stock market the top price will be a Limousin, it's a perfect butcher's breed and we like to encourage more farmers to raise them."
Judge, Ben Attewell, who farms at Magor in Monmouthshire, commended the quality of the stock and said: "We buy calves from all over England and Wales and are particularly attracted by the cattle shown at Bishops Castle. There are a large number of calves here and they're well suited to the spec we wish to purchase for onward sale.
"Limousins perform consistently, and well, on our farm system for both steers and heifers, however other breeds are gaining ground fast and it will be interesting to see if the Limousin continues to dominate."
Michale Cursiter, Chairman of The Limousin Society said the Society was pleased support the show and sale of Limousin cattle at Bishop Castle, adding: "When you view the pens filled with quality stock sired by Limousin bulls you can see why the carcass breed tops the sales the length and breadth of the British Isles.
"The Limousin society would like to thank the commercial breeders for supporting this event and using Limousin bulls."
The Overall Champion prize of £100 went to local breeder, Simon Bedell, whose father, Jack Bedell, was one of the first to introduce Limousins into the UK almost 50 years ago. Ben Attewell said: "Congratulations to Simon, who showed a pen of very good, structurally correct butchery heifers with a superb temperament, mobilty and growth."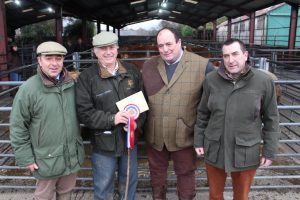 Prize winners were as follows:
1st prize heifers and overall champion – F. T. Bedell & Son, Linch House (320kg £810)
1st prize steers and reserve champion – M. & A. Powell, Drefor Farm (340kg £905)
2nd prize steers – J. A. Wood & Sons, Kinnerton (315kg £775)
2nd prize heifers – Bowen & Bowen, Penthryn (300kg £820)
3rd prize steers Bowen & Bowen, Penthryn (300kg, £785)
3rd prize heifers – J. A. Wood & Sons, Kinnerton (300kg £765)
James Evans, Auctioneer and Director of Halls said: "We were very pleased to host our first Limousin Society Prize Show and Sale and were delighted with the quality of the entry of suckled calves. Congratulations to Simon and the other winners and many thanks to our judge, Ben Attewell and Will Forrester from the Limousin Society Council for joining us."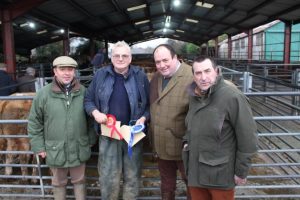 Following the Prize Show the judge, Ben Attewell, purchased the champion pen. There was a brisk trade, with a ring full of buyers with cattle going on to Merseyside, South Wales and further afield.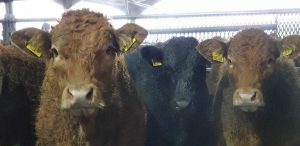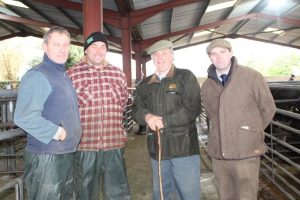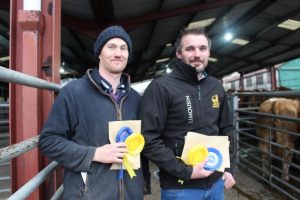 HEADLINE PRICES AND SALE REPORT
Overall, steers averaged 225p/kg and £750/head with highs of 271p/kg for a Limousin 340kg from F. T. Bedell & Son and £1140 for a Limousin 505kg from W. B. Harding, Hafan.
Heifers averaged 222p/kg and £746/head to a maximum of 302p/kg for a Limousin 300kg from M. & A. Powell, Drefor and £1200 for a Limousin 535kg from E. H. Pennie & Son, Gwern-Yr-Ychain