26,000GNS COW AND CALF TOP HOMEBYRES LIMOUSIN HERD DISPERSAL
The much-anticipated Dispersal Sale of the Homebyres Limousin Herd on behalf of Messrs John Logan, Kelso, Roxburghshire did not disappoint the large crowd of buyers and well-wishers that made their way to Borderway Mart, Carlisle on Saturday 30th November 2019.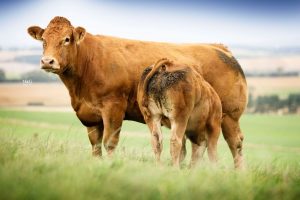 Leading the trade at 26,000gns was a cow and calf outfit comprising the four-year-old second calver Homebyres Lovely who sold with her bull calf at foot Homebyres Prodigy. Got by the 38,000gns AI sire Ampertaine Foreman, Homebyres Lovely is out of Homebyres Beauty who bred the 17,000gns Homebyres Ericson and who goes back further to the prolific Broadmeadows Dainsi who bred the 15,000gns Homebyres Drummie. Dainsi is a full sister to one of the great statesmen of the Limousin breed, Broadmeadows Cannon.  The 17,000gns Homebyres Lovely heads to DJ McKerrow & Son, Scottish Borders having run with Homebyres Iveson and AI'd to Goldies Nelson. Her seven-month-old bull calf, Homebyres Prodigy, was purchased for 9,000gns by WE Ralph, Wester New Forres Farm, Forres, Inverness and is by the AI bull Fieldson Alfy.
A catalogue packed with breeding and very genuine cattle, with a breadth of bloodlines plus strong maternal and growth performance figures throughout, 67 cows served and/or suckling averaged a tremendous £5,155 with served and maiden heifers levelling at £4,245 and £4,208 respectively. Overall, the sale grossed £534,660 for the Homebyres herd which was established in 1984. Said John Logan: "The Limousin breed seemed the obvious choice when we decided to establish our pedigree Homebyres beef herd back in 1984 with the purchase of the first of several maiden heifers. We have never regretted that decision with the breed rightfully going on to become the most popular in the UK."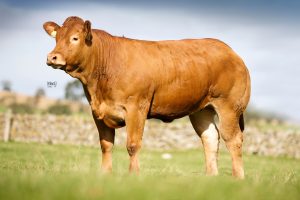 Maiden heifers were led by the 14,000gns Homebyres Nicity, a daughter of Larkhill Julius and out of Homebyres Duplicity who bred the 13,000gns Homebyres Fellboy. This two-year-old heifer was snapped up by an undisclosed buyer.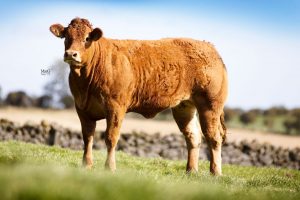 Two further maiden heifers made 10,000gns apiece. Once more featuring the top-priced Homebyres Lovely breeding was Homebyres Oddyssey, an AI daughter of Lowerffrydd Empire and out of Homebyres Lovely when knocked down to FC Tomlinson & Son Ltd, Springfield, Treswell Road, South Leverton, Notts. At the same figure was Homebyres Olive, again sired by Larkhill Julius and this time out of Homebyres Echinacea, being a full sister to the 10,000gns Homebyres Newman. She was bought by AL Campbell, Strawfrank Farm, Carstairs Junction who bought a further four lots including the 7,000gns Homebyres Meedie (Wilodge Cerberus x Homebyres Greedie) who sold with her Ampertaine Elgin-sired heifer calf at foot, Homebyres Peedie. Another heading to the Strawfrank prefix was the 5,500gns aforementioned Homebyres Echinacea who sold with her bull calf at foot, Homebyres Partner, an Ampertaine Gogolo son.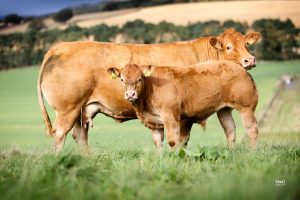 Back to the cows and calves and it was the seven-year-old Homebyres Hillie who made 8,800gns when purchased by PA Walker, Easterside, Dunnottar, Stonehaven. By Lowerffrydd Empire and out of Homebyres Frillie, she sold with her April-born bull calf, Homebyres Pace by Ampertaine Magnum, at foot and back in calf to either stock bull Homebyres Iveson or to the French AI sire Fenomen.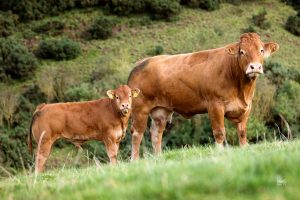 Two lots later and PR Walker & Son, Manor House Farm, Lund, Driffield took home Homebyres Honesty by the same sire but this time out of the Broadmeadows Dainsi daughter, Homebyres Udainsi. She sold with her Ampertaine Elgin-sired bull calf at foot, Homebyres Paxton, and in calf to either Westpit Highlander or Goldies Nelson. PR Walker later purchased Homebyres Mirtel (Ampertaine Forman x Homebyres Damsel) at the 7,000gns mark who was also sold with an Elgin son at foot, Homebyres Preston, with the dam back in calf to the same combination.
Also at 8,500gns when heading to MW Jack, Carriston Farm, Star, Glenrothes was another mother-and-son outfit – Homebyres Lady and Homebyres Poldark. Lady is by Cloughhead Umpire and out of Homebyres Firstlady with Poldark by the stock sire Westpit Highlander. At the end of the auction, Westpit Highlander himself sold to Iain Graham, Rose Castle Farm, Dalston, Carlisle for 8,000gns. Bred by A&J Gammie, this seven-year-old bull is by Netherhall Doubleoseven and out of Greenwell Dakota, by Vagabond.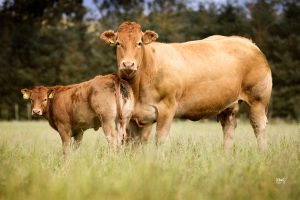 Calogale Beef Semen Sales, Ger Y Coed, Four Roads, Kidwelly, Carms were next in line for the 7,800gns Homebyres Jelossie who went under the hammer with her April-born heifer calf, Homebyres Pelosie by Ampertaine Magnum, at foot. Jelossie is five years old and by the Procters Commander son, Haltcliffe Eubank, and out of the Dolcorsllwyn Brynmor-sired Homebyres Flossie.
Making 7,500gns was the 14-month-old young bull, Homebyres Othello, by Lodge Hamlet and out of the Haltcliffe Underwriter daughter Homebyres Lucy. New owner is J Gilchrist, West Meikle, Pinkerton, Dunbar.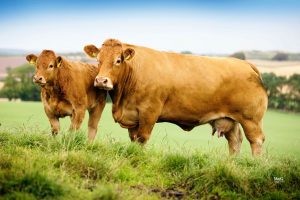 Two further animals made 7,000gns – each sold with a heifer calf at foot. These were the nine-year old in-calf cow Homebyres Floricity (Homebyres Vanhee x Homebyres Bodicity) to SE Field, Cornfield Farm, Cornfield Grove, Burnley; and the eight-year-old dam Homebyres Gigi (Homebyres Vanhee x Homebyres Didi) to R Holroyd & Sons, Shawcroft Farm, Wadsworth, Hebden Bridge.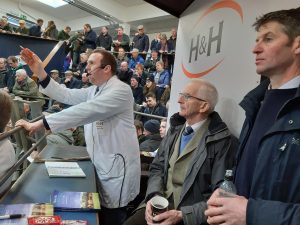 AVERAGES: 
67 Cows & Heifers served and/or suckling             £5,155.97
 7 Served Heifers                                                         £4,245.00
25 Maiden Heifers                                                      £4,208.40
 4 Embryo Calves with Recipients                            £4,200.00
 2 Stock Bulls                                                                £5,880.00
 5 Young Bulls                                                              £5,145.00
Auctioneeer: H&H