Adam Haughton's Limousin-cross Heifer Wins YFC Calf Wintering Competition
Limousins Take Top Three Profit Awards
Hexham & Northern Marts held their eleventh Annual YFC Calf Wintering Competition over two days 12th-13th March 2020 – once again proving a resounding success as Adam Haughton scooped the top price on the day of £1,850 as well as the greatest profit margin of £970.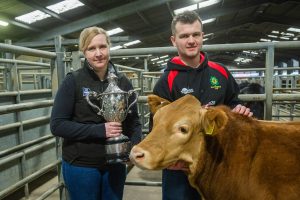 A total of thirty-two calves the majority being Limousin-crosses were purchased during October of last year by members of Young Farmers Clubs from the Northumberland, County Durham and Cumbrian Federations and these were overwintered at home before being brought back for sale through the same Hexham sale ring. New for this year, the British Limousin Cattle Society offered sponsorship in the form of prize money for the top three Limousin-sired cattle with the greatest profit margin.
A sale order had been pre-determined prior to the prize show so as not to benefit any of the prize winners for the profit margin aspect which was and remains the main focus of the competition since its inception by Hexham Mart in 2009.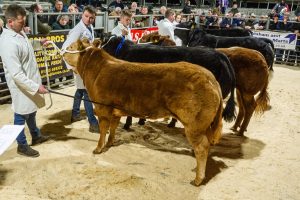 With trade for cattle seemingly sharper, a steadfast crowd of committed weekly buyers packed round the ringside and expectations were high down the alley of YFC cattle.  With purchase prices ranging from £605 to as much as £1160 (financed by Hexham & Northern Marts) the sale would prove how the young farmers purchases and overwintering practices would be judged by those wishing to acquire top-quality suckler bred store cattle.
With the outcome of the competition and the recipient of the impressive JS Hubbuck Ltd Trophy never established until the hammer falls on the final beast, the crowd in the ring swells with the sale of each beast as competitors, family, friends and breeders watch the young farmers enter the sale ring.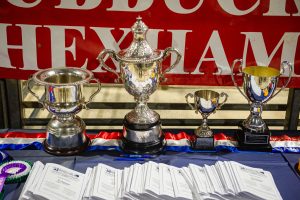 With interest from Aberdeen in the North to as far south as Mid-Wales and from almost every county in-between, trade was nothing short of exceptional for all the YFC cattle due largely to the generosity of the many regular buyers at Hexham.  Showmen, suckler herd masters and commercial finishers were all keen to encourage the young enthusiasts and the outcome was that the Hubbuck Trophy went home with a 'double' winning Adam Haughton as his earlier show champion took the top price of the day at £1,850 and also the greatest profit margin of £970 when selling to previous judges at this centre Messrs Edwards Bros, Betws Gwefil Goch, Corwen, Wales.
The inter-club competition for the club achieving the highest average profit margin was won by Haltwhistle YFC and the Limousin Cattle Society prizes were taken home by three members of the same club as follows:
1st – Adam Haughton Limousin x Heifer (£970)
2nd – Will Storey Limousin x Heifer (£670)
3rd – Kate Ogle Limousin x Heifer (£460)
Video to feature soon!