SCORBORO AND MIDDLEDALE DISPERSAL SALE REPORT
6,800GNS MIDDLEDALE JEWEL LEADS LIMOUSIN DISPERSAL SALE
THREE BIDS OF 6,000GNS TOP SCORBORO OFFERING
MAIDEN HEIFERS TO 4,200GNS FOR SCORBORO OASIS
SIX-MONTH EMBRYO CALF REACHES 3,000GNS
Two noted, long standing, Yorkshire-based Pedigree Limousin Herds, Scorboro & Middledale, were dispersed on Friday 21st August 2020 at Borderway Mart, Carlisle, resulting in a very solid trade for bloodlines which combined performance, breeding, and high-health status.
Leading the sale at 6,800gns was the 2014-born third calver, Middledale Jewel, consigned by Paul Byas, Middledale, Kilham, Driffield, East Yorkshire which went under the hammer with her heifer calf at foot, Middledale Pearl sired by Lodge Neon. Scanned back in-calf to the stock bull Lodge Neon, Jewel is sired by Griseburn Guardsman, a son of Carmorn Copilot, and out of Middledale Ermintrude, a daughter of the Rocky-sired Cowin Ace. Purchaser was David Brady for his Coolwynds Herd, Caledon Road, Drummond, Aughnacloy, Co Tyrone, N Ireland. A few lots earlier, Mr Brady had purchased the 2009-born mother, Middledale Ermintrude, who was sold with her Lodge Neon-sired bull calf, Middledale Rockstar, at foot for 2,400gns.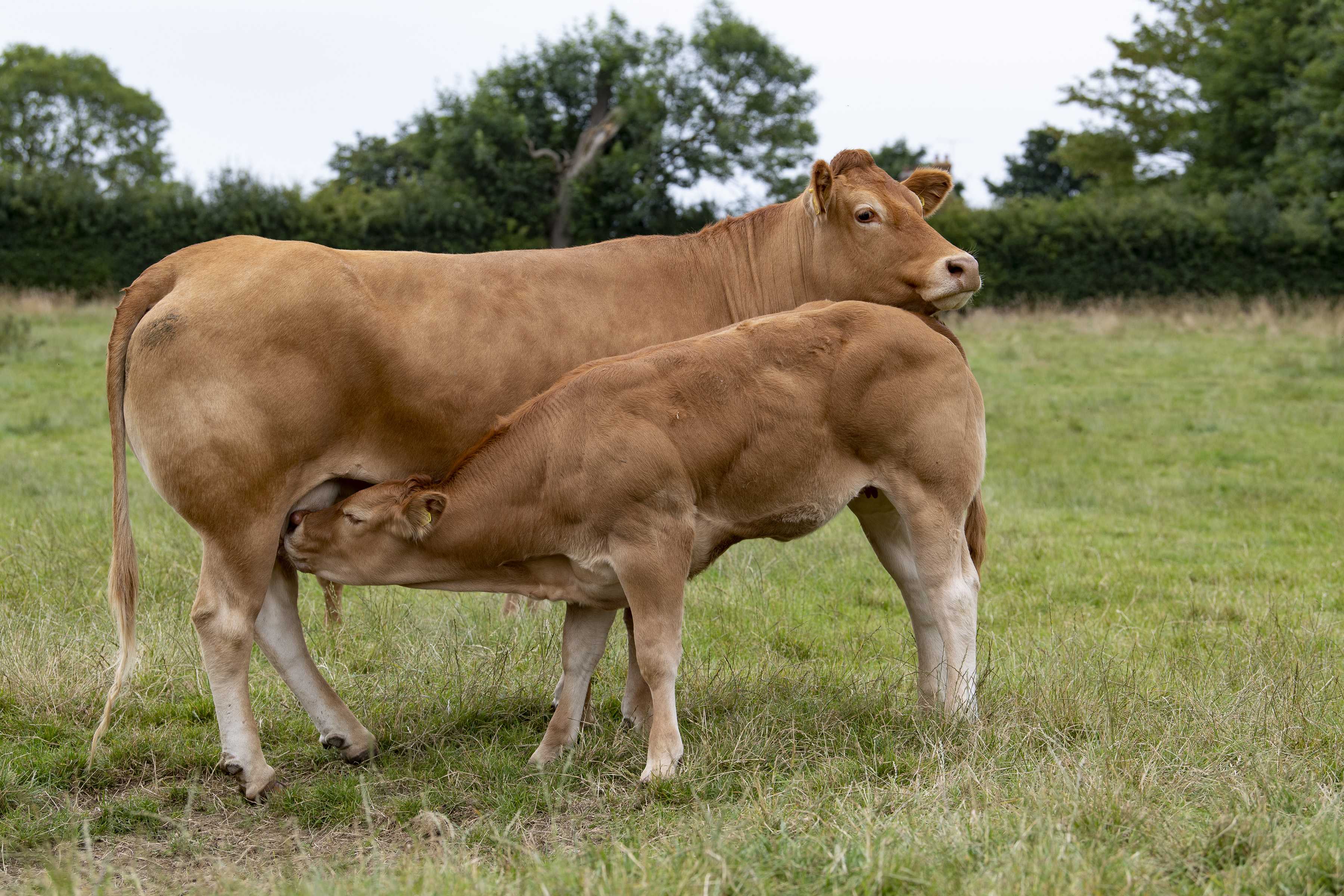 Three animals reached 6,000gns a piece for JCG Bloom & Son's Scorboro Herd based at Decoy Farm, Scorborough, Driffield. The first of these was the rising nine-year-old cow, Scorboro Georgette, who is from the Drysgol Typhany line which has previously sold bulls to 9,000gns. Georgette carries a Beef Value of LM+45 putting her in the Top 10% of performance-recorded Limousins and is by the Ampertaine Abracadabra son Culnagechan Executive and out of the Objat daughter Scorboro Especial. This sixth-calver was sold with her Fenomen-sired March 2020-born bull calf at foot, Scorboro Rascal, and back in calf having run with the French-bred stock bull Ilot. Purchasing this mother-and-son combo were Messrs JM & EP Mackley, Mount View, Folkton, Scarborough, N Yorkshire for their Mountsted prefix. In all, 10 animals were purchased by the Mackleys which also included the 5,200gns mother-and-son outfit Scorboro Eccles (LM+35) with her Ilot-sired bull calf, Scorboro Ponty, at foot. Born in 2009, Scorboro Eccles has produced seven calves to date and was sold back in calf to Ilot. With prominent French bloodlines, Eccles is by the Mas du Clo son, Scorboro Bigbang, and out of the Ionesco-sired dam, Scorboro Toffee.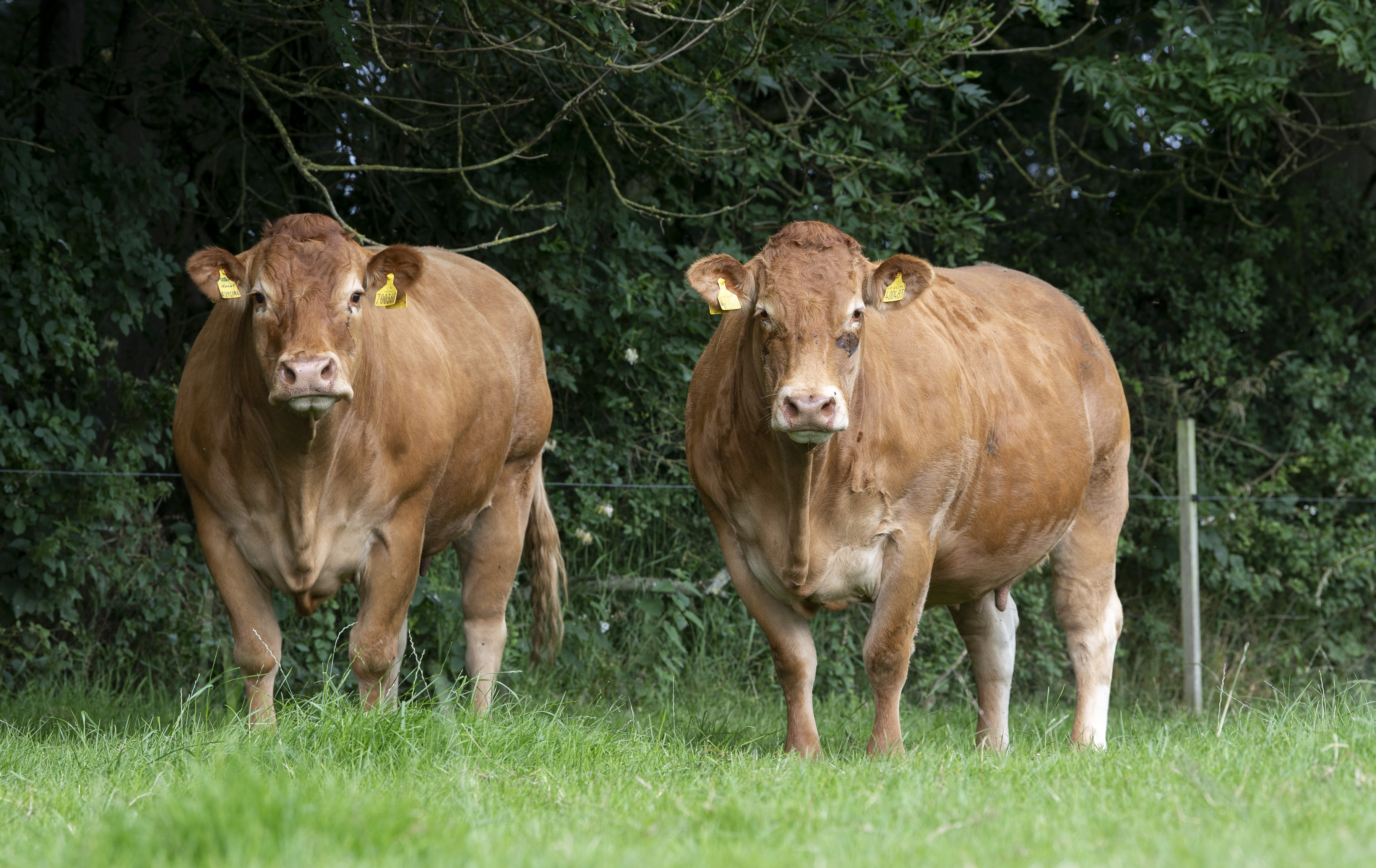 Also reaching 6,000gns was the top 1% Beef Value 2014 cow Scorboro Jig (LM+53) by the Sympa grandson, Culnagechan Executive, and out of Scorboro Cancan who goes back to one of the herd's foundation females, Roughley Dahlia. Jig was knocked down with her Ilot-sired April 2020-born bull calf at foot, Scorboro Ragamuffin, and back in calf to either Fenomen or Ilot. New owners are the Reaster Herd of Messrs Sinclair, Reaster Farm, Lyth, by Wick, Caithness.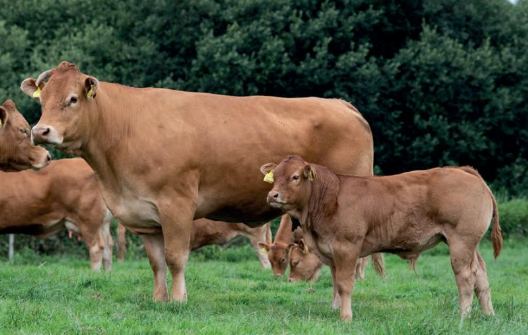 Making the same money was another three-lives-in-one offering when snapped up by Messrs Taylor, Waterhouses, Asby, Appleby in Westmorland, Cumbria. This was in the shape of the 2017-born Scorboro Nightly (LM+55) sired by Fenomen and out of the Ronick Upshot granddaughter, Scorboro Dusk. She was sold with her unregistered bull calf at foot and PD'd back in-calf to Ilot.
5,100gns was the combined price tag for the 2010 cow Scorboro Flush (LM+44) and her yearling bull calf Scorboro Platinum. Sired by the homebred Ronick Upshot son, Scorboro Aramis, and out of the Jockey daughter, Scorboro Silk, the seventh-calving Scorboro Flush made 3,500gns to Messrs Kilner, Nafferton, Driffield, Yorkshire. Her August 2020-born bull calf, Scorboro Platinum, sired by Ilot, made 1,600gns to Messrs Blacklock Ltd, Nawton, York.
Maiden heifers topped at 4,200gns for Scorboro Oasis (LM+63), a December 2018-born daughter of Fenomen and out of the Procters General-sired dam Scorboro Leone. This one sold to the Esmors Herd of DE Evans, Monfa, Mold, Clywd. 19 maidens averaged a very good £2,205 for Scorboro.
Other notable highlights included the rising six-month embryo heifer calf Scorboro Regal who was purchased by Malcolm Reid for his Reids prefix at Grassmainston Farm, Alloa for 3,000gns. Sired by Wilodge Vantastic and out of the French dam, Galice, she sold suckling her recipient dam.
Served heifers peaked at 3,400gns for Scorboro Onyx (Fenomen x Scorboro Issue) who sold in calf to Ilot and carrying exceptional growth figures with a Beef Value of LM+65. New owners are Jim & Elaine Pattinson who run the Bonshawside Herd in Kirtle Bridge, Lockerbie.
Back to Middledale and it was a son of the sale leader, Middledale Jewel, that also impressed in terms of price tag. This was the 4,400gns homebred December 2017 stockbull, Middledale Numpty (LM+34), a Fenomen son who heads across the White Rose County to the Swale Herd of WE Swales & Sons Ltd, Balk, Thirsk, N Yorkshire. Two cow-and-calf outfits made 4,500gns and 4,000gns respectively for Paul Byas. The first of these was the 2013-born Middledale Irishmaiden (Culnagechan Goliath x Middledale Affection) who sold with her Lodge Neon-sired heifer calf Middledale Rolypolo at her side, and back in-calf to Neon. She goes for 4,500gns to Messrs Robertson & Son, Tomintoul, Ballindalloch. A few lots later Middledale Leah sold for 4,000gns to Messrs Richardson, Mealsgate, Wigton, Cumbria. Born in 2015, she is by Griseburn Guardsman and out of Middledale Alpine and was knocked down with her Lodge Neon heifer calf at foot, Middledale Phyllis, and again back in-calf to the stock sire.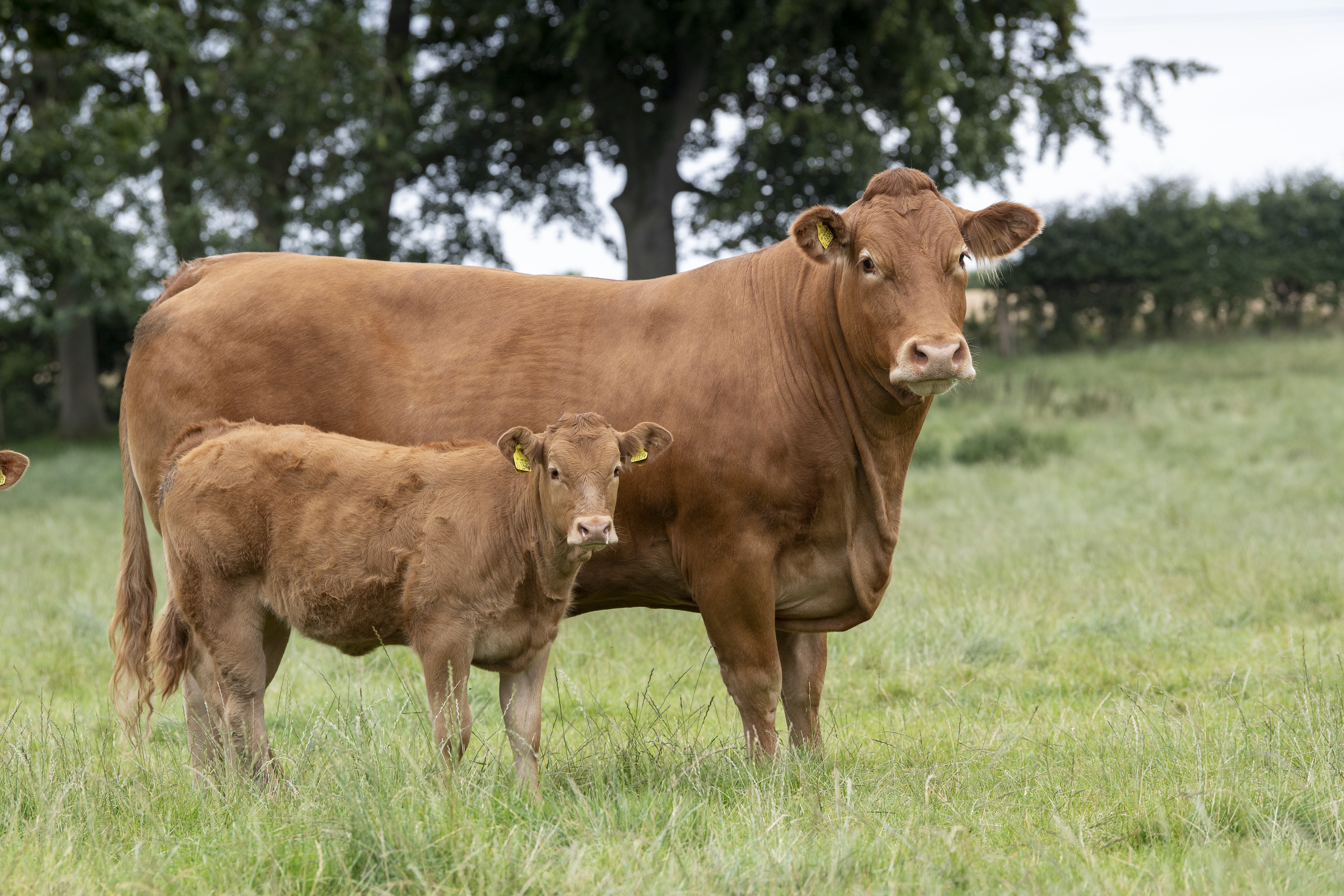 Other Leading Prices
Lot 35 Scorboro Nativity 4,800gns to Messrs Beaty, Allonby, Maryport, Cumbria
Lot 24 Scorboro Juanita 4,400gns to Messrs Cursiter Ltd, Evie, Orkney
Lot 19 & 19A   4,000gns
Lot 19 Cow Scorboro Hello 2,200gns to Messrs Burgess, New Abbey, Dumfries
Lot 19A Calf Scorboro Princess 1,800gns to L Mackay, Nairnshire
                  Averages                 
                                                     SCORBORO HERD:                                                       35 Cows served and/or suckling                    £3,447.00
1 Embryo Calf with Recip dam                     £3,150.00
3 Served Heifers                                        £2,940.00
19 Maiden Heifers                                       £2,205.00
2 Bulls                                                       £2,887.50
MIDDLEDALE HERD:
23 Cows served and/or suckling               £2,757.39
  4 Maiden Heifers                                       £2178.75
  4 Bulls                                                         £3,202.50
Auctioneer – Harrison & Hetherington