Carlisle Limousin Pack a Punch
With six bulls selling for five figures sums and a further 27 reaching 5,000gns and above, the 61 bulls sold at the Limousin Carlisle Autumn bull sale on Saturday 17 October 2020 averaged £6,683, with bidding peaking at 35,000gns.
New Society Breed Secretary Will Ketley, who was appointed in July said "Thank goodness that we were able to hold our Autumn bull sale in these unprecedented times. It is difficult to tell the impact that the restrictions have had on the attendance of potential purchasers, as people are understandably cautious about coming to sales due to Covid.
"The recent uncertainties have caused many more on farm sales than we would usually expect in the lead up to the Autumn sales, but even so, we are delighted with the quality of the bulls forward and that the average on the year has increased by a massive £858, which is a reflection of this and the continued demand for the Limousin breed".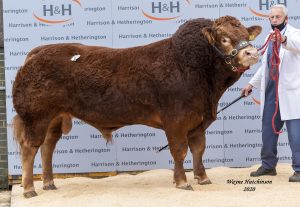 The 35,000gns sale topper was Ampertaine Punch, an entry from WJ and James McKay, Maghera, Co Derry. A delighted Mr McKay whose three bulls sold produced the highest herd average of the sale at £16,730 said "I am thrilled that we have topped this sale for the second year running. We thought a lot of this bull, he has lovely shape and character, is easy fleshed and a real Limousin type with an impressive pedigree behind him.
"Due to the sale cancellations earlier in the year we have sold lots of bulls privately but are really glad that we had a chance to bring Punch to Carlisle, as we are regular supporters of this sale".
A March 2019-born bull, with a beef value of LM48 placing him in the top 5% of the national herd, Punch is the first son to be sold by the 35,000gns Carlisle supreme champion Ampertaine Majestic, and is bred out Ampertaine Mille, from the family line which produced the 10,000gns Ampertaine Lieutenant, and who goes back to the 45,000gns Carlisle reserve champion Ampertaine Jamboree. He goes on to work in Mellor, Cheshire, for new owners Boden & Davies Ltd. "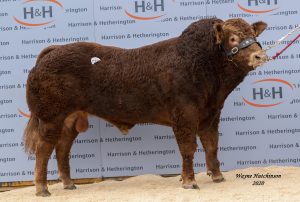 Next in the trade stakes at 24,000gns was S Reel's Gorrycam Phantom (LM35) from Newry, Co Down. C V and E Lewis, Welshpool, Powys, were the winning bidders of this 16 month-old, who is sired by the renowned AI bull, Lodge Hamlet and out of the 50,000gns Wilodge Cerberus-sired Gorrycam Honey, who comes from a line which has previously produced sons to 28,000gns, 26,000gns and 20,000gns.
At 18,000gns, Pabo Procters was the next highest priced bull to sell. He is a son of International Limousin Congress male champion Derrygullinane Kingbull and his dam, Pabo Jympa, is a daughter of Sympa and full sister of the 13,000gns Pabo Francis. This March-2019 born lad was bred and exhibited by WP Hughes and Sons, Rhosgoch, Anglesey, and snapped up by Messrs Jenkinson, Penrith, Cumbria.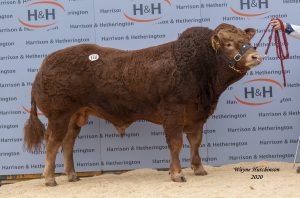 Up next was the April 2019-born Maraiscote Pedro, who sold for 16,500gns to the Killerton herd, Columbjohn Farm, Exeter, Devon. With a top 5% beef value of LM47, he was consigned by J Nimmo, Wishaw, North Lanarkshire, who sold the most bulls of the sale, a total of four to average £9582. His dam is the Royal Highland show champion Virginia Andy daughter, Maraiscote Lavender and he is sired by the 50,000gns Bassingfield Machoman.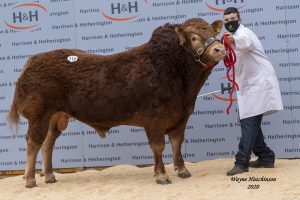 Just a few moments earlier the hammer came down at 14,000gns for Redriver Powerful, a 17 month-old bull who caught the eye of Balfour Baillie and heads on up to work in Tankerness, Orkney. He is sired by the aforementioned Lodge Hamlet and is bred out of Redriver Gracie, a daughter of Haltcliffe BMW. Powerful was bred and exhibited by Mrs J Hunter, Annan, Dumfriesshire.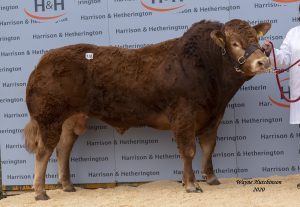 Securing another a five-figure sale price was one of the youngest lots forward, the 15 month-old Millgate Paul who is in the top one percent beef value at LM54. Vendors M Loughran, Cookstown, Co Tyrone secured a final bid of 11,000gns from the Stirling based WI and AW Callion. Paul is a son of the home-bred sire Millgate Jack and dam Millgate Ita, a 10,000gns Swarland Eddie daughter.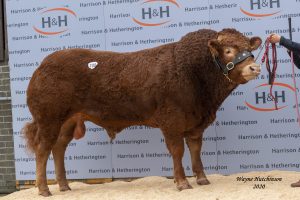 Another top lot from J Nimmo of the Maraiscote herd, sold for 9,000gns, the next highest bid of the sale. Maraiscote Politician, another with a top one percent beef value (LM50), he is sired by Bassingfield Machoman, a bull who has produced 175 progeny into the herd since his purchase in 2017. His dam is the Virginia Andy-sired Maraiscote Intrigue and this April 2019-born bull, whose full brother was the reserve intermediate champion at Borderway last year, was purchased by T and R Harper & Son, Biggar, Lanarkshire.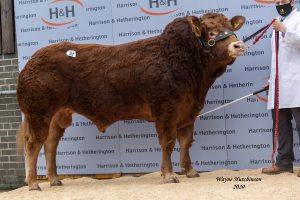 8,500gns was the final bid when the hammer came down on Spittalton Partner (LM42), an 18 month-old entry from J Burnett and Sons, Stirling, who also sold another making their herd sale average £7,087.50. Partner was purchased by KD and DE Millar and Partners, Canonbie, Dumfriesshire, is bred out of the Spittalton Denzil daughter, Spittalton Hansy, and is sired by Dylans Irnbru who has produced sons selling to 14,000gns.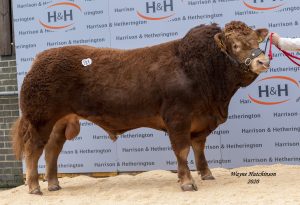 Next up and selling for 8,000gns was Goldies Port, the bull with the highest beef value in the catalogue (LM68). A son of Kaprico Monarch, this May-2019 born bull was bred and consigned by Bruce Goldie, Mouswald, Dumfries and Galloway, and snapped up by JL Hartley, Much Wenlock, Shropshire. His dam Goldies Littlegem, who goes back to the 38,000gns Ampertaine Foreman is a full sister to Goldies Olympia and Goldies Owain, the supreme and reserve supreme champions and sale toppers at February's Carlisle sale for 30,000gns.
Securing an 8,000gns sale was the next lot in the catalogue, Haneve Pilot (LM37), sired by the above-mentioned Dylans Irnbru and out of Haneve Lulu, a Lodge Hamlet daughter. This 17 month-old bull was purchased by B J and L Pritchard, Abergavenny, Monmouthshire, and he was bred and consigned by JA Murray, Tow Law, Bishops Auckland.
Another lot from Mr Murray, was the first of four bulls to secure a 7,500gns price when he was knocked down sold to Messrs Charlton, Haltwhistle, Northumberland, taking the Haneve herd sale average to £8,137.50. Haneve Prince is a February 2019-born son of the popular AI bull Chytodden Conan and Haneve Miranda, another Lodge Hamlet daughter.
The next lot reaching 7,500gns was JK Hunters, Wedderburn Oochaboy from Huntly, Aberdeenshire. The winning bidders of this November 2018-born bull were A and M Duncan, Alford, Aberdeenshire. Oochaboy is out of Wedderburn Johanna, a Dyke Gladiator daughter, and sired by Foxhillfarm Jenson.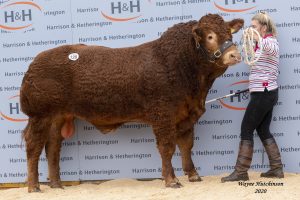 Aberdeenshire based breeders Emslie Livestock Ltd, from Peterhead, were the next bidders to secure a 7,500gns purchase. Bernish Platini (LM45), who is a 17 month-old lad, sired by Wilodge Cerberus and bred out of the 32,000gns Ampertaine Elgin daughter Bernish Julifortune, was entered for sale by K McCrory, Omagh, Co Tyrone. He is a full brother to the 22,000gns Bernish Memphis and Bernish Princessjuli who was this year's supreme champion in at the Rising Stars show.
The other bull to secure a final bid of 7,500gns was Haltcliffe Prism (LM40), a July-2019 born son of Aultside Meanmachine, a 65,000gns Carlisle supreme champion, and the 25,000gns Haltcliffe Braveheart-sired Haltcliffe Enigma. Purchased by Denis Cadzow and Co Ltd, Tranent, East Lothian, a commercial breeder who went on to buy a total of three bulls, he was bred and exhibited by Haltcliffe Limousin, Wigton, Cumbria.
Just a few lots earlier and selling for 6,800gns was another bull from the breeders and exhibitors of the top priced lot, WJ and James McKay. Ampertaine Pathfinder (LM42). Bred out of Ampertaine Joules, a Goldies Fantastic daughter, he is the second of the sale to be sired by Ampertaine Foreman and this 16 month-old bull was purchased by A Evans, Castle Douglas, Kirkcudbrightshire.
A trio of bulls then achieved 6,500gns apiece with the first being the November 2018-born Mystyle Oberon (LM36), who was offered for sale by W Richardson and Son, Appleby, Cumbria, and sold to winning bidder F Ward, Bishop Auckland, County Durham. His sire is Carnview Lionheart, and his dam Haltcliffe Juniper, goes back to the French-bred Galant.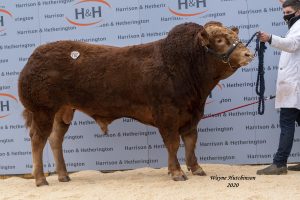 Breeders JH Neale and Son, Launceston, Cornwall, matched the 6,500gns price tag with Nealford Poldark (LM38), an April 2019-born bull who is one of the first to be sold by Loosebeare Master, while the dam is Nealford Julia, a heifer by the 28,000gns Procters Cavalier. Poldark found a new home in Pewmafan, Gower, with purchasers PE and RA Jones.
Commanding the final 6,500gns bid of the sale from GB Jones Ltd, Betws-Y-Coed, Conwy, was I Davidson & Son's Ballyrickard Prince (LM36), from Larne, Co Antrim. Sired by herd stockbull, Gleneagle Icon who also produced last year's Balmoral show reserve male champion, the 16-month old Prince is bred out of Ballyrickard Florence, who goes back to the French-bred Faignant.
Averages: 61 bulls £6,683.85
Auctioneers: Harrison and Hetherington Ltd.
To watch the highlights video, please click on the link below.