🌟 250,000GNS WILODGE POSHSPICE SETS NEW WORLD LIMOUSIN RECORD 🌟
– New Limousin World Record
– New European & UK All-breeds Record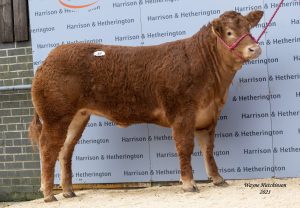 A new Limousin world record was set on Friday 29th January 2021 at Borderway Mart, Carlisle when the fourteen-month-old pedigree British Limousin maiden heifer, Wilodge Poshspice, went under the hammer for 250,000gns (£262,500). Bred by Christine Williams & Paul Tippetts at Lodge Hill Farm, Park Lane, Shifnal, Shropshire.
Wilodge Poshspice is by Ampertaine Elgin and out of Milbrook Gingerspice. A combination of stunning visual appeal and a pedigree packed full of breeding lines convinced joint purchasers Charlie Boden of the Sportmans herd based at Mellor Hall Farms, Stockport in partnership with Allan Jenkinson of the Whinfellpark herd based at Clifton Moor, Penrith. As well as a new Limousin record, the 250,000gns price tag was a new all-breeds UK and European world mark for a bovine animal eclipsing the 140,000gns paid for the Limousin bull, Trueman Jagger in October 2015.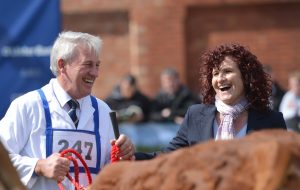 Commenting, Christine Williams said: "We are overwhelmed and equally delighted to have achieved this fantastic result with what is a great young heifer." The sale at Carlisle represented a Major Reduction of the Wilodge Herd, with the entire crop of served and maiden heifers used for pedigree breeding, put up for sale. The herd was established in 1989 by Christine and her late father, Don.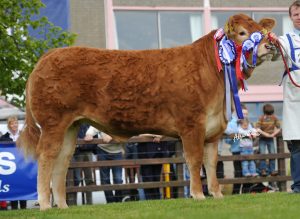 An embryo calf, featuring the dam Milbrook Gingerspice, Wilodge are extremely grateful to William Smith, Oldcastle, Co Meath, Republic of Ireland – the breeder of Milbrook Gingerspice – for providing the fertilised embryos – two of which were purchased privately by Christine & Paul. To add a little background to the story, it was Christine Williams who had been the first to judge Milbrook Gingerspice when she was shown as a maiden heifer by Mr Smith at the 2012 Balmoral Show in Belfast, Northern Ireland. Christine later put her up as her Supreme Champion before Gingerspice went on to be crowned Junior Interbreed & Overall Individual Interbreed Champion later in the show.
The British Limousin Cattle Society Breed Secretary Will Ketley commented, 'The society is delighted to offer its congratulations to the team at Wilodge for this incredible iconic achievement that marks a wealth of breeding over the decades. I would also like to thank all the buyers that made this sale a fantastic success for not only the breeders but the breed itself. It is not just the record breaker worthy of note, the sale was truly a success from start to finish for both Wilodge and Brockhurst alike achieving both clearance and strong averages. I wish all the successful purchaser's good luck and look forward to seeing these bloodlines continue to flourish'.
Poshspice has a wealth of breeding behind her being by the 32,000gns sire Ampertaine Elgin who features notable lines such as Samy, Broadmeadows Cannon and Sebastien. The dam, Milbrook Gingerspice, is by the noted bull Wilodge Vantastic and is out of Milbrook Baby who goes back to Ferry and Talent. In addition, Poshspice carries two copies of the Q204X myostatin variant.
The full report will follow later today.