WILODGE BREAK LIMOUSIN WORLD RECORD AT 250,000GNS
Wilodge Poshspice breaks world record at 250,000gns
Eight animals in all make 10,000gns or more
On Friday 29th January a crowd of new and established breeders made their way to Borderway Mart, Carlisle to see the major reduction sale from the Wilodge herd on behalf of Christine Williams and Paul Tippets, Lodge Hill Farm, Shifnal, Shropshire. In addition, a top draw of heifers and a small selection of bulls were sold on behalf of the Brockhurst herd from WJ & M Mash Ltd, Torrington Farm, Buckinghamshire. Covid-19 restrictions may have been in place, but this did not restrict the demand for the top-class cattle on offer with lots of interest and purchases secured both online and by phone. The British Limousin Cattle Society Breeders' Sale had a catalogue entry of 68 pedigree Limousin cattle and saw a strong clearance across the two herds.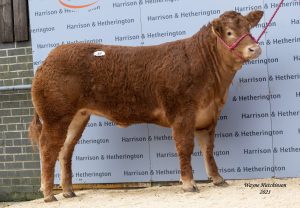 Smashing the Limousin World Record and leading the sale at 250,000gns was Wilodge Poshspice. This stylish and shapely November 2019 born embryo heifer, was marked by many in the catalogue. Breaking records is in her blood, she is bred out of Millbrook Gingerspice, who won Supreme Champion at the Balmoral Show three times in a row! Dam Gingerspice goes back to both Wilodge Vantasic and Tonka. Poshspice promotes two sets of Q204X myostatin, whilst being both homozygous red and horned, she is sired by the well-known 32,000gns Ampertaine Elgin. The maiden heifer was purchased in partnership by two renowned herds, Messrs Jenkinson, Whinfellpark herd in Penrith and Boden and Davies, Sportsmans herd in Stockport.
Commenting, Christine Williams said: "We are overwhelmed and equally delighted to have achieved this fantastic result with what is a great young heifer." The sale at Carlisle represented a Major Reduction of the Wilodge Herd, with the entire crop of served and maiden heifers used for pedigree breeding, put up for sale". The herd was established in 1989 by Christine and her late father, Don.
Next in line was the served heifer, Wilodge Onhigh, hitting 25,000gns. Scanned in calf to the 10,000gns Ironstone Oliver, this is one of the first Wilodge Heaven daughters to be offered for sale. She is sired by Poweful Irish, who goes back to bloodlines from Haltcliffe, Grahams and Cloughhead. This September 2018-born heifer brings myostatin of NT419/Q204X to the table, along with a beef value of 48.  Onhigh finds her new home near Shrewsbury with Messrs Gould of the Woodmarsh herd.
Hot on her heels was another served heifer, Wilodge Opulent scoring 20,000gns. In calf to Ironstone Oliver, Opulent is a Wilodge Littlegem daughter; Littlegem needs little introduction being a full sister to Wilodge Larimar who won nine Interbreed titles with the Quaish herd in 2019. Littlegem is also a full sister to Wilodge Liveletdie and Livinitup who both sold over 10,000gns a piece. November 2018-born, she is sired by the 40,000gns Grahams Lorenzo. Opulent carries two sets of the Q204X myostatin gene and is in the top 10% of the breed with a beef value of 45. Opulent now calls Llanrwst, North Wales home with Mr Jones of the Seisiog herd.
Next to reach 20,000gns was Wilodge Poshgem, a full sister to the previously mentioned Wilodge Opulent. A January 2019-born embryo, she is scanned in calf to Ironstone Oliver. Like she sister, she also carries two sets of the Q204X myostatin gene and is placed in the top 10% of the breed with a beef value of 44. Poshgem heads north to the Springsett herd based in Stirling with Dougie McBeath.
Closely following was Wilodge Princess, selling for 17,000gns. This November 2019-born embryo calf is sired by Grahams Lorenzo and out of Wilodge Diamante, who is the herds top breeding female. Diamante has bred the 60,000gns Wilodge Lookout, the 27,000gns Wilodge Flawless and the 12,000gns Wilodge Naturelle. Princess carries two sets of Q204X myostatin and does not travel far to her new home in Barrow in Furness, with Mr Amistead at the Rakesmore herd.
Wilodge Romance was next in line making 14,000gns. Romance is a daughter of the 11,000gns, 2007 Carlisle champion Ironstone Brandy. A full sister to Wilodge Heaven, she is out of Wilodge Diamnte. This February 2020-born embryo calf promotes F94L and NT821 myostatin and is homozygous red and horned. It was love at first sight for Messrs Gould, with Romance heading home to the Woodmarsh herd.
Selling for 11,000gns was Wilodge Lida with her bull calf Wilodge Randy at foot. Lida is a Gerrygullinane Glen daughter and out of Wilodge Cida. Lida's maternal line is a combination of Oxygene across a Brontemoor Ilkley daughter, and within Wilodge Tonka's pedigree are the sires Wilodge Vantastic and Wilodge Cerberus. Her very smart bull calf at foot Randy, is sired by Ironstone Brandy. The duo now call South Yorkshire home with G and S Gilleard of the Thorninghurst herd, Doncaster.
Another addition to the Springsett herd is Wilodge Optimiss, the first of consecutive lots to make 10,000gns. This September 2018-born heifer is in the top 10% of the breed with a beef value of 47 and again is scanned in calf to Ironstone Oliver. Her dam is the aforementioned Wilodge Littlegem and her sire is the French-bred Objat, who also sired the 55,000gns Wilodge Officer. Optimiss promotes F94L/Q204X myostatin, homozygous red and horned genes.
The final animal to score 10,000gns was Wilodge Option. Full sister to the trade topper, Option is sired by Ampertaine Elgin and out of Milbrook Gingerspice. She carries two sets of the F94L myostatin gene and boasts a beef value of 37. Buyer Andrew Gammie saw no option but to secure the sale, with the heifer heading to the Westpit herd, Laurencekirk, Aberdeen.
The British Limousin Cattle Society Breed Secretary Will Ketley commented, 'The society is delighted to offer its congratulations to the team at Wilodge for this incredible and iconic achievement that marks a wealth of breeding over the decades. I would also like to thank all the buyers that made this sale a fantastic success for not only the breeders, but the breed itself. It is not just the record breaker worthy of note, the sale was truly a success from start to finish for both Wilodge and Brockhurst alike. I wish all the successful purchaser's good luck and look forward to seeing these bloodlines continue to flourish'.
Moving on to the later part of the sale, where the Brockhurst Herd sold a top line up of heifers from the Mash family based in Buckinghamshire. The focus of the herd was and still is to predominantly focus on breeding great females. Bloodlines notably stem from Ronick McAinsi whose phenomenal breeding includes Bolshoi, Batik and Littlegem as well as being granddam to Heavenly, Howzat and Lucy. The family also mentioned that the purchase of the Fenrose Herd from Tom and Rita Evans has had a major impact, the excellent breeding which they established can be found in the back pedigree of a lot of the herd's females.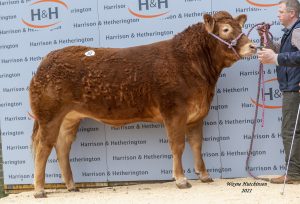 Brockhurst Prudence punched her way to the top selling for 15,000gns. She is sired by Proctors Mitsubishi, a Glenrock Humdinger son, and is out of the homebred Brockhurst Misty. The March-2019 born heifer stood strong and sharp in the ring and was scooped up by H G Perkins from Radstock, Bath.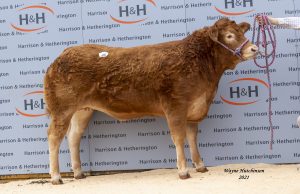 Gaining the herds second top price of the day at 11,000gns was their first in the ring, Brockhurst Princess, setting the herd off to a great start. This is a highly regarded heifer out Brockhurst Heavenly interbreed champion of the Great Yorkshire show in 2016 and full sister to 24,000gns Brockhurst Howzat. Sired by Newroddige Jetset, a Haltcliffe Underwriter son, Princess is a January 2019 naturally born calf. She heads home to the Millars herd, Inverurie, Aberdeen with Ian Millar.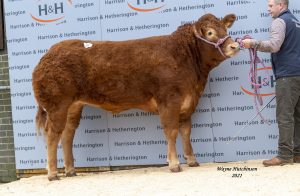 Brockhurst Paige was the next to turn heads making 10,000gns. Another Proctors Mitsubushi Daughter, she is out of Brockhurst Highlife, one of the herds best breeders, whose breeding goes back to Rocky and Mynach. This heifer marked the page of Steven Wilson of the Impulsive herd in Carlisle.
2,500gns was the top price seen for the bulls brought forward by Brockhurst. Both Brockhurst Peter and Brockhurst Phillip reached this trade. First up was Peter, an April 2019-born Newridge Jetset son, who goes back to breeding of Sympa, Ronick and Grahams. Jetset is an easy calving bull who has already been used on heifers. The young bull was out of homebred cow, Brockhurtst Dazzle who goes back to both Sarkley and Broadmeadows. Peter heads home with Mr Wareham, Heathfield, East Sussex.
The last animal of the day to be sold was Brockhurst Phillip, who also achieved 2,500gns. Sired by Dinmore Meatloaf, whose pedigree includes Diamant and Version, Phillip is bred out of Brockhurst Lindsey, who is a full sister to the noted Brockhurst Heavenly. Phillip now calls West Yorkshire home, with Mr Clayton in Bradford.
Sale day video – https://youtu.be/0AuoESyTzE0
Averages:
WILODGE: 13 cows & heifers served and/or suckling: £4652.31, 14 served heifers: £9480.00, 15 maiden heifers: £23,758.00.
BROCKHURST: 14 maiden heifers: £4777.50, four young bulls: £2310.00.
Auctioneers: Harrison and Heatherington
Issued on behalf of the British Limousin Cattle Society by Ellie Layton. For more information 07935 0055227