Cairness Paavo tops Stirling at 11,000gns
Bulls Average £5911
11,000gns Top
Clearance rate of 79%
After a busy weekend south of the border, Stirling was home to the third and final collective Limousin bull sale of the early spring. Bulls from 16 of the top herds across Scotland came together where 43 bulls were offered under the hammer. Averaging £5911, demand was strong with an increase of £1049 on the 2020 February sale, and a clearance rate of 79%.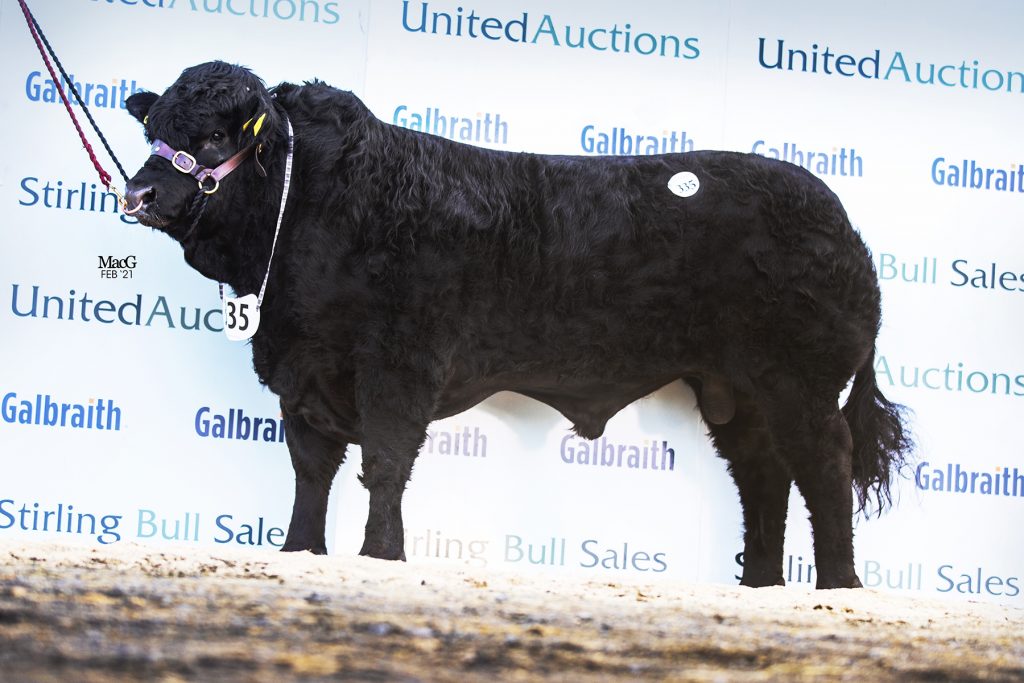 Top choice of the day was Cairness Paavo, who achieved 11,000gns. This May 2019-born black coated bull, was presented by William and David Moir, Cairness, Fraserburgh, whose herd held a solid average of 7,900gns for their pen of three bulls. Sired by the 21,000gns Goldies Goldfinger and out of Knock Fifi, a daughter of the 12,600gns Newhouse Billy who was purchased by the herd in 2018. Paavo carries two copies of the F94L myostatin gene and holds a beef value of 40. Secured by commercial buyer D Walker and Sons he heads home to Girvan, Ayrshire.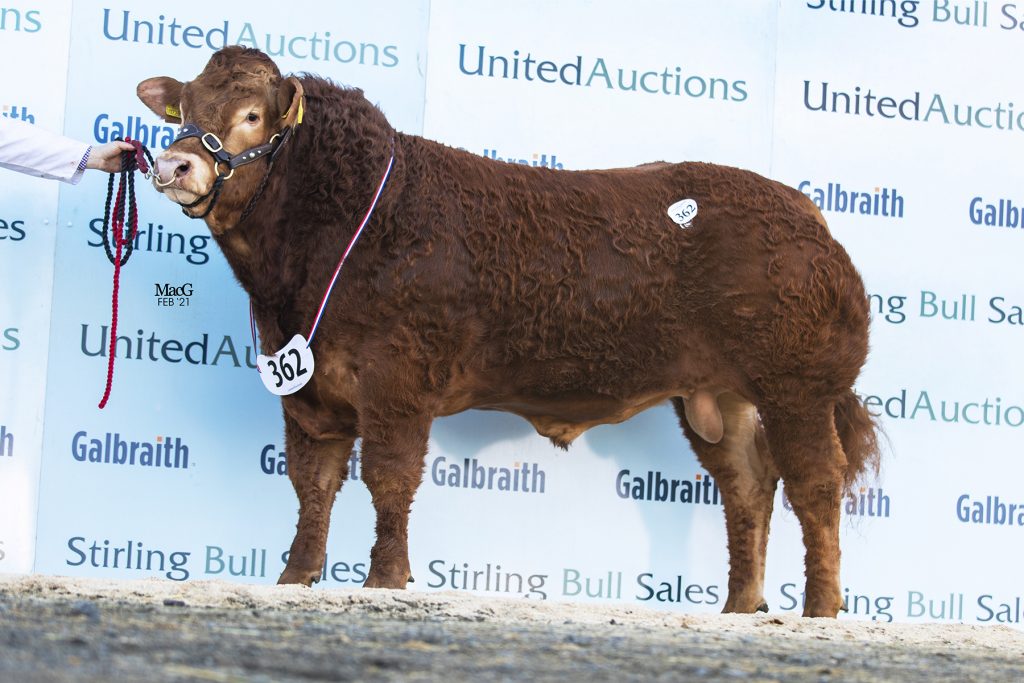 Next in the spotlight was Harestone Playboy who sold for 10,000gns. Brought forward by N R Barclay, Insch, Aberdeenshire, Playboy is a July 2019-born embryo calf with a beef value of 47 and a myostatin status of F94L and NT821. Sired by the 24,000gns Claragh Franco, he is out of Glenrock Impulsive who was purchased by the herd for 24,000gns. Now calling Straiton, Ayr, home, he was purchased by J W Kay and Co.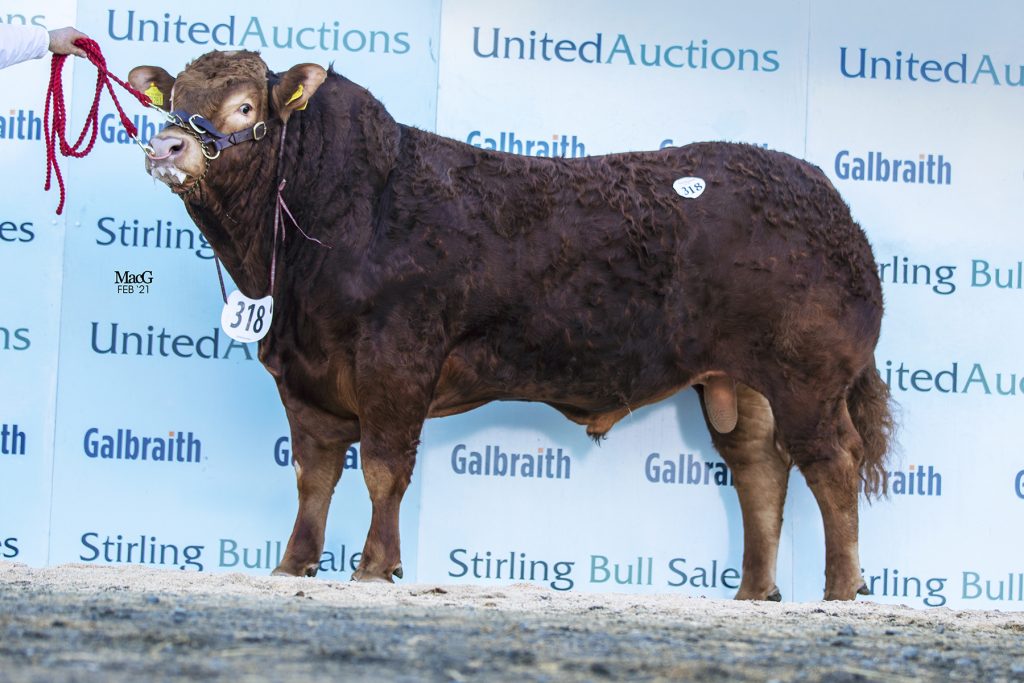 Hot on their heels was Dyke Prodigy making 9,500gns. Presented by Messrs MacGregor, Milton of Campsie, Glasgow, the April 2019-born Prodigy boasts two copies of the F94L myostatin gene and a beef value of 42. Sired by Goldies Lordoftherings, a Goldies Fantastic son, Prodigy is out of Dyke Glam, a great-granddaughter of the 22,000gns Cloughhead Ace. Dam, Dyke Glam is a consistent breeder, out of the best cow family in the herd and Prodigy is now her bestselling son, smashing the previous herd record of 6,500gns. Now calling Girvan, Ayrshire, home, he goes to commercial breeder R Dunlop.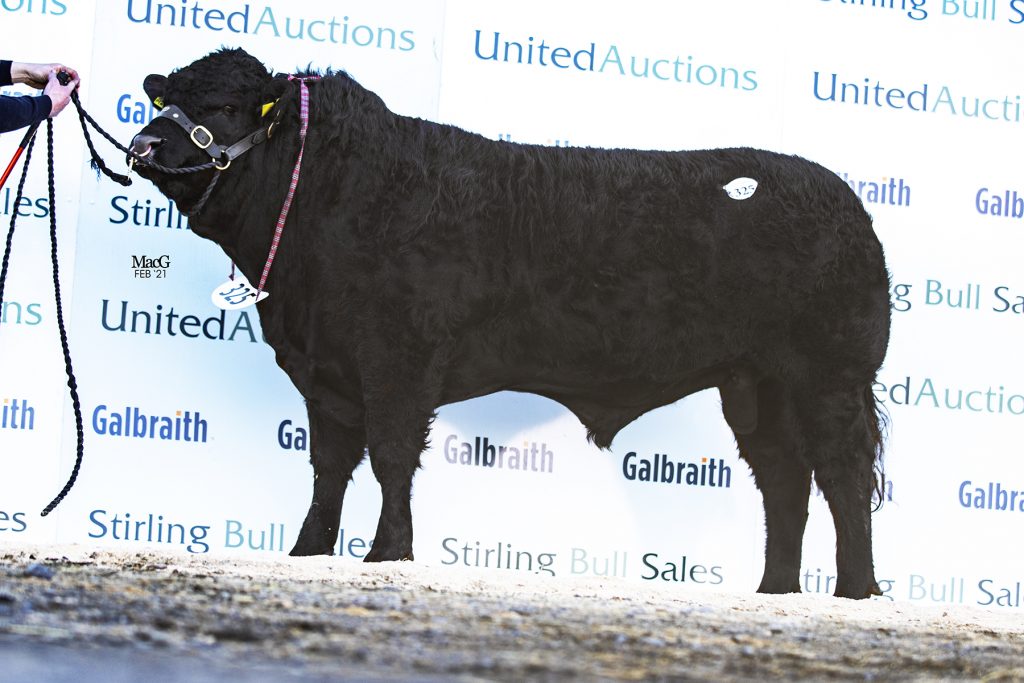 Another sale topper from the Moir family's Cairness herd, was Cairness Player who achieved 7,500gns. This black coated May 2019-born bull is another Goldies Goldfinger son, this time out of Knock Joop, a daughter of Goldies Florida who was sold privately for a five-figure sum. A double F94L myostatin carrier, he is also in the top 1% of the national herd with a beef value of 49. After catching the eye of Mr Grant, he goes on to work in Blairgowrie, Perthshire.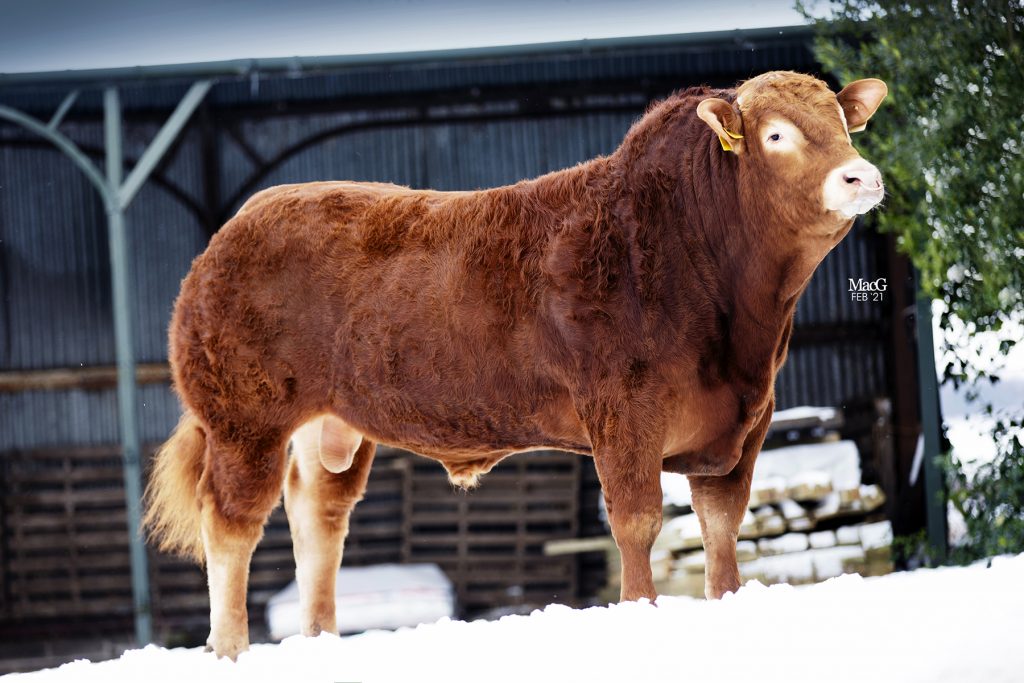 Another 7,000gns was achieved for the aforementioned Dyke herd when the May 2019-born Peerless went under the hammer. Full brother to Olympian, who was sold at the February 2020 sale for 13,500gns, Peerless is sired by Goldies Lordoftherings and bred out of the homebred cow, Dyke Amazon, a daughter of Haltcliffe President who has 250 progeny. Peerless goes home with T L Stirling, Carrbridge, Inverness-shire.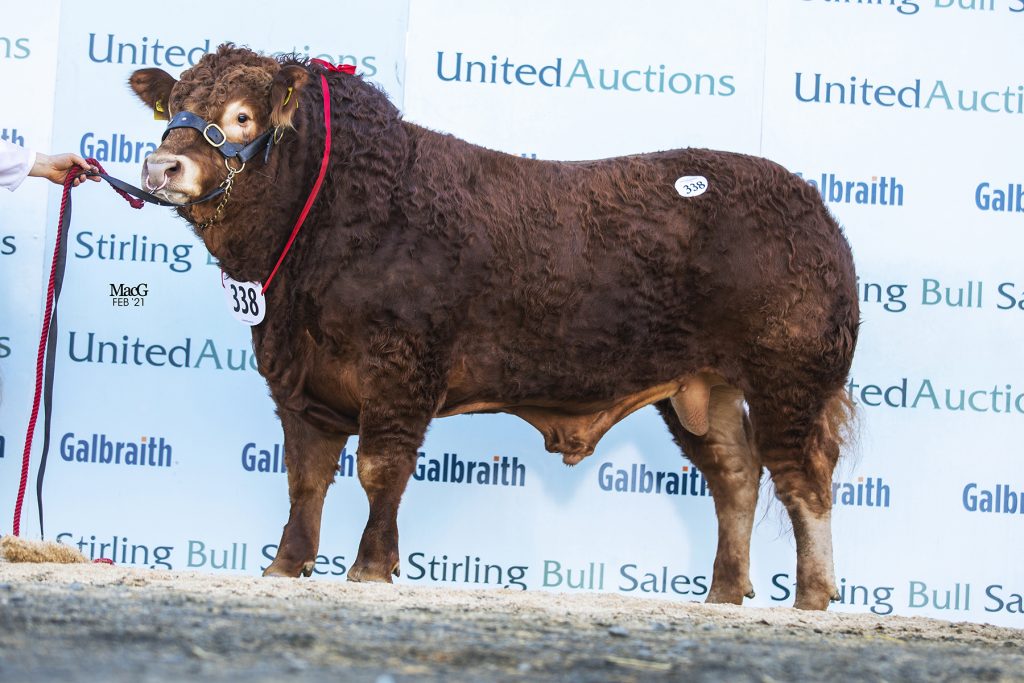 Spittalton Panther was next in demand making 6,800gns for breeders J Burnett and Sons, Blair Drummond, Stirling. This May 2019-born Gerrygulliane Glen son, is out of the homebred cow Spittalton Gerti, a Haltcliffe Vermont daughter. Panther displays a myostatin status of F94L and NT821 and caught the eye of R and J Milroy, who takes him home to Girvan, Ayrshire.
The first of seven bulls to reach 6,000gns was Ronick Principal, from nearby R Dick, Mains of Throsk, Stirling. Principal is a son of the 45,000gns Ampertaine Jamboree who was purchased by the herd in October 2015. Out of the homebred Ronick Jackie, a Broadmeadows Cannon daughter, Principal has a beef value of 36 and myostatin status of F94L/Q204X and goes on to reside with R Cook, Linlithgow, West Lothian.
Another from the same home to score 6,000gns was Ronick Premiere. Sired by French-bred Mattben, and out of the homebred Ronick Minnette, a great-granddaughter of the noted Ampertaine Gigolo. Boasting myostatin of F94L/Q204X, Premiere starts his career with R Currie, Tarbet, Argyll.
Maraiscote Parky was next to score 6,000gns, presented by J Nimmo, Newmains, Wishaw. This May 2019-born son of the Irish-bred Rutland Jetset, is out of the homebred cow Maraiscote Michelle. Displaying a beef value of 36 and myostatin traits of F94L and Q204X, Parky caught the eye of G Wilson & Son, Glenkindie, Aberdeenshire.
Also scoring 6,000gns was Maraiscote Playboy, a June 2019-born bull presented by Mr Nimmo, Newmains, Wishaw. Sired by Bassingfield Machoman, who won the 2020 Scottish Club herd competition Best Bull section, he is bred out of the homebred Maraiscote Georgia. With an impressive beef value of 48 he also displays myostatin of F94L and Q204X. Playboy goes home to the Scottish Government Stud, where he will join the five other bulls which they purchased from the sale.
Spittalton Popeye was next to hit the 6,000gns mark. Presented by the above mentioned J Burnett, this May 2019-born Burnbank Judge son, is out of homebred dam Spittalton Irisheyes. Popeye displays two copies of the F94L myostatin gene. Popeye caught the attention of Mr Sinclair, Skene, Westhill.
The same breeder enjoyed more success when the July 2019-born Spittalton Prefect sold for 6,000gns. Prefect has a beef value of 39 and two copies of the F94L myostatin gene. Sired by Burnbank Judge who similarly sold for 6,000gns at Carlisle 2016, his dam Spittalton Hanielle is a homebred, Lodge Equal daughter. Also purchased by The Scottish Government Bull Stud, Prefect will now reside in Inverness.
Goldies Politician, a September 2019-born bull who was brought forward by Mr Bruce Goldie of Mouswald, Dumfries and Galloway, also sold for 6,000gns This was no surprise with Goldies Goldilocks in his back pedigree, who produced champion Goldies Novel at Stirling February 2019 and reserve champion Goldies Novelty at Carlisle February 2019. Sired by the homebred bull Goldies Juggler and out of homebred dam Goldies Lucinda, Politician has a beef value of 54 which stands him in the top 1% of the breed, and is a double F94L myostatin carrier. Politician was purchased by Mr Howie, Peterhead, Aberdeen.
Burnbank Pirate kicked off the sale of Junior bulls achieving 5,800gns. Sold by D and L Graham of Blair Drummond, Stirling, the June 2019-born Pirate was sired by Maraiscote Letissier and bred out of the homebred dam Burnbank Jingle. With a F94L/Q204X myostatin status, the bull was purchased by Firm of Duff, Fordoun, Laurencekirk.
For Will Ketley, this was his first time attending the February sale as Breed Secretary. He commented "A very pleasing consistent trade achieving a solid average and a sharp increase on the year with confidence in both the breed and the beef industry being felt. Today's trade was predominately driven by commercial buyers looking to secure the perfect choice as the terminal sire breed with the premium built in. The Limousin cross stores and finished cattle are regularly achieving returns at the top of the market, giving todays buyers the ammunition needed to re-invest.
We are seeing difficult restrictions which have created reduced footfall in both vendors and customers. However, huge thanks and appreciation must be given to all parties, to allow this much needed marketing for all our members both buyers and sellers alike to go on.
Thanks to all vendors, customers, members, underbidders and auctioneers for making the early spring sales such a success for the Limousin breed."
Averages: 34 bulls – £5911 (+£1049 on 2020)
Auctioneers: United Auctions
Issued by the British Limousin Cattle Society. Written by Jen Tyson and Ellie Layton. For more information contact Ellie Layton on 07935 005227