Limousin Bull Ballyrobin Rockstar makes 6,500gns for Miss J Gilliland
J & A Callion top the females at 4,200gns with Melbreak Rennes
39 Bulls average 3,635gns
89% Clearance of Bulls
8 Females average at 2,650gns
100% Clearance of Females
Miss Joan Gilliland secured to price of 6,500gns with 'Ballyrobin Rockstar' at the British Limousin Cattle Society Sale held at Ballymena Livestock Mart on Monday 3 of May 2021.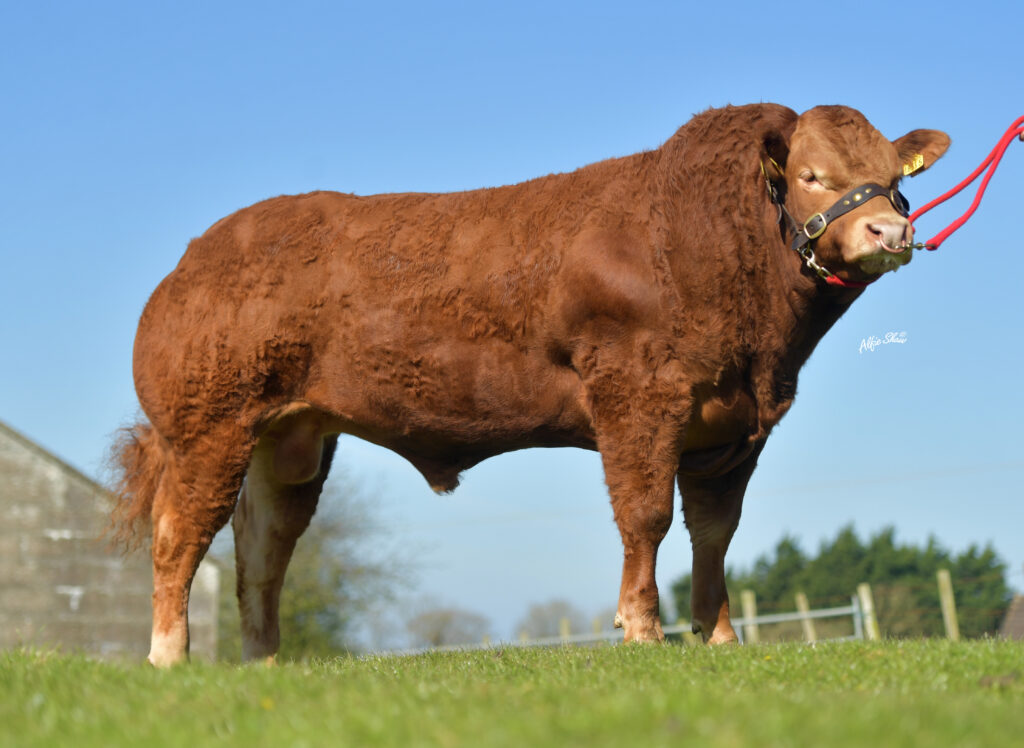 This was for her January 2020-born Limousin bull Ballyrobin Rockstar who sold to Dessie Magee, Rostrevor, Co. Down. An impressive addition to his new home he has a copy of both the F94L and Q204X myostatin variants. Described as possessing 'Tremendous style and shape' by his breeder, Ballyrobin Rockstar is an AI son of Ampertaine Magnum and of first calving heifer Ballyrobin Northernstar which is by Lowerffydd Empire.
Overall, 39 bulls sold to average 3,635gns – up 354gns on the year. Females sold for an average of 2,650gns which was up 769gns on the year.
NI Club Chairman Finbar O'Brien was in attendance and commented on the tremendous sale: ' The future is bright for the Limousin breed in Northern Ireland. All credit must go to the breeders and exhibitor's skills and professionalism on display leading to a fantastic trade on the day. The quality of livestock presented coupled with a keen online and in-person purchaser base significantly assisted our auctioneer Graham Loughry in finding new homes for 90% of total animals brought forward for sale. I would like to express my gratitude for the immeasurable contribution by all staff and management of Ballymena Livestock Market making our sale a successful event for all concerned'.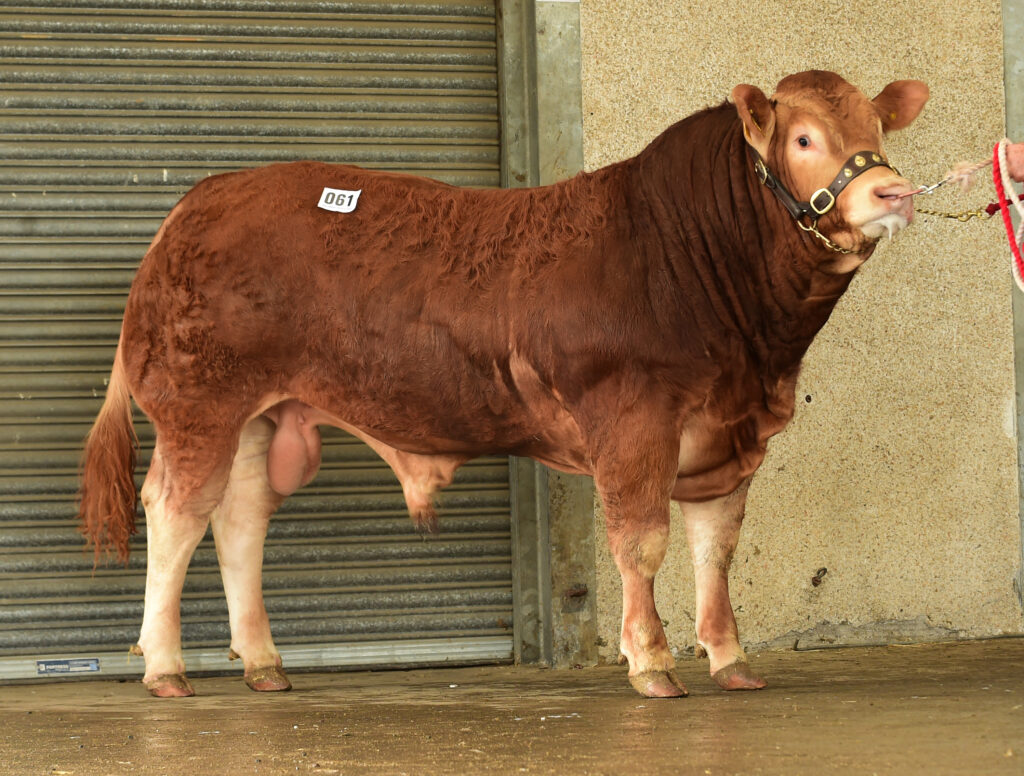 The second highest priced bull was Aghadolgan Rasputin at 5,500gns bred by Mr RAG Savage, Drumahoe, Co Derry. Carryinf a double copy of the Profit Gene F94L his February 2020 bull is by Ampertaine Jeronimo, a grandson of Plumtree Fantastic, and out of the dam Aghadolgan Filly which is a Sympa daughter. He caught the eye of Mr John Robinson, Portadown, Co. Armagh.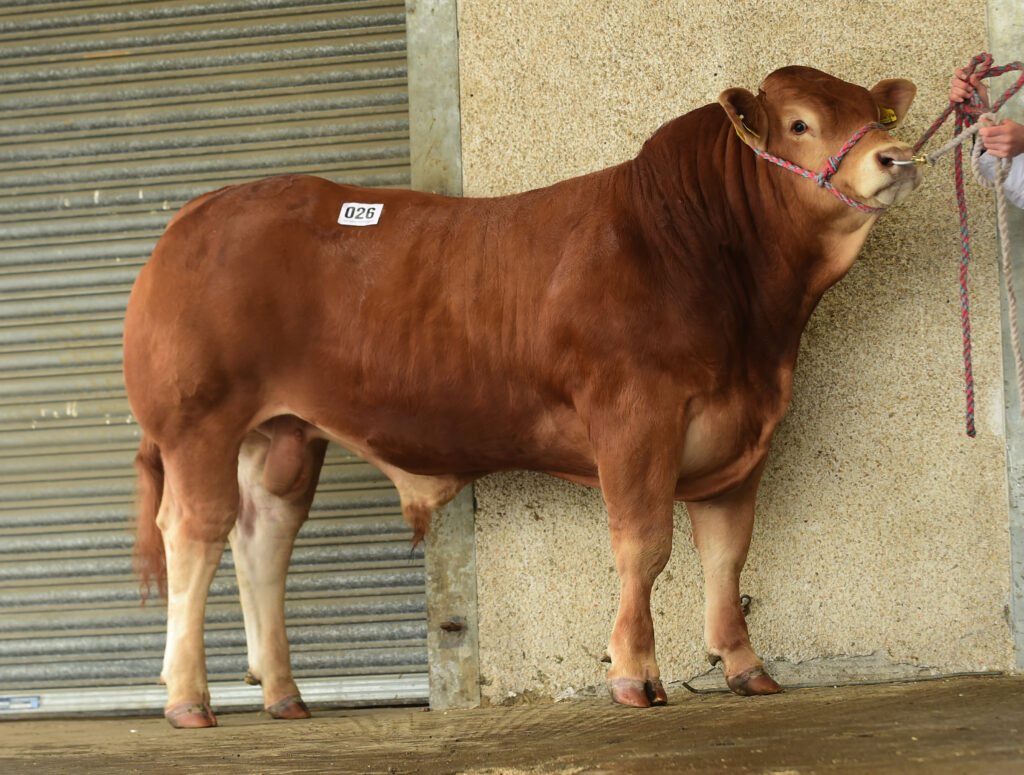 Newhillfarm Paddy was next best when fetching 5,000gns and brought out by Messer M&J Mc Polin, Newry, Co. Down. By Goldies Jackpot and out of Newhillfarm Maria who is by Kaprico Eravelle, with a Beef Value of 45 this November 2019-born bull sold to J F Savage & Partners, Ballywalter, Newtownards.
Messer C & R Robinson Benburb, Co Tyrone was next and came in the shape of Millwood Rampage when going under the hammer for 4,900gns to Mr R McNabney, Broughshane, Ballymena, Co Antrim. Myostatin tested this January 2020 bull has a copy of both F94L and Q204X genes. Millwood Rampage is by Ampertaine Magnum and out of dam Elegante Magnito who carries Ampertaine Foreman and Wilodge Cerberus breeding breeding.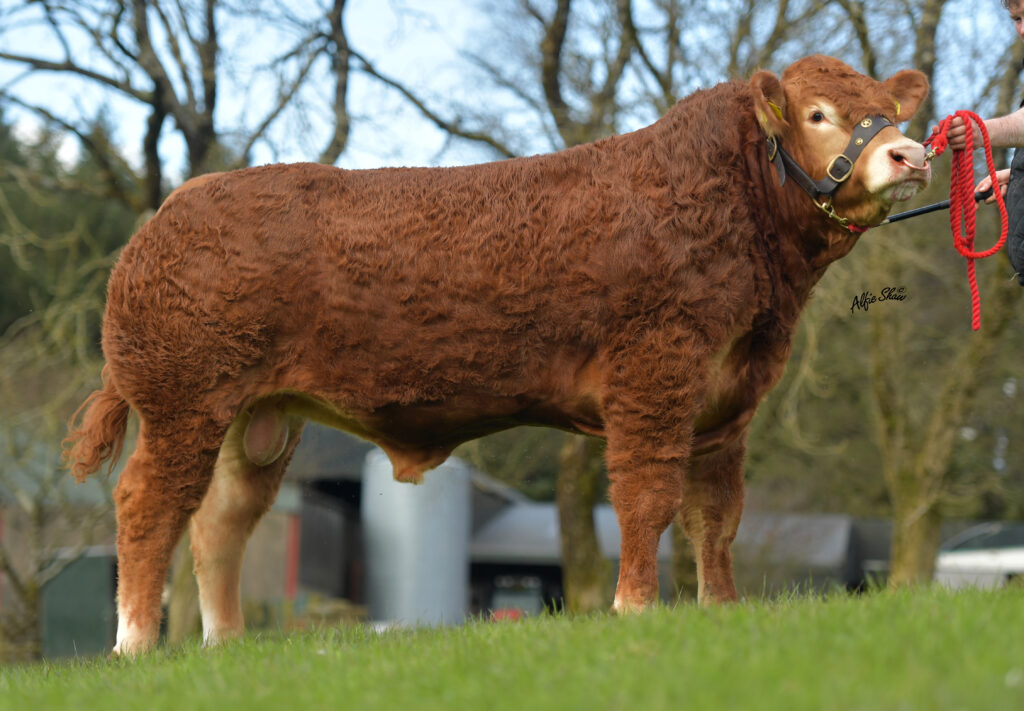 Next up was sole entry Slieve Pochettino from Messer S & J McGeehan, Fivemiletown, Co. Tyrone. This December 2019 fetched 4,800gns, bred by Trueman Idol who is an Ampertaine Elgin son and is of the dam Slieve Natasha. Slieve Pochettino carries the myostatin genes F94L and Q204X. He is destined for a bright future as he was purchased by AI Service NI Ltd, Newtownabbey, Co Antrim.
Ballyhone Romeo bred by Mr B Hall, Newtownabbey, Co Antrim sold for 4,600gns. Carrying a double copy of the Profit gene F94L this January 2020 born bull is of Whinfellpark Lomu and out of dam Tyrone Edwina which is a daughter of Otan. He will now be taken residency with V.N. Fleck, Ballymena, Co Antrim.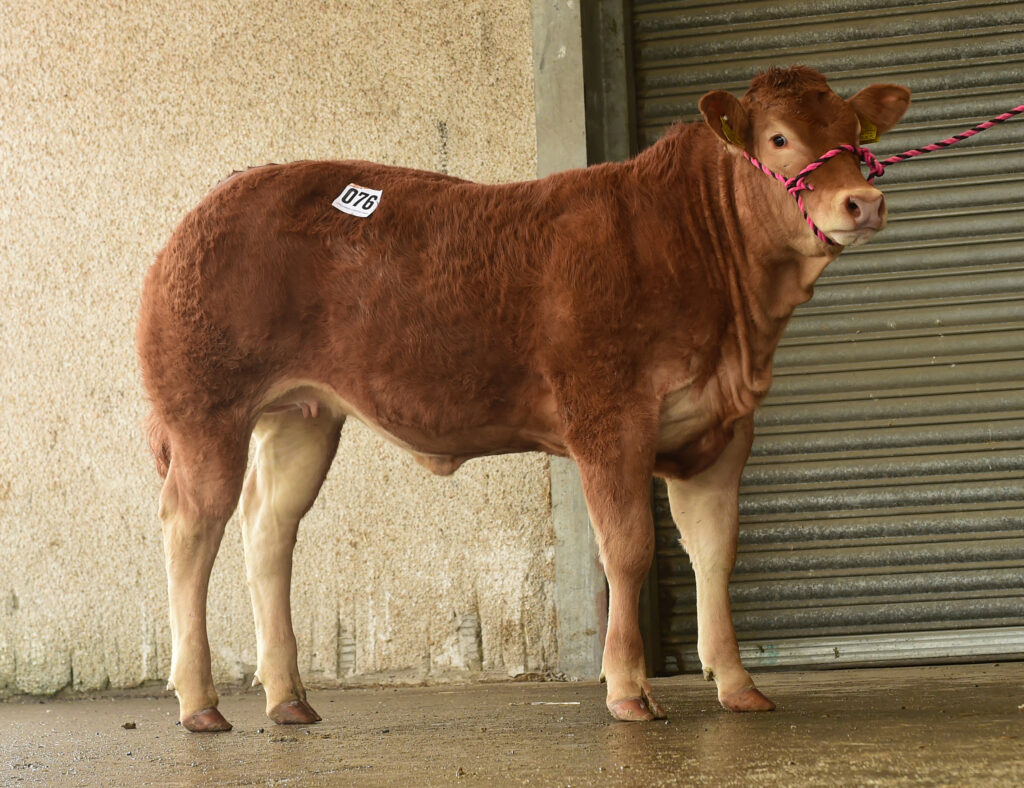 In the heifer section it was J & A Callion who had top priced female at 4,200gns. Melbreak Rennes is sired by Attila who is a son of Pacha and out of the dam Melbreak Geneva, a daughter of Wilodge Vantastic. This September 2020 born heifer was the youngest female offered for sale on the day, Melbreak Rennes carried both a copy of the NT821 and Q204X myostatin gene variants. Catching the eye of her new owner John O'Kane she will now become a breeding female of the Gleneagle Herd in Garvagh, Coleraine.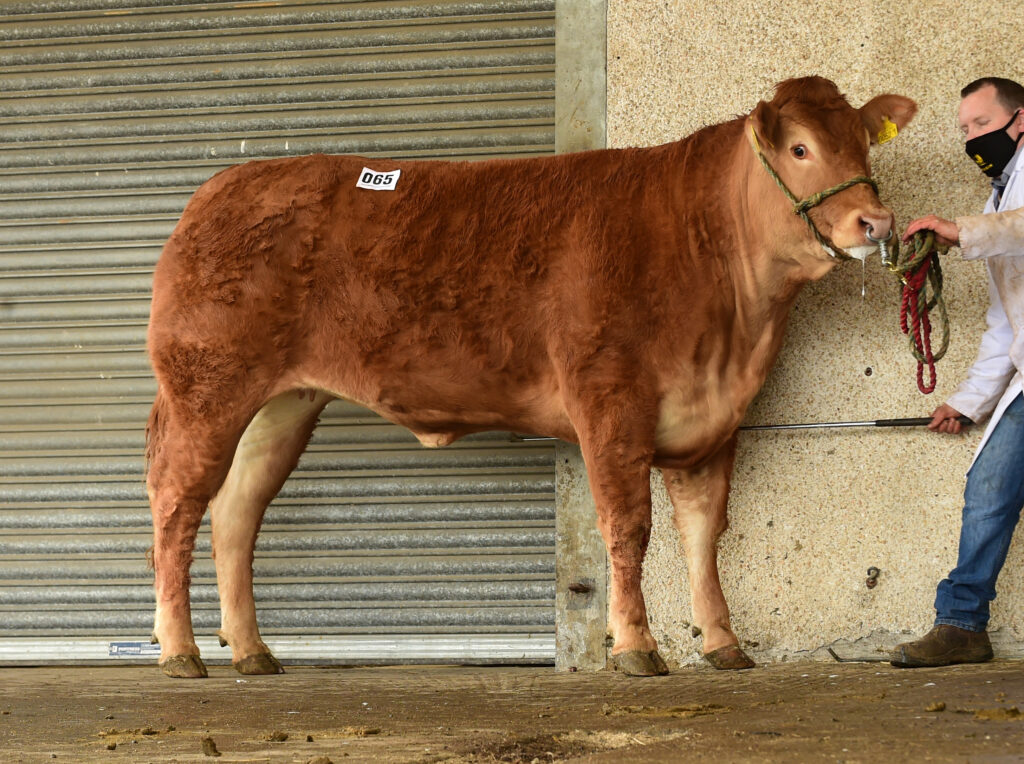 The second in line was Killydun Perrie bred by the Quinn Brothers, Killyguillib, Kilrea, which was an in calf heifer born in December 2018. Sired by Netherhall Jackpot, she is out of the dam Goldies Lollypop, a Fochillfarm Irishlad daughter, she holds a Beef Value of 33 and carries both copies of genes F94L and Q204X. Purchased by Mr R Patton, Newry, Co. Down.
Joint price of 3,000gns was Rathkeeland Riley bred by Crawford Brothers, Maguiresbridge, Co Fermanagh. This February 2020 born heifer carried both a copy of the F94L and Q204X myostatin variants. Rathkeeland Riley is sired by Ironstone Gandi which is a Wilodge Vantastic son and is of the dam Rathkeeland Nellie who is a Plumtree Fantastic daughter. This junior heifer now finds home with Mr A Paul, Magherafelt, Co Derry.
The British Limousin Cattle Society and N.I. Limousin Cattle Club would like to thank the auctioneers JA McClelland & Sons as well as partners across Northern Ireland for all their effort leading up to this sale and on the day of the sale itself. The measures taken ensured a live sale could take place to the benefit of all.
Issued on behalf of the Northern Irish Limousin Club by Tara Williamson.
For more information, please contact Tara on 07881435042
Leading Prices
'Quinliz Peadar' bred by Roger M Quinn – sold to Mr J McCloskey for 4,400gns
'Quinliz Rambo' bred by Roger M Quinn – sold to Mr B Mullan for 4,300gns
'Newhillfarm Rambo' bred by M&J McPolin – sold to Mr P McVeigh for 4,100gns
'Owenbeg Probabull' bred by Ruairi McCloskey – sold to R Millar for 4,000gns
'Lesters Rocko' bred by D Lester – sold to M McConville for 4,000gns
'Carnew Rio' bred by J&J Aiken – sold to A Harley for 4,000gns
Averages:
39 Bulls 3,635gns (+ 354gns)
12 Females 2,650gns (+ 769gns)
Auctioneers: JA McClelland & Sons