A near 90% clearance rate for 81 head forward, solid trade for ready to work bulls, which topped the day at 5,800gns (£6,090), and strong demand for females, which peaked at 5,200gns (£5,460) were the highlights at Skipton's Auction Mart's annual Craven Limousin Day highlight. (Wednesday 11 May 2022).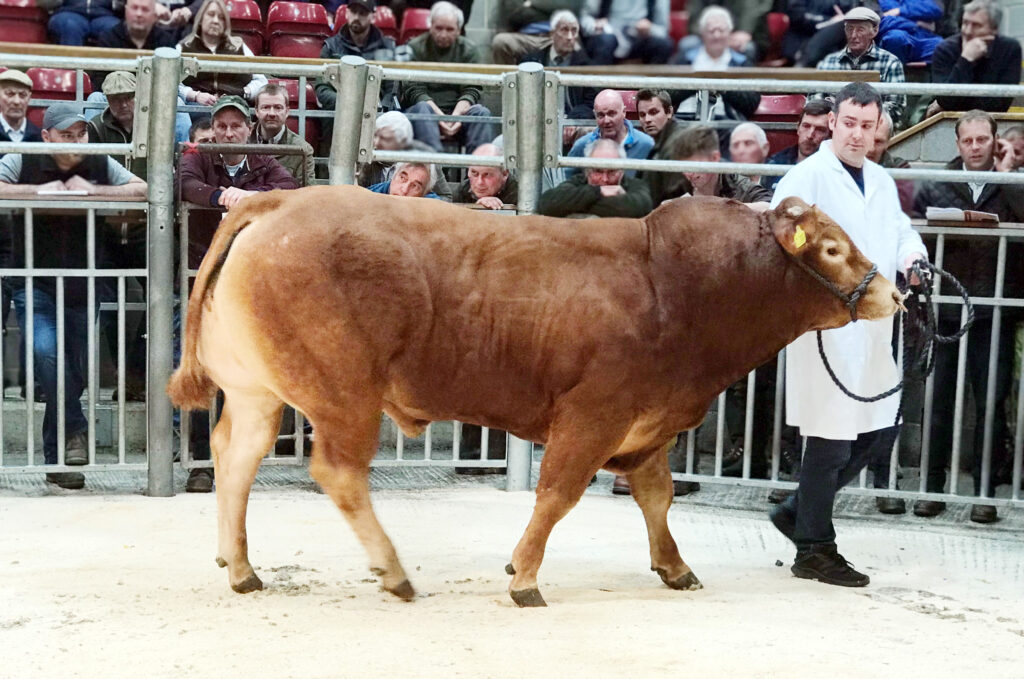 The day's leading price fell to a third prize intermediate bull shown by County Durham husband and wife, Carl and Julia Stephenson, who run the Pikestone pedigree herd, established in 1979, with their son, William, and daughter-in-law, Helen, at Woodland, Bishop Auckland. They also have pedigree Beef Shorthorns.
Their May, 2020, Pikestone Ragnar is an AI son of Gallaber Leo, bred by the well-known Burton-in-Lonsdale-based herd, himself by the celebrated Saphir son, Lodge Hamlet. The dam, Pikestone Heffalump, is a daughter of the highly regarded pedigree and commercial sire, Waindale Someboy, a bull which has bred commercial show calves to £8,500.
Mounting a successful raid for Ragnar were familiar faces at Skipton, Nidderdale father and son, Joe and Trevor Stoney, who run their commercial suckler herd at White Wood Farm, Bewerley, Pateley Bridge. Their new acquisition, bought to replace a ten-year-old French-bred Limousin bull who is nearing the end of an illustrious career, will go to work on both three-quarters Limousin and Blue-x-Limousin cows.
From Cumbria, the three-generation Priestley family – Michael, his son Steven, wife Ruth and their children, Richard and Sarah – who run the Brontemoor herd at Cracrop Farm, Kirkcambeck, again made a successful foray south to claim second top call of 4,800gns with Brontemoor Reveller, an August, 2020, AI son of the 17,000gns Trueman Idol, who was also responsible for the family's champion commercial bullock and overall reserve champion at the previous day's show-only Northern Limousin Extravaganza for breed youngsters.
Reveller, the second calf of Brontemoor Lipsi, a daughter ofAmpertaine Commander, stood first prize bull in the older intermediate class and reserve intermediate champion, and was bought by WA Dinsdale, of Harkerside in the Swaledale area of Richmondshire.
The Priestleys also claimed 4,000gns with a second prize intermediate bull, Brontemoor Rockyhorror, third prize young bull in last year's North West Limousin Club herd competition. The December, 2020, Cameos son, out of a home-bred Garrowby Hurricane-sired dam, Brontemoor Madonna, sold locally to Horton-in-Ribblesdale's JM&DE Wood.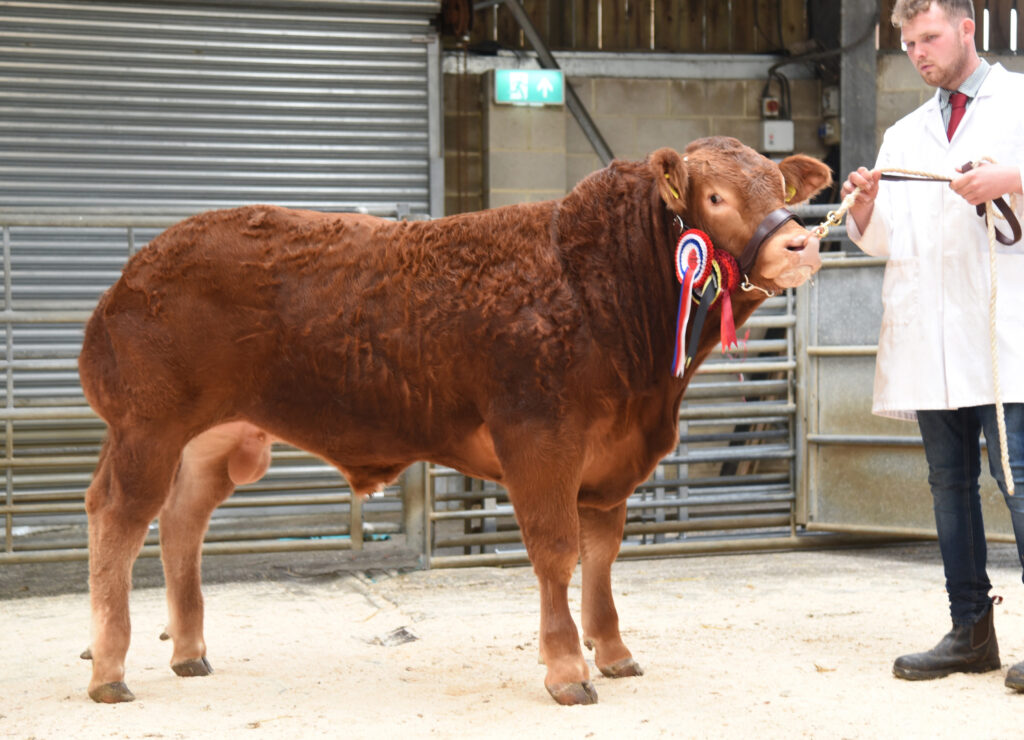 The Priestleys then reinvested some of their day's earnings when going to 4,000gns to successfully claim the 2022 Craven Limousin Day supreme champion, the first prize junior bull and champion male from Zac Ward, who runs the Intack herd in Nether Kellett, Carnforth.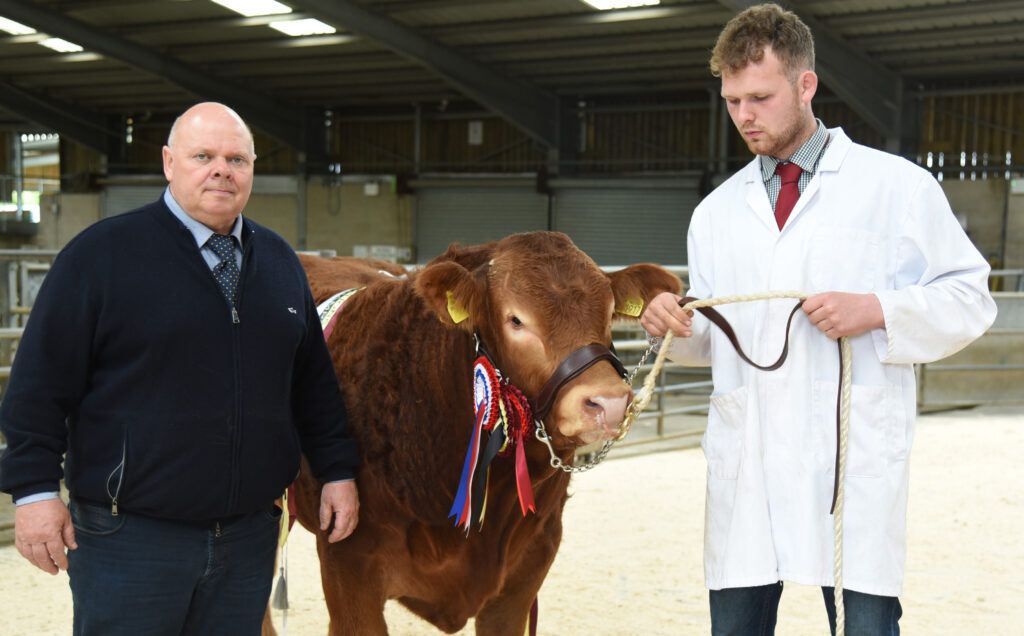 His Intack Sumo is a January, 2021, embryo son of Maraiscote Graffiti, bred from the Sympa granddaughter, Goldies Floche, and was the pick of show judge Charlie Boden, of the Sportsmans herd in Stockport. Mr Boden described his chosen supreme as "outstanding and very correct, with meat in all the right places."
Claiming his first supreme championship coup, it was by far the biggest day to date for up-and-coming 22-year-old breeder Zac, who established his herd some two years ago after being offered and purchasing embryo recipients, since calved and reared, from Ian Handley's renowned Gunnerfleet herd in North Craven, where he formerly worked as a stockman. In fact, Mr Handley was one of the first to congratulate Zac on his achievement.
The annual breed showcase, which continues to reflect Skipton's growing status as a pedigree Limousin venue, always produces a crop of good junior bulls aged 12-14 months and this year was no exception, with the pick at 3,300gns the April, 2021, Oddacres Sidney from the well-known local herd in Embsay run by John and Claire Mason, and daughter Annabel, secretary of the North East Limousin Cattle Breeders Club, which again supported the breed highlight.
A third prize winner in his show class, Sidney is by the Haltcliffe Doctor son, Procters Major, acquired at around 18-months-old from Procters Farm in Slaidburn and since used successfully for some six years – he was also responsible for a 6,000gns junior bull at last year's corresponding sale. Out of Oddacres Noisette, a daughter of the top performing French import Gallois, who continues to leave such a strong stamp on the Oddacres herd, the naturally born bull sold to local specialist cattle breeder and feeder, Ben Townsend, from Laneshawbridge, Colne.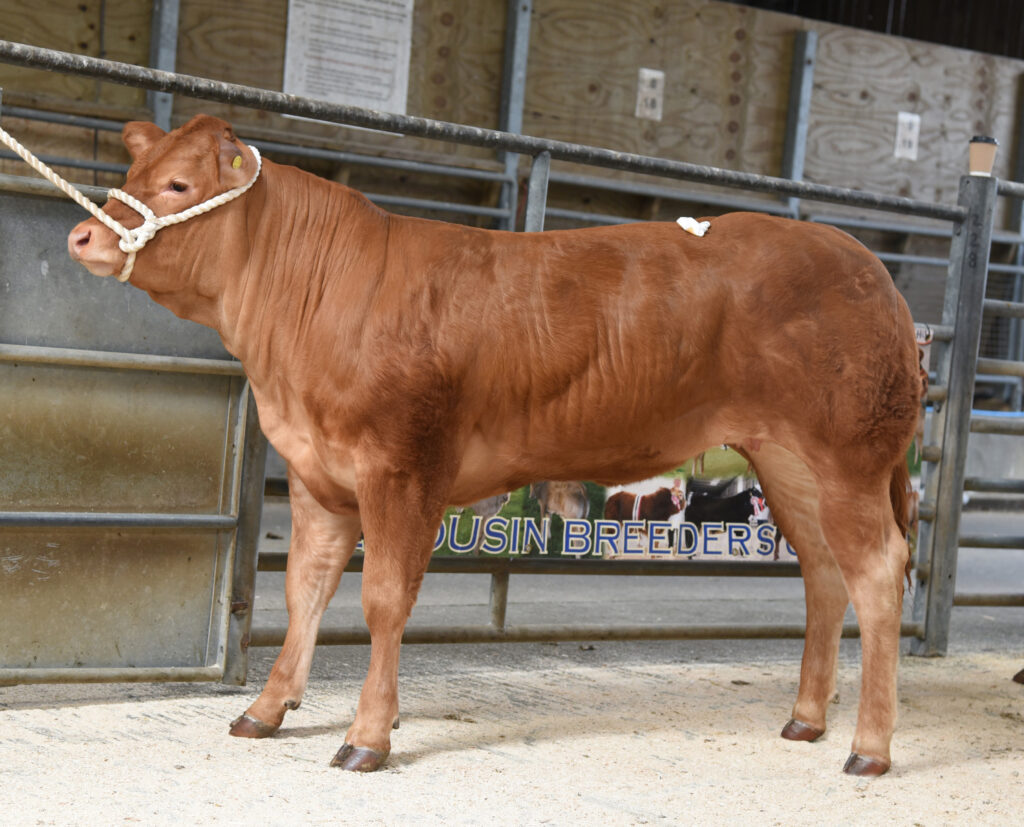 The Mason family also achieved a high profile success in the female section, securing first the female championship, then the reserve supreme championship with their first prize June, 2021, maiden heifer, the exceptional Oddacres Stella, the youngest animal in the sale, said to be possibly the best heifer from the herd offered for sale to date – it was established over 20 years ago – and described by the adjudicator as "a sweet heifer with plenty of length, good on her legs with a big future in front of her."
A third prize heifer calf in the NELBC herd competition, Stella is also by Procters Major and in similar vein to their bull out of a home-bred Gallois cow, Oddacres Nigella, this time with a line to Homebyres Elitelady, who won the NELBC cow and heifer calf show class. Stella's future now lies with her new owners, Sercar Agricultural in Radcliffe, Lancashire, who went to 3,400gns to claim her. Another successful day for the Masons also saw them also make 1,850gns with the third prize 2021-born maiden heifer, Oddacres Shakira, with similar breeding to their reserve supreme.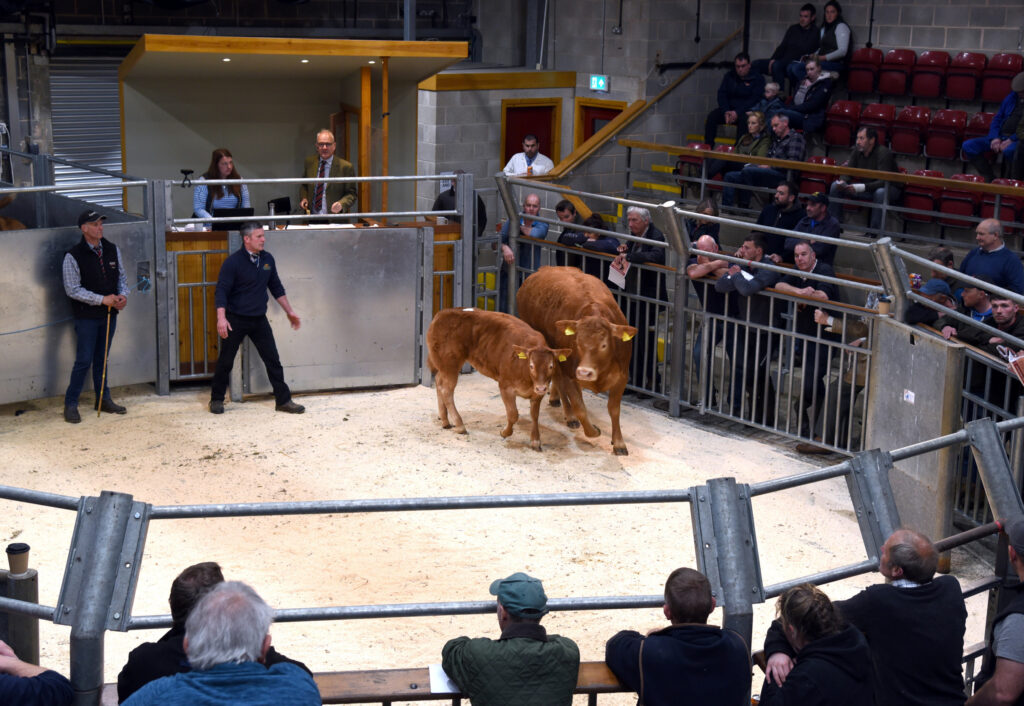 Females saw a particularly good clearance, with pedigree buyers joining commercial buyers looking for high health cattle. Garrowby Farm, from Bugthorpe, York, led the prices at 5,200gns with the Ian Handley-bred Gunnerfleet Preloche, a February, 2019, first calved heifer by Foxhillfarm Manhattan sold with her September-born Nabal-sired daughter, Garrowby Scaramouche. Since run with Trueman Pharrell, the outfit went to H Ormerod, of Clowbridge, Burnley.
This lot was followed immediately by another Garrowby outfit, Gunnerfleet Palome, an April, 2019, Ampertaine Magnum daughter sold for 4,200gns with her October-born Plumtree Fantastic bull calf, Garrowby Savy, to JC&J White, of Barnard Castle. The herd also achieved 3,400gns with a further Gunnerfleet-bred cow, the September, 2017, Fantastic daughter, Nisensis, sold with her October, 2021, Ampertaine Magnum-sired bull calf, Garrowby Spitfire, to New York Farms in Silsden.
Completing a good day for Garrowby were a 3,100gns sale of their third prize intermediate bull, Garrowby Riot, a November, 2020, Fantastic son, plus a November, 2020, maiden heifer again by Magnum at 1,950gns.
Standing reserve male champion was an intermediate bull that stood runner-up in its show class to the supreme champion. Willowbank Steve, a March, 2021, son of the German poll bull Jost, bought in France in 2017, came from Geoff Hadfield's Willowbank pedigree herd in Littlemoss, Droylsden, making its second appearance at the Limousin fixture in the hands of the herd's management consultant Mark Lewis. The bull, also a runner-up at the previous day's Northern Limousin Extravaganza, made 2,900gns.
Another red rosette winner for Hadfield, this time in the cow and calf show class, was the October, 2015, Loterie, again bred in France near Limoges by Gaec Rouliere-Ducourtioux, a well-known breeder who has exported cattle to some of the top herds in the UK. The exceptionally milky easy calving cow, which formed part of the first French importation by the Willowbank herd, sold with her April-born Macaroni-sired bull calf, Willowbank Titan, for 3,300gns to J Clayton, of Wyke, Bradford.
Gunnerfleet breeding was also seen in the female reserve champion, the red rosette-winning 2020-born maiden heifer from Cumbrian husband and wife, Craig and Janet Johnston, of the Crajan herd in Great Salkeld, Penrith, Their June, 2020, Gunnerfleet Lion daughter, Crajan Roberta, out a home-bred Ampertaine Gigolo-sired dam, sold for 2,500gns.
Mr Johnson, who works as property maintenance manager for AW Jenkinson Forest Products has been involved with the Limousin breed since the age of ten and the herd currently has ten breeding females on the ground. It also consigned the first prize senior bull and male champion, Crajan Rodders, a January, 2020, son of Lowerffrydd Empire, out of a home-bred Foxhillfarm Irishlad-sired dam, which made 3,000gns. From the same home, a January, 2020, maiden heifer, Crajan Rebecca, also by Empire, got away at 2,100gns.
Back with the senior bulls, doing better at 4,000gns was the second prize winner from the Cranfield family, who run the Copylawn herd in Edenham, Lincolnshire. Their Copylawn Ranger, a February, 2020, son of Wilodge Cerebus, out of a Coachhouse Hector dam, Confluence Lucia, was claimed by A Kaye & Son, of Dunford Bridge, Sheffield.
Fixture regulars, WE Swales & Sons, of the Swale herd at Balk, near Thirsk, were again to the fore with two 3,600gns sales of 2020 intermediate bulls, both sired by the Claragh Franco son, Norman Jockey. The first of them was the October-born Swale Rodney, out of the Brontemoor Aceofspades daughter, Swale Icecandy, which headed home to Nidderdale with Middlesmoor's J Verity & Sons.
Next up at the same price was a third prize winner, the November-born Swale Reece, out of a Glenrock Dealer home-bred dam, Swale Goingforgolds, which also returned to Nidderdale with FM Shepard & Son in Pateley Bridge. In addition, a Swales junior bull, the March, 2021, Swale Simon, sired by the prize-winning Millbrow Icatcher, a Haltcliffe Vermont grandson, bred out of another Jockey-sired home-bred cow, was placed second in his show class, going on to make 2,900gns.
Breed stalwarts James and Sarah Cooper, of the Tomschoice herd at Hill Top Farm, Dacre, Harrogate, which landed both 6,200gns top price and supreme championship coups at last year's premier breed highlight at Skipton, were again among the prizes in both the male and female show classes.
Doing best at 3,600gns was a third prize intermediate bull, Tomschoice Rapidfire, a November, 2020, son of Scorboro Nero (by Fenomen), out of a home-bred Carwin Icaros daughter, which found a new home in Nottinghamshire with Thurgarton's I Kirk. Close behind at 3,500gns was another intermediate bull, Tomschoice Redbaron, again by Nero, out of a Keltic Handsome-sired dam, Tomschoice Magnolia. The local buyer was Bordley's JR Lancaster.
Tomschoice females also landed a brace of runners-up tickets. First up in the cow and calf class was the 2012 Kaprico Eravelle daughter, Tomschoice Heureux, sold with her February-born Scorboro Nero heifer calf, Tomschoice Tinkerbell, for 2,700gns, followed by the second prize 2020-born maiden heifer, Tomschoice Raspberry, by the home-bred Eravelle son, Tomschoice Milord, which made 2,000gns.
South Yorkshire's Stephen Wilde, of the Ewdenvale herd in Bradfield, Sheffield, claimed 3,000gns with a second prize intermediate bull, Ewdenvale Robin, a July, 2020 Glenrock Humdinger son, while back with the females, Susan Field, of the Cornfield herd in Burnley, made 2,300gns with her in-calf three-year-old cow, Foxhillfarm Nearlyperfect, due later this month to Mayfields International.
Last but not least, the remaining prizewinner was a 2021-born maiden heifer from the Morton family's Blackfriar herd in Norton Disney, Lincoln. Blackfriar Shakira, a January, 2021, daughter of Netherall Jackpot, made1,750gns, a second maiden heifer from the same home, the May, 2021, Goldies Olympia daughter, Blackfriar Sapphire, doing better at 2,100gns.
Outwith the show, local breeder Simon Bennett, who runs the Coateslane herd in Silsden, hit 3,700gns with his June, 2020, intermediate bull, Coateslane Rastus, another well-bred Lodge Hamlet son, out of the Wilodge Fastrac daughter, Avonmarsh Ice. Rastus, who already has a cow in-calf. Rastus went to Windermere with the Clark & Johnson farming partnership.
A second Bennett bull, this time a junior, the January, 2020, Coateslane Remington, by Glenrock Ventura, out of the Maraiscote Graffiti daughter, Gunnerfleet Nelochi, also caught the eye at 3,400gns. Having served cows already settled in-calf, Remington joined F&A Walmsley in Pleasington, Blackburn.
Chief prices and averages were: Senior Bulls to 4,000gns (av £3,640 – 2021 £5,985), Intermediate Bulls to 4,800gns (av £3,876 – 2021 £3,628), Junior Bulls to 4,000gns (av £2,633 – 2021 £2,871), Maiden Heifers to 3,400gns (av £3,044 – 2021 £1,620), Cows In-calf/with calves at foot to 5,200gns (av £3,594 – 2021 £2,575).
ENDS
Further info: Robin Moule 07976 559961 robin@moulemedia.com