Interbreed Beef and Continental Beef Champion – Tweeddale Harika in calf heifer to Ampertaine Foreman from Kevin Watret, Northfield Park, Dumfrieshire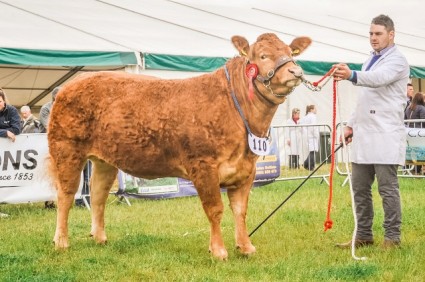 Tweeddale Harika is by Goldies Fandango and out of Tweeddale Feefee and was purchased last year for 12,000gns at Carlisle from Jonathan Watson. She was  Beef Interbreed Champion and Reserve Champions of Champions at Ayr show this year and Beef Interbreed champion at Dumfries show last year.
She will now head to the Royal Highland and Royal Welsh shows.
LIMOUSIN CATTLE Results 
Judge Mr R Cruickshank, Strathaven, Lanarkshire
Breed Champion Tweedale Harika by Kevin Watret, Northfield Park, Dumfrieshire
Reserve Champion Meadowrig Eva by Renton and Redden Partners, Clarence House, Berwick upon Tweed
Female Champion Tweedale Harika by Kevin Watret, Northfield Park, Dumfrieshire
Reserve Female Champion Meadowrig Eva by Renton and Redden Partners, Clarence House, Berwick upon Tweed
Champion Maiden Heifer Meadowrig Jainsi by Renton and Redden Partners , Clarence House, Berwick upon Tweed
Male champion Longhirst Jerome by JE Jordan & Son, The Brocks, Morpeth
Reserve Male Champion Crajan Jester by CW & JE Johnston, 3 Sewell Common, Penrith
Class 24 Maiden Heifer under 15 months old on 31.05.15
Whitely and Courts, Pond Farm, Thirsk
JE Jordan & Son, The Brocks, Morpeth
JE Jordan & Son, The Brocks, Morpeth
Class 25 Maiden Heifer over 15 months and under 2 years on 31 May 2015
Renton & Redden Partners, Clarence House, Berwick upon Tweed
Kate Sutcliffe, Wraycliffe, Middlesbrough
J P Graham and Son, The Wreay, Penrith
Class 26 Heifer in Calf or with Calf at Foot
Kevin Watret, Northfield Park, Dumfrieshire
Mr D R Dixon & Miss L Chappellow, Westfield House Farm, Wigton
W.I. Suddes & Sons , South Farm, Cornsay
Class 27 Cow having had more than 1 calf
Renton and Redden Partners , Clarence House, Berwick upon Tweed
John Elliott, Roxburgh Mains, Kelso
Class 28 Junior Bull not more than 18 months old on 31 May 2015
JE Jordan & Son,  The Brocks, Morpeth
CW & JE Johnston, 3 Sewell Common, Penrith
CW & JE Johnston, 3 Sewell Common, Penrith
Class 29 Senior Bull over 18 months old on 31 May 2015
No entries
Class 30 – Pair of animals entered in classes 24-29
JE Jordon & Son,  The Brocks, Morpeth
CW & JE Johnston, 3 Sewell Common, Penrith