90% clearance of the 30 bulls forward
5 bulls clear 5,000gns and more
Homebryes Letham tops the sale at 6,200gns
31 Limousins (27 bulls and 4 females) gross over £100,000 in little over an hour.
27 bulls average £3,659.60
Following on from the previously titled 'fantastic fortnight' of late April/early May, all eyes descended on Carlisle on Friday June 16th for the British Limousin Cattle Society summer sale of bulls and females. Trade did not disappoint at what was the final sale of the spring/summer season. A fantastic 90% clearance of the 30 bulls forward resulted in a solid average of £3659.60, with seven more bulls coming forward.
Five bulls cleared 5,000gns or more and demonstrating the depth in the trade only eight bulls sold for under 3,000gns. In little more than an hour over £100,000 had changed hands. With commercial buyers once again actively in the market there is more evidence of how the breed is fitting into the requirements of a commercial enterprise producing carcases to fit into the changing needs of the marketplace.
An early lot secured the top price of the day. The August 2015 born Homebyres Letham, from Messrs J Logan, Kelso sold for 6,200gns. Regularly selling bulls into five figures at Carlisle this is the first occasion that Messrs Logan have topped a sale. Sired by the noted Plumtree Fantastic and out of Homebyres Duplicity he is on his way to Andrew Paton, Craig Farm, Maybole, Ayrshire for his 270 head commercial beef enterprise which he runs alongside his notable Blackface sheep flock . Homebyres Letham joins the collection of his sire's progeny who have been in firm demand in recent years.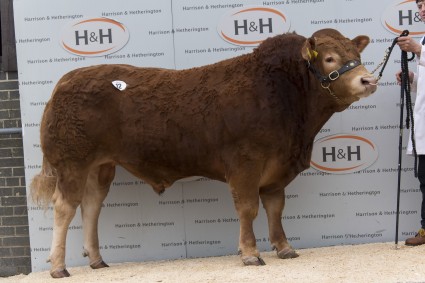 On what turned out to be a great day for Messes J Logan, they brought the last bull into the ring. The April 2016 born Homebyres Merton rounded off the solid trade of the day as the gavel went down at 4,500gns. He went home to C J & D Metcalf, Ripon, North Yorkshire.
The second lead price of the day came later in the sale. The January 2016 born Barrons Maximus, from W Barron, Morrow Edge Farm, Durham made 5,500gns. Sired by Wilodge Cerberus, once described as true show stopper, and out of Barrons Bambi, he was bought by Keith Bell, Hilltop farm, Keswick for his Wanthwaite herd.
The remaining three bulls that made over 5,000gns all sold for 5,200.
The first for the hammer to go down at this price was Kirtlevale Logan owned by R J Livingston, Kirtle Vale, Gretna. He was the opening lot of the day, which got the sale off to the flying start. By Loosebeare Fantastic, a son of 42,000gns sire Wilodge Fantastic, and out of Kirtlevale Beegan, he was bought by Messrs G W & C Athey, Alston, Cumbria.
The second to make 5,200 was the November 2015 born Rachels Lancelot, sired by the prominent Mas Du Clo out of Rachels Gail he was knocked down to Mr P Cummings, Carnforth. Mas du Clo has a reputation for breeding great muscle, amazing width, power and growth; as such his progeny is always in demand.
Completing the hat trick at this price was the March 2016 born Haltcliffe Matador from the Haltcliffe Herd, Wigton. By Volcano out of Haltcliffe Ainsi he was bought by Messrs G & M F Turbull and Sons, Richmond, North Yorkshire as stock bull for their 170 head commercial suckler herd.
Another bull to make 4,500gns was Saunders Monty, the February 2016 born bull sired by Wilodge Inspector and out of Saunders Ingrid. Brought to Carlisle by A&W Watson he went home with W Wearmouth & Son, County Durham.
Following on from the bulls on the day was a small cohort of females. With no difficulty attracting buyer's four females each made 1,200gns.
Auctioneer: Harrison and Hetherington