The Young Limousin Breeders Club put forward four members to shadow the judge at the show preceding the autumn bull sale at Borderway Mart, Carlisle on Friday 13 October 2017. The four lucky participants, Louise Allen, Joseph Mackley, Gemma Slater and Brooks Carey, gained valuable experience from the day's judge, Mr Duncan Hazard of the Mereside Herd in Lincolnshire. In particular he was able to share the process, format and structure behind the efficiency of judging a large number of bulls over a significant number of classes.
The four young breeders, who split into two pairs, were in the ring observing the process during the course of 18 Limousin classes and four Championships. The group were able to interact with the judge, exhibitors, stewards and spectators, while experiencing what it feels like to be in the spotlight.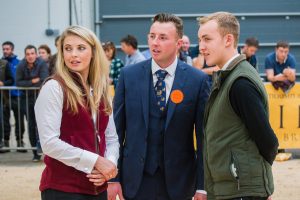 Duncan provided an excellent display of efficient judging, which gave the group precious experience in the format of the classes, individual inspection, short leet selection and placing decisions. These important skills are very difficult to learn without first-hand experience, which is relatively hard to come by.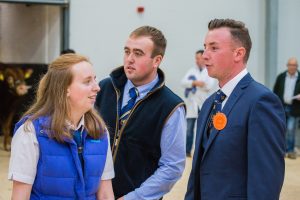 There are very few judging arenas which require as much concentration and stamina as judging the Limousin bulls at one of the premier sales such as that in Carlisle last week. Consequently, hats off to the young breeders for their focus throughout the whole event. Doing themselves and the Society proud their conduct was impressive in the ring. Well done to all four young breeders for taking the opportunity to participate in the stimulating experience.
A thank you is extended to Mr Hazard for his effort in engaging the young members on the day, patiently explaining his decisions for all the classes and after making his Championship selections. Also, heartfelt gratitude is extended to Neil Lloyd for his mentoring of the young members throughout the day.