Bulls clearance rate of 64%
14 bulls sold to average £2721
Female clearance rate of 88%
7 females sold to average £1577
The British Limousin Cattle Society's end of year Show and Sale in Northern Ireland was held on Friday 17 November 2017 at Dungannon Livestock Mart. With buyers present from all over Northern Ireland, and a clearance rate of 64%, 14 bulls found new homes to a solid average of £2,721. Many of the bulls on offer were progeny of prominent Limousin sires, which offered particular interest to commercial buyers, who in Northern Ireland, as in all the other regions of the UK are without doubt showing their enthusiasm for the breed.
The Junior Male Champion at the pre-sale show Culnagechan Muller, from Derek Hume, Randalstown, topped the sale prices. The home-bred July 2016 born bull is by Iveagh Gilkes and out of Culnagechan Elite. He was knocked down at 5000gns to F & A King, Warrenpoint, Newry. In another example of the strength in the market for Limousin bulls the leading price was notably ahead of that in the corresponding sale last year.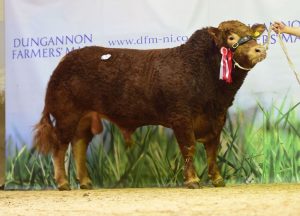 Senior Male Champion in the show, and making the second top price, was Greenvale Mark from William Sherrard, Co Derry. This April 2016 born son of Ampertaine Gigolo was knocked down to A Downard, Markethill, Co Armagh for 3400gns.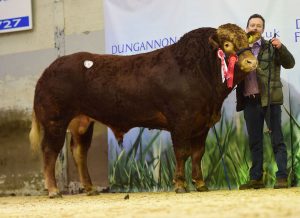 Annadale Marshmallow, a March 2016 born bull by Ampertaine Foreman and out of the dam Annadale Honey followed that at 3300gns. Home bred by Christopher Murray, Cullyhanna, Newry, Marshmallow, was placed third in his class and was sold to Pat Casey, Crossmaglen, Co Armagh.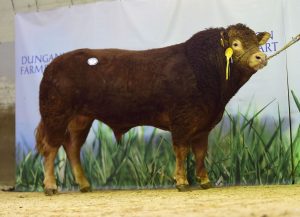 Reserve Overall Supreme Champion was Rahoney Malachi bred by H & D McFarland, Trillick, Co Tyrone. Another Ampertaine Gigolo son Malachi had taken the Reserve Overall Male Champion spot and Reserve Intermediate Male Championship. Also born in April 2016, he sold for 3000gns to Niall Wallace, Florencecourt, Enniskillen.
There was a small cohort of females presented through the ring and with a clearance rate of 88% they averaged a very respectable £1,557.
The Female Champion in the pre-sale show and then the top priced female through the ring was Kilclass Lullaby, a two-year-old heifer by Ampertaine Elgin and out of Larkhill Harmony. Bred by Dermot McCusker, Castlewellan, Co Down, Lullaby sold for 2300gns to M & R McGurk, Cookstown, Co Tyrone.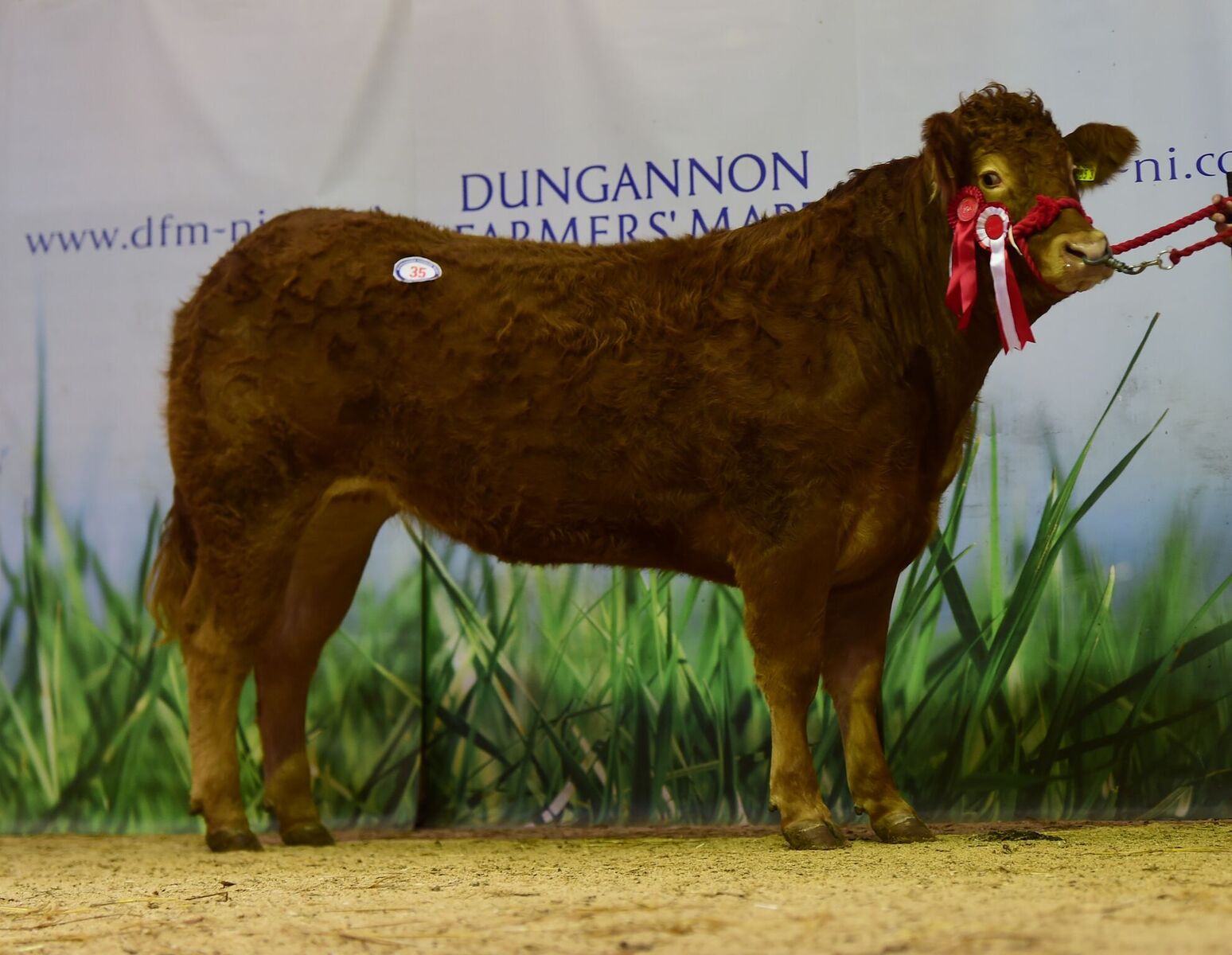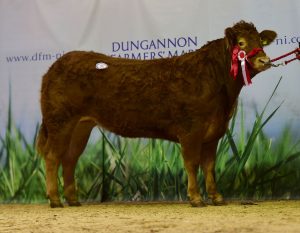 Chasing this top female price was an April 2015 born female by Virginia Andy, Drumadarragh Lucy who had stood second in her class in the show. Home-bred by N Drennan, Ballyclare she sold for 2100gns to K Minford, Crumlin, Co Antrim. Reserve Female Champion came from Mr P Campbell, Ballymena, in the shape of Spage Neta a May 2017 born Norman Ely daughter. She sold for 1250gns to A Johnston, Dundrod, Co Antrim.
The robust prices achieved at Dungannon follow those at the recent BLCS sales held at both Carlisle and Stirling and further goes to re-emphasises the healthy demand for Limousin bulls 2017 has delivered. A feature of all these sales has been the emphasis buyers have been placing on bulls that had good calving figures along with length, shape and good tops.  Beef producers all over the UK are looking for easy calving easy care cattle that are feed efficient and produce high end suckled calves with tremendous carcase attributes.  The Limousin breed is synonymous with these traits and that's what is continuing to driving the solid demand at sales throughout the country.
The N.I. Limousin Cattle Club would like to express their gratitude to Dungannon Mart and Judge Michael Gunn of the Ovaun Limousin Herd, Elphin for their support on the day. Also thanks to Norbrook Pharmaceuticals for their continued sponsorship of the event.