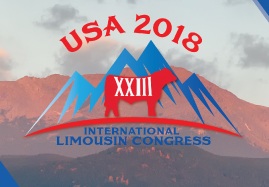 Thursday, 19th July  – Saturday, 28th July 2018 
Denver and Colorado Springs
Colorado, USA
Further to previous notifications  we can now confirm that Field Farm Tours Ltd would be delighted to assist BLCS members with their travel plans for the 23rd International Limousin Congress in Colorado next July.
For a no obligation quotation, please contact Carolyne Cree on 01636 616060 or by email: carolyne@fieldfarmtours.co.uk
Carolyne has advised that in the hope of offering the lowest flight deal, a group airfare would be the best deal and will require a minimum of 10 passengers to travel out together from London.  Flights from Edinburgh, Glasgow, Manchester can be added but will be via London in order to take advantage of the group deal.
For an indication of the GBP equivalent cost of the ILC 2018 fees: The 10 Day Package cost per couple is $5900 which would be GBP £4,540 based on GBP £1.00 = USD $1.30.  Should the rate drop to $1.25 then the GBP cost would be £4,720.  The final exchange rate will be decided at the time of payment to USA.
By booking both the flights and ILC registration fees with Field Farm Tours Ltd, you would automatically qualify for CAA's ATOL Protection Scheme ensuring you don't get stranded abroad or end up out of pocket.
A booking form showing additional extras that can be added to the trip can be down loaded here : ILC 2018 BOOKING FORM
A promotional video can be viewed HERE