On Tuesday 28 November Allams Christmas Show and Sale brought down the final curtain with the last livestock event of its kind to be held at the prestigious Balmoral showground in Belfast. Limousin cattle were out in force showcasing the very best commercial beef cattle Northern Ireland has to offer. Judging of the 20 classes and the Bank of Ireland Championships was in the capable hands of Sam Milliken, Killykergan, Coleraine.
The event was attended by buyers from Scotland and the Republic of Ireland plus local meat plants and butchers from all over Northern Ireland which resulted in one of the best trades ever seen at this annual event.
In the pre-sale show Sam awarded the Overall Limousin Breed Championship to the exhibit he had previously selected as his heifer champion. From Ian McCaughern, Rasharkin the smart 600kg 18-month old heifer was knocked down in the post-show sale to Omagh Meats for £2,300.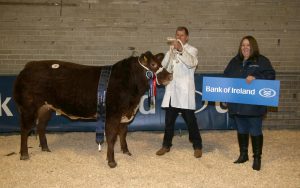 Reserve Breed Champion was the reserve placed heifer Kim K from the JCB Team of Gareth Corrie, Charles Beverland and Johnny Neill. Weighing in at 650kg their 14-month old heifer by Carmorn Cantona made £2,500 in the ring when selling for export. Bred by Vincent Lynch this heifer is no stranger to success having won her class at the Balmoral show in the summer. In the steer section the first placed Limousin came from D and A McCrea, Bready. Also selling to Omagh Meats the 620kg steer went through the ring at £1,618. The Reserve Steer was a 590kg beast from Joe McCarragher, Armagh. He went to H Thompson for £1,540.
Limousins led the 'Housewives Champion' awards. The winner here was a 560kg all-black heifer from Jack Smyth, Newtownstewart. She had won the Champion County Butchers Heifer of the Show and was snapped up by Stephen Millar of Millar Meats, Irvinestown for £3,500.
Reserve Housewives Champion went to Davis Simpson, Aughnacloy, with his 500kg Limousin heifer who was the Reserve Champion County Butchers Heifer. She was knocked down to the judge Sam Milliken for £2,700 who was buying on behalf of Omagh Meats.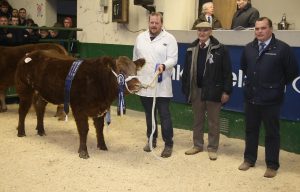 The Champion County Butchers Bullock of the show and The Best of the Opposite Sex titles were won by Alan Veitch, Lisbellaw with a Limousin steer weighing 560kg and selling for £1,900, again to Omagh Meats. Sam awarded the Reserve Champion County Butchers Bullock award to Gerry Law, Kesh. His bullock went onto make £1,500 when selling to McMaster Meats, Whitehead.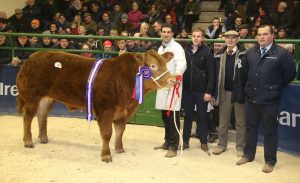 In the calf section a great entry of spectacular calves was topped by a Limousin heifer exhibited by the Doyle Brothers from Kilkeel. Sales of Limousin sired calves was brisk with A Farlow, Garvagh selling a heifer for £1,600 (310kg) and J F Killen, Crossgar a bullock for £1,410 (320kg).