The Limousin suckled calf shows and sales across Northern Ireland over the autumn delivered strong evidence of the demand in the market place for Limousin bred youngstock. As 2018 gets underway the seasonal round of pedigree sales is in motion and the Spring Show and Sale of Limousin bulls and females at Dungannon Mart takes place on Monday 12 February. With a decent number of bulls and females listed for sale the event is certain to be of interest to buyers across the region and beyond.
Analysis of the figures from the bulls listed for sale indicates that well over 90% have a Beef Value on or above the breed average and more than two-thirds are in the top 25%. The Beef Value is a breeding index which aims to quantify the economic value of an animal in terms of the financial merit of its offspring's' carcases. The EBVs accounted for in the calculation of it takes into consideration EBV's for birthweight, 400 day growth, muscle depth and backfat depth; exactly the traits commercial producers are looking for. The figures for the females listed for sale tell a similar story with 85% carrying a Beef Value on or above the breed average and almost two-thirds in the top 25%.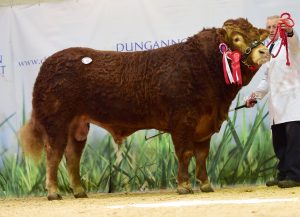 Across the Society sales during the autumn it was evident that there was a big demand for bulls with the ability to produce high yielding carcases at the target weights and grades required by the market place. This is likely to be a continued trend this year which positions the breed extremely well going forward. While the high-end of the trade last year saw some fantastic prices, the highest proportion of bulls across the sales were sold between 2,000gns and 5,000gns, as commercial buyers saw the advantages of market ready genetics and confidently invested in the breed. The sale at Dungannon offers bulls, and females, with robust economic attributes which makes it an essential fixture for commercial and pedigree producers alike.
The catalogue is available to view online at www.limousin.co.uk or via the new app LimSale App