Hopes Auction Co held their anniversary show and sale of primestock at Wigton Mart on Tuesday 6th March.
Judge of the pre-sale show was local butcher Steven Wilson, Corby Hill, Carlisle and he tapped out a super Limousin from Messrs D A Harrison, Hill House, Aldoth as his Champion. The heifer, which weighed in at 629kg went onto make 245.5p/kg in selling to the Judge. Reserve Champion was another Limousin heifer, this time from Messrs Miller, West Farm, Aspatria. At 699kg this heifer took the accolade as the day's highest gross priced lot at £1,674. In what was a super show of meat overall, a 535kg Limousin Heifer from Messrs Watson, Cunningarth took the day's top price at 248.5p/kg.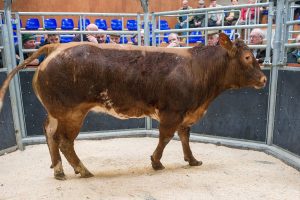 Limousin took the honors in the steer classes, with a one-two for Messrs Cape, Kirkland Guards, Mealsgate. W Kirkup & Sons, butchers from Longtown, bid the top steer price of 239.5p/kg, for the first placed steer.
The Miller family took the Champion Bull spot with a 737kg Limousin which went onto make 222.5p/kg or £1,639 in the post-show sale.