117 bulls average £6523.46
80% clearance rate
16 bulls make five figures and over
65 bulls make between 4000 and 9000gns
192 Limousin bulls and females gross £1,035,404
It wasn't only the weather that hit a high spot over the early May Bank holiday weekend. The bumper fortnight of British Limousin Cattle Society sales also reached a peak on Saturday 5th May at Borderway Mart, Carlisle with a total of 117 bulls selling to average £6523.46 with a solid clearance rate of 80%.
It was a sale that again saw robust demand from commercial producers, having turned up in numbers, clearly in the market to buy; they were willing to pay top prices for their bulls of choice. The sale provided further confirmation of the Limousin breed continuing to deliver for the market and solidifying its position as the 'go-to' breed for commercial producers. The sale saw buyers honing in on bulls with strong calving ease and all round performance figures. Trade was given a boost by some stylish breeder's bull's which caught the eye of the pedigree audience. While an impressive 16 bulls made into five figures, highlighting the depth of the trade 65 bulls made between 4000gns and 9000gns and offering all round great value for commercial and pedigree buyers alike.
The bull sale came hard on the heels of the Limousin female sale the previous evening that had seen a top price of 26,000gns and near full clearance with 75 lots selling to gross over £272,000. The two sales together saw 192 Limousin animals sell to gross £1,035,404.
Leading the day's trade at 35,000gns was the Intermediate and Overall Champion in the pre-sale Show, which was judged by Dougie McBeath, Springsett Herd, in the shape of Ampertaine Majestic from WJ & J McKay, Co Derry. The December 2016 born bull is by the Wilodge Vantastic son Plumtree Fantastic and out of Ampertaine Joy, maternal sister to 13,000gns Ampertaine Interest. Joy is proving to be one of the best looking breeding cows in the Ampertaine herd. Majestic is Joy's first calf, his breeding of Plumtree Fantastic and Ampertaine Abracadabra bred grand dam combining muscle, style, milk and calving ease. He was knocked down to Gareth Corrie, Newtownards, Northern Ireland.
Speaking after the sale a happy James McKay said "We are delighted with today's sale; this is a bull which we have always thought a lot about at home, he is full of style and class in every way. Gareth has got a great bull which I have no doubt wll go onto serve him well".
This is the second year in a row that the McKay family have led the trade at this fixture at Carlisle, having sold Ampertaine Mozart at the sale top of 100,000gns last year. The 120 cow Ampertaine herd is run on a commercial basis, selling around 50 plus bulls each year for breeding, the majority are sold privately. The concentration is very much on easy calving bulls that can manage in all conditions, perfect for the market.
Commenting on his purchase Gareth Corrie who runs Drumhilla Farm on the Ards peninsula said "Majestic is a real breeder's bull. I had been out to see him at home and was very impressed with him even in his working clothes. This is third time lucky for me; I tried to buy a couple of other bulls from James back in October but was unsuccessful, so am delighted to have the positive outcome this time." Gareth runs a small pedigree herd at home, and will use Majestic on his own cows; however his intention is to offer Majestic's semen for sale as soon as possible.
Speaking about the two days of sales the British Limousin Cattle Society's Chief executive Iain Kerr said "The momentum for the Limousin breed maintains its traction across the country and these sales, for both bulls and females are reflective of that. The industry wants versatility and efficiency more than ever and easy calving, cheap to keep, feed efficient Limousin cattle provide the full packet. It is the breed fit for the market now, and crucially, in the uncertain industry, with the premium built in for farmers and the whole supply chain"
Selling at 20,000gns was the Swardland Eddie son Twemlows Morpeth from Will and Jackie Forrester, Whitchurch, Shropshire.  Second in his class in the pre-sale show the September 2016 born bull, a natural calf out of Twemlows Hilda, came to Carlisle looking his best having been beautifully managed at home by stockman Jonathan Lunn. Morpeth was purchased by George Hutton, Setmabanning, Keswick, Cumbria, for his Cloughhead Limousin herd.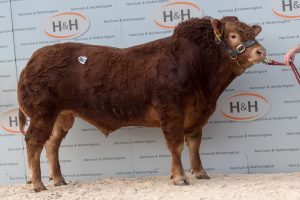 Close behind at 19,000gns was Newtack Maltster from Grant Morrison, Grange, Keith who was selling at Carlisle for the first time. The November 2016 born bull, which was third in his class in the pre-sale show, is a natural calf by the Ampertaine Foreman son Artnagullion Jaggerbomb and out of Emslies Insi. He was knocked down to H Annett and Son, Widdrington, Morpeth for their Widdrington Limousin herd.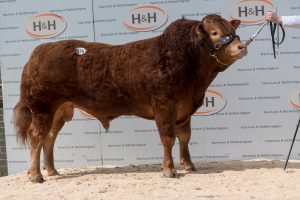 Winner of class 8 Gunnerfleet Merving from Ian Handley, Ingleton, Lancashire made the next best price of 18,000gns. October 2016 born, Merving is by Ballinloan Jagerbomb and out of Gunnerfleet Jenie, who goes back to the herd's best cow Enchantress whose bulls have grossed over £75,000. He was knocked down Proctors Farm Ltd, Clitheroe.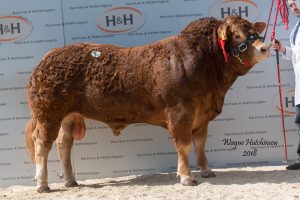 The Reserve Junior Champion Loosebeare Nelson from EW Quick and Sons, Devon came in next at 17,000gns. The January 2017 born bull by the Plumtree Fantastic son Ampertaine Jeronimo is out of Loosebeare Inky. Nelson made the long trip back to the South West having been purchased by J H Neale & Son for their Nealford Limousin herd at Wilkie Down, Launceston, Cornwall.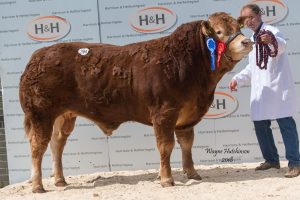 Selling at 16,000gns was Glenrock Memphis from Stephen Illingworth, Lockerbie. The November 2016 born bull stood second in his class to the Overall Champion Ampertaine Majestic. Maternal brother to the 15,000gns Glenrock Northernstar he is by the Ampertaine Commander son Ampertaine Gigolo and out of Glenrock Fantastic. He was knocked down to G & AE Mars & Son for their Kinniside Herd at Cathow Farm, Cleator, Cumbria.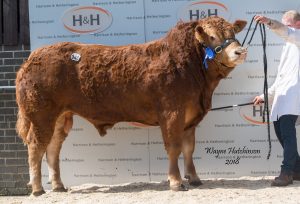 A brace of bulls came in at 15,000gns, both from Ian Handley. The first came in the shape of Gunnerfleet Mars. The October 2016 born bull, second in his class in the pre-sale show, is another by Ballinloan Jagerbomb but this time out of Gunnerfleet Genny. He was purchased by ES & E Norman, Little Orton Farm, Carlisle for their Norman Limousin herd. Ian sold seven bulls in all to a very respectable average of over 8,700gns.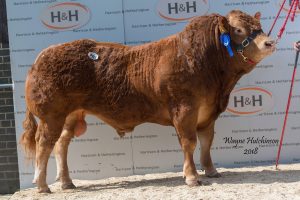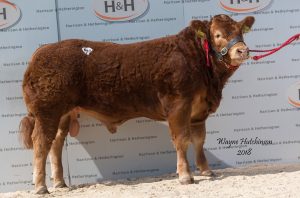 The second was the winner of class 16 Gunnerfleet Nato. The January 2017 born bull is by Gunnerfleet Hicks and out of Gunnerfleet Ilocks which makes him a full brother to 22,000 Gunnerfleet Lion and 30,000 Gunnerfleet Mongo. He made the trip home to Moffat, Dumfriesshire to the Breconside herd of the Breconside Farm Partnership.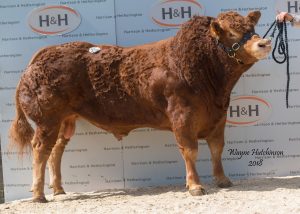 Three bulls followed at 14,000gns. First at this price was another from Stephen Illingworth in the shape of Glenrock Matrix. The November 2016 born bull is the same way bred as the 125,000gns Glenrock Illusion and 24,000gns Glenrock Impulse, by Goldies Comet and out of Glenrock Spangle, the herd matriarch who has sold progeny to gross over £410,000 to date. Martix was bought by W F Cruickshank & Sons, Grantown-on-Spey, Morayshire.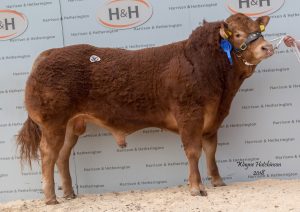 Next at this price was Mereside Mckay from RM Hazard & Sons, Grantham, Lincolnshire. The December 2016 born bull was knocked down to Stephen Wilson, Corby Hill, Carlisle. Mckay was judged to be the best young calf in the East Midlands Herd Competition last year. He is by Lodge Hamlet and out of the Carmorn Copilot sired cow Mereside Goddess. The last bull at this price came in the shape of Goldies Nicholas from Bruce Goldie, Townfoot. The January 2017 born bull is a Goldies Juggler son with super calving and beef values. Nicholas is out of Goldies Ina, a Goldies Foxtrot granddaughter who consistently breeds very well and bred the high beef value bull Goldies Lookout. Buying Nicholas was JM & SP Cooper, Hill Top farm, Harrogate for their Tomschoice Limousin herd.
Not far behind at 13,500gns was another from the Illingworth stable Glenrock Nemo. This rounded off what had been a spectacular day for Stephen, he sold four bulls to an average of 11,625gns.The February 2017 born bull is also by Ampertaine Gigolo but this time out of Glenrock Spangle. Nemo carries one copy of the F94L and one copy of the NT821 myostatin genes. He was knocked down to G & S Gilleard who run the Thorninghurst herd at Sour Lane, Thorn, Doncaster.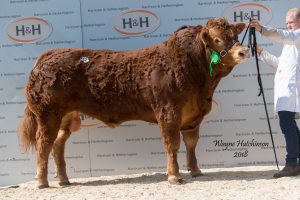 Class 12 winner and Reserve Intermediate Champion Goldies Maverick from Bruce Goldie sold for 11,000gns. The stylish, shapey November 2016 born bull is another from Bruce by Goldies Juggler but this time out of Goldies Izzy, an outstanding daughter of Haltcliffe Doctor. He was knocked down to J & F Hartley & Sons, Hamsterley, Bishop Auckland for their Lowshipley Limousin herd.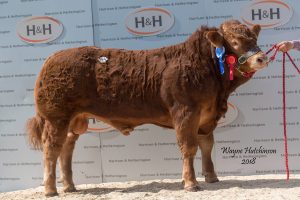 Another group of three made the same price, this time 10,000gns. The first being a second placed exhibit from Henry Savage & Sons in the shape of Trueman Major. The November 2016 born bull is the unique crossing of the last two National Limousin Champions, Trueman Euphonium and the 147,000gns Trueman Jagger. Euphonium is the best cow in the Trueman herd; her progeny include Trueman Idol and Trueman Iglesias. He was purchased by Gary Lloyd Howells who runs the Shadog herd at Landysul, Carmarthenshire.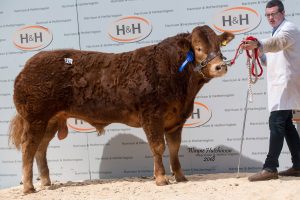 A G Howie, Peterhead, Aberdeenshire, sold Knock Msport at the same money. December 2016 born class winner Msport, who has a beef value in the top 1% for the breed, is by Goldies Goldfinger and out of Knock Izzy. He was sold to the Priestley family for their Brontemoor herd at Brampton, Cumbria. Lastly, the hammer went down at this price for Haltcliffe Nadal from Craig Ridley, Wigton, Cumbria. February 2017 born Nadal is by Wanthwaite Jackal and out of Haltcliffe Imogen, Stuart Fotheringham made the final bid for his Ballinloan herd at Dunkeld, Perth.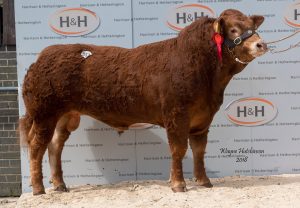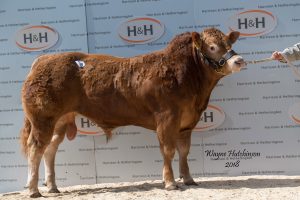 Dougie McBeath tapped out Trueman Newton from Hanry Savage & Sons as Junior Male Champion and Reserve Overall Champion in the pre-sale show. Another Trueman Jagger son but out of the milkiest cow in the herd and granddaughter of Ronick Hawk Trueman Foxtrot, Newton is maternal brother to Trueman Lute, Overall Interbreed Champion at the 2017 RUAS Balmoral Show. He was knocked down to TH Harrison & Son, Shap, Penrith.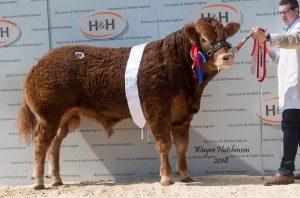 Averages
33 senior bulls average £5256.30
47 Intermediate bulls average £7372.34
37 Junior bulls average £6575.27
Auctioneers : Harrison and Hetherington