The 2018 summer show 'major' season kicked off in spectacular style at the opening day of the 150th anniversary Balmoral Show on Wednesday 16th May.
Day one of the show saw the Limousin judging in front of Mrs Mary Reynolds of the Rhy Limousin herd, Bordon, Hampshire. From amidst some fine competition on a warm and sunny day Henry Savage & Sons from Altnamackin, Newry, Co Down emerged victorious. It was the stylish young heifer Trueman Noreen who came through the field after winning the first class of the day to lift the Female Championship and the Limousin Overall Supreme Championship. This marks the second year in a row that the Trueman team have celebrated winning the coveted Supreme Limousin Championship at the Balmoral Show, having won with Trueman Lute in 2017 after three previous Overall Reserves.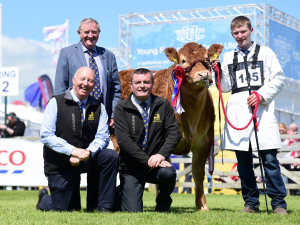 Just 13 months old Noreen has a super pedigree behind her, by the world record priced Trueman Jagger she is out of Trueman Euphonium, a cow Henry Savage describes as his "pride and joy". Of his winner a clearly delighted Henry went onto say that "I have always known that she was a special heifer, but in recent weeks she has really blossomed into something remarkable. Euphonium has excelled herself, I have a feeling Noreen could well go onto be our best ever"
The Savage team had other successes in the Limousin judging with a cohort of heifers the same way bred as Noreen. January 2017 born Trueman Nadine, and September 2016 born Trueman Marianne were both class winners and Trueman Marley, also September 2016 born stood second to Marianne.
Following on from the Limousin judging Mary Reynolds said of her Champion: "She is something special, very correct, a great top on her and a beautiful sweet Limousin head. There is huge potential in her, I am sure she will go onto make a fantastic cow"
Taking the Reserve Overall Limousin title was the Junior Male Champion Jalex Notorious from James Alexander, Randalstown, Co Antrim. The February 2017 home bred young bull had come through the field to take the Overall Male Championship when he stood against Derriaghy Noddy from DG Green & Sons, Lisburn, Co Antrim. By Bassingfield Hobama out of Haltcliffe Hester he then paired up with a smart heifer from the Jalex stable to take the exhibitor bred pairs Championship.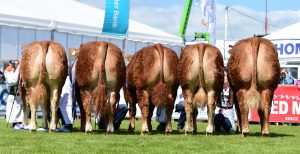 Full Limousin results as follows
Heifer born on or after 1 April 2017
Trueman Noreen, Henry Savage & Sons
Pointhouse Numberone, Michael & Kile Diamond
Deerpark Nearperfect, C & R Mulholland
Heifer born on or between 1 January and 31 March 2017
Trueman Nadine, Henry Savage & Sons
Melbreak Nantes, Messrs J & A Callion
Rathkeeland Nickiminaj, Crawford Brothers
Heifer, in calf or maiden, born on or between 1 July and 31 December 2016
Trueman Marianne, Henry Savage & Sons
Trueman Marley, Henry Savage & Sons
Deerpark Maisie, C & R Mulholland
Heifer in calf, born on or between 1 October 2015 and 30 June 2016
Clinton Lollipop, Stephen Williamson & Tara O'Brien
Jalex Mya, James Alexander
Cloverdale Lynnette, Hamill Family
Cow born on or before 31 December 2014, in calf or having produced a calf in previous 12 months
Lynderg Janette, James Quail
Keadyview I, Barney & Stephen O'Kane
Bull born on or after 1 April 2017
Derriaghy Noddy, DG Green & Sons
Pointhouse Nintynine, Michael & Kile Diamond
Larkhill Nuludo, Cahir McAuley
Bull born on or between 1 January and 31 March 2017
Jalex Notorious, James Alexander
Ballycairn Neptune, Stephen McGookin & Sons
Keadyview Nothing Compares, Barney & Stephen O'Kane
Bull born on or between 1 July 2015 and 30 June 2016
Gunnerfleet Mack, Crawford Brothers
JUNIOR FEMALE CHAMPION – TRUEMAN NOREEN
Reserve – Trueman Nadine
JUNIOR MALE CHAMPION – JALEX NOTORIOUS
Reserve – Derriaghy Noddy
OVERALL FEMALE CHAMPION – TRUEMAN NOREEN
Reserve – Clinton Lollipop
OVERALL MALE CHAMPION – JALEX NOTORIOUS
Reserve – Derriaghy Noddy
SUPREME CHAMPION – TRUEMAN NOREEN
RESERVE SUPREME CHAMPION – JALEX NOTORIOUS
Owner and exhibitor bred pairs :
James Alexander
Henry Savage & Sons
Messrs J & A Callion
Owner and exhibitor group of three :
Henry Savage & Sons
Michael & Kile Diamond