Farm feature on Colin and Wendy Phillips and their Limousin pedigree and commercial enterprise at The Batch, Sarnsfield, Weobley.
Traditionally a finishing farm Colin and Wendy Phillips' Herefordshire-based suckler herd at The Batch, Sarnesfield, Weobley has grown to become one of the most renowned in the country in recent years.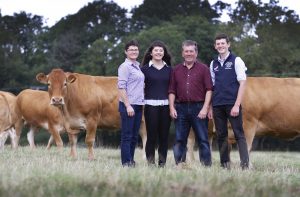 Running both commercial and pedigree suckler cows, with a total of 60 cows, 25 of which are run under the Powerhouse pedigree Limousin prefix, the couple have produced a number of noted show cattle as well as bulls sold to both noted herds and semen companies.
As Colin explains, the switch to breeding cattle came in 2007 as a result of the foot-and-mouth outbreak of that year. "Historically my father had always bought in store cattle and finished them, often showing a few of the better ones at Christmas primestock shows with some success.
"I'd always favoured a breeding herd and so we retained 12 of the best heifers when sales were tricky as a result of the F&M and Bluetongue outbreaks of that year."
These 12 heifers were then served to a senior stock bull, Soleil, by the noted Jacot that the Phillips' bought from Chris Jerman. "He was a great, easy calving bull which produced some super calves. As the original 12 heifers had been at least half Limousin the resultant calves were three quarters Limousin and in many cases seven eighths Limousin.
"We'd had progeny from this bull from the Jerman family previously, including a pair of heifers we took to the Royal Welsh Winter Fair in 2006 where they won the pairs championship, and sold for the third and fourth highest prices. They were bought by the Pennie family, Montgomery, of the noted Sarkley herd," says Colin.
"The success of those heifers and having Soleil on the farm, coupled with a desire to produce some higher value stock sparked an interest in the potential of breeding pedigree cattle and so we bought our first pedigree females from the Pennie family.
"The intention was to produce bulls for sale locally and also for use in our own commercial herd. And from the start our focus has been in producing bulls to suit commercial herds such as our own, producing top drawer store cattle for sale at 10-12 months old.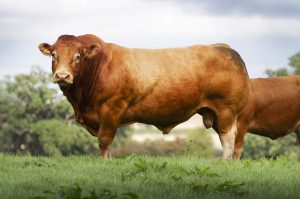 "In that respect we look for a medium sized cow without excessive muscling, but with good growth and balanced fleshing throughout the carcass and a good top," he says.
And with Wendy working off the farm full-time as a vet a close eye is paid to locomotion and feet and leg structure, she explains. "I've seen first-hand, too many times, the results of cattle with poor feet and leg structure. They simply don't last in commercial environments and that's no good to our customers or us.
"Easy fleshing, correct, well balanced cattle are what we look for in both our pedigree and commercial herd and that's what has allowed us to build the herd to what it is today," she adds.
With Colin working alone for much of the time, ease of management is fundamental with this also having a big influence on the type of cattle kept in the herd. "Cattle have to be calm and easily worked with, anything showing any hint of a temperament issue is quickly culled."
Additionally, this limited labour input also follows through to an emphasis on easy calving and the desire for cattle with neater front ends and smaller heads.
Colin says that while some may suggest the primestock showing circuit is relatively detached from the reality of day to day commercial cattle production, much of what judges' look for is highly commercially relevant.
"To maintain their market leading position Limousin cattle need to reflect the needs of commercial beef producers across the UK. That means producing prime cattle which meet current carcass weights specifications and which reduce workload and costs on-farm.
"Smaller headed cattle with moderate shoulders are more easily born, reducing labour requirement and helping keep vet intervention at calving to a minimum. With Wendy being a vet I'm the first to call her when there's a difficult calving, but that needs to be the exception not the norm.
"Difficult calving's are bad for both the calf and the cow, often leading to cows taking longer to get back in calf and potentially resulting in internal damage which causes ongoing issues."
When it comes to herd management the ability of the Limousin cow to thrive off forage and milk well is key to the success of the system operated by the Phillips family.
Cows are largely spring calving, with a handful of autumn calving pedigree cows to ensure a ready supply of bulls for sale throughout most of the year. "Cows are calved indoors and turned out to grass pretty much as they calve in early May, they then graze throughout the summer with no creep feed offered to calves as we prefer to let them grow on naturally rather than being pushed with feed," says Colin.
Cows and calves are then housed at the end of October depending on the weather conditions, with calves receiving their pneumonia vaccinations ahead of housing and having their backs clipped out once they've been housed for a couple of weeks, with a pour-on wormer applied at the same time.
"They're left to settle and adjust to being inside and being fed before they are weaned, with this helping reduce the stress they experience."
Cows are offered maize silage mixed with straw once housed, with calves fed maize silage and those destined for the spring suckled calf sales being offered some concentrate feed in the run up to sales.
Pre-calving all cows receive a trace element bolus to ensure calves have vigour and cows are in the best condition to calve down easily.
Such has been the success of the herd that a number of primestock champions have been bred by the couple, including two champions at the Royal Welsh Winter Fair, Richard Wright's 2013 winner Powerhouse Hella, a pedigree Limousin heifer, and Tip Top, a Limousin sired steer which won at Builth Wells for Scotsman, Blair Dufton, in 2016.
Adding to the glory, both Hella and Tip Top were sired by Powerhouse Elite, a bull bred by the Phillips and sold to breeding company Cogent. Other show success includes the 2011 reserve champion steer at the Royal Welsh Winter Fair, as well as the reserve champion baby beef animal at the same event in 2012 and reserve champion pedigree at the English Winter Fair in 2014.
"These show animals are sold, along with all the other store calves from the herd, in sales at Brecon, with a small number selected for the annual show potential sale at Brecon each February.
"The bulk of our cattle go through normal store cattle sales at 10-12 months old and weighing 370-460kg. They usually average between 280p/kg and 290p/kg," he adds.
Such is the renown of the couple's suckled calves that a number of other leading show calf breeders have purchased Powerhouse bulls to breed their own calves, including Craig Robertson and Mark Munro, while pedigree breeders Archie and John MacGregor of the Allanfauld herd bought Powerhouse Italic, a bull currently being marketed in Ireland by Powerful Genetics.
With the future in mind, both Colin and Wendy are keen to continue developing the herd with the support of their children Owen and Meg, both of whom play an active role in the farm. "Both of them are keen on the cattle and take an active part in local Young Farmers Clubs, including stock judging and tug of war, with both representing Wales in the sport despite living in England."
Keeping a close eye on herd health the herd is Johnes level 2, BVD free and vaccinated for the disease, with reducing the impact of disease key to herd productivity. "As a result of a strict breeding, culling and health policy we have a herd of long-lived cows which hold their flesh, often belying their years and continually producing top quality calves," adds Colin.