Farm feature on Malcolm and Chris Cameron's Strone Farm, near Fort William, which in 2016 was selected as the Lochaber Monitor Farm
Farming in one of the wettest parts of the UK brings with it a few challenges but a herd of pedigree Limousin cattle have adapted to the climate and are helping to improve margins at the Cameron family's Strone Farm near Fort William.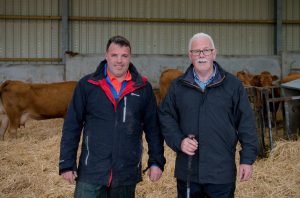 Strone is part of Lochiel and Achnacarry Estate. It runs to 1,200 hectares and rises to 2,800 feet above sea level, while a few fields border the picturesque Caledonian Canal.
In 2016 it was selected as the Lochaber Monitor Farm, one of nine monitor farms that have been established around Scotland in a joint initiative by Quality Meat Scotland (QMS) and AHDB Cereals & Oilseeds. The aim of the programme, which is funded by Scottish Government, is to help improve the productivity, profitability and sustainability of Scottish farm businesses.
Malcolm Cameron has worked for the estate since 1969 and got the chance of the tenancy in 1990 with wife, Eileen. Son Chris came home in 1996 following three years at agricultural college and in 2002 set up his own farming business. He now works full-time on the farm and has largely taken over the day to day running of the business.
Chris and Malcolm were keen to take part in the Monitor Farm process having been active in previous groups in Argyll and Chris believes it has made him question everything he does and given him a better understanding of where improvements can be made.
He said: "We were on a development journey with the farm anyway, but this has opened my eyes to new techniques and I feel my personal development has been one of the biggest benefits of the process so far."
The farm, which gets a massive 3-3.5 metres of rain a year, is stocked with 50 pure Limousin cows and 520 North Country Cheviot ewes. Malcolm bought his first cow in 1993 from the Anside herd and a second a few years later from the Greenwell herd and the whole herd can be traced back to these two foundation females.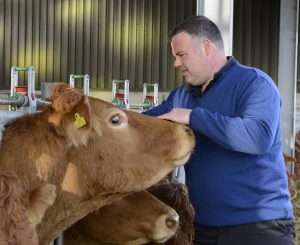 Malcolm said: "We find the pure Limousin cow is very adaptable, she calves easily and even if not on the best of grass will maintain her condition and get back in calf. She may not have as much milk as a cow grazing on better pasture, but the calves have the genetics to grow on when they are weaned."
The Camerons have deliberately avoided any extremes in the breed and carefully select bulls on their maternal traits such as ease of calving and milk; although Chris is quick to point out that they must be pleasing to the eye too. He has 12 of his own Camerons prefixed females mixed in with the Stronefield herd.
A plus point for the Limousin, according to Malcolm and Chris, is that the cast cows are worth good money at the end of their useful lives. They also sell a few bulls naturally from home, with the best going for £3,500. They family may sell a few breeding heifers in the future, but as Malcolm and Chris have been keen to expand the herd at Strone, all the heifers are currently retained. The rest of the calves are sold store at Dingwall at around ten months of age when they average 350kg liveweight.
Chris said: "The price was seriously back in October at 228p/kg, compared to January when they were 280p/kg." He puts this down to the price of straw which has jumped from £26 to £40 per big bale and said: "We get hit twice when a commodity like straw goes up in price. We have to spend more to manage our herd and buyers are reluctant to spend as much on their calves. I calculated it costs me 70 pence in straw for every kg in calf weight."
However, despite these challenges, he firmly believes the Limousin is the right breed for their farm. He said: "Our philosophy is that if we are going to the expense of housing cattle, then we have to make sure we can meet the market specification. Our calves have the genetics to grow and are efficient at converting feed."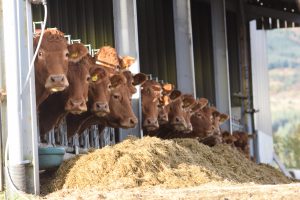 Going back, it was Greenwell bulls which did well at Strone, then a Nenuphar son and a Sympa son. More recently Haltcliffe Harvard by Haltcliffe Vermont was influential on the herd but it was a French bull, Ecran, bought as a six-year-old in 2016, which has produced some great females just getting bulled now. This bull was the stock bull for the Millington Grange herd, where a heifer by Ecran was sold for 30,000gns.
In October 2018 the Camerons purchased a new bull in the shape of Ronick Nemo, a son of the famous Broadmeadows Cannon, for 7,500gns.
Despite advice from the Monitor Farm Group, the Camerons continue to calve all year round, which they believe best suits their system and they are still able to keep individual cows' calving index under 370 days.
An advantage the of operating a year-round calving system is that the Camerons need less bulls, so can afford to spend more when they do invest in a bull. Apart from that, they have to be careful with their grass utilisation and do not have the grass available to turn out a batch of 50 cows and calves in the spring.
Less than 50 hectares of the farm is suitable for cutting silage, so the family have to manage it carefully. The dry cows can make use of a further 50 hectares or so of marginal land but none of the cows go to the hill, which barely supports the sheep flock. All cattle are housed from October through to May.
Following advice that has come from the Monitor farm meetings, the Camerons now bull heifers four months earlier at 15 months. They are also weaning spring-born calves and managing them separately to allow cows more time to recover before calving again.
In recent years the family have managed to rent some improved grassland near Inverness, where they can graze a batch of cows and this has made a big difference to the farm's bottom line.
Chris said, "Sheep and cattle were vying for the same small area of good grass at home. So we used to put the sheep to the hill after lambing; however we were losing over 60% of our lambs to foxes and eagles. Since we've moved the ewes and lambs to a rented lowland farm at Fort William, we have weaned 97% of lambs, instead of 37%."
This year, for the first time, the Camerons finished the lambs at Fort William by weaning early, housing in a shed which came with the farm, and feeding. The results have been very positive. Chris said: "This year, we sold 220 lambs averaging at £70 per head. We calculated feeding costs at £25 per head, but the store price was £35 per head, so we made an additional £10 profit per lamb and we had the benefit of freeing up grass for flushing ewes so we can expect an improved scanning next year."
As part of the programme, the Camerons and other local farmers have established a business group to share key performance indicators (KPI's), using AHDB programme Farmbench to compare and contrast farm efficiency figures. Chris finds this particularly useful, not only comparing with other farms but using his figures for his own farm as a benchmark to improve. He is currently exceeding the suggested KPI for gross margin for a west coast suckler herd by £85 per head at £335 per head.
The Camerons regularly host Monitor Farm meetings at Strone which attract lots of other farmers, some of whom travel over an hour to attend. Chris finds it encouraging that so many people are interested in improving their farms in an extremely challenging environment.
He said: "Farmers in Lochaber are genuinely scared that they won't be able to continue to farm. Their businesses are unbelievably fragile and they are constantly being told to cut costs which leads to them not investing in their farms and the utilisable land shrinking, therefore compounding their issues. Farmers like us have limited options so it is great having help in finding ways to improve our systems.
He added: "Being part of the Monitor Farm group has given farmers here access to the energy and technology that QMS and AHDB bring, alongside the knowledge of our facilitator Niall Campbell from SAC Consulting in Oban. We have been able to lift our heads and see the bigger picture."
For further information about the monitor farm project visit www.monitorfarms.co.uk