Hexham Mart Young Farmers Calf Wintering Competition 12 March 2021
Limousin x Cattle dominate the top margins at Hexham Young Farmers Calf Wintering Competition
Hexham & Northern Marts at their weekly sale of store cattle offered a sound catalogued entry of 470 head which included 34 cattle as purchased by Members of Northumberland and County Durham Young Farmers Federations for the annual overwintering competition.
Due to the current 'drop & go' guidelines in place as recommended by The Livestock Auctioneers Association the company made the decision to cancel the show aspect of the greatly anticipated competition this year with concerns for the personal safety of our customers and staff being paramount.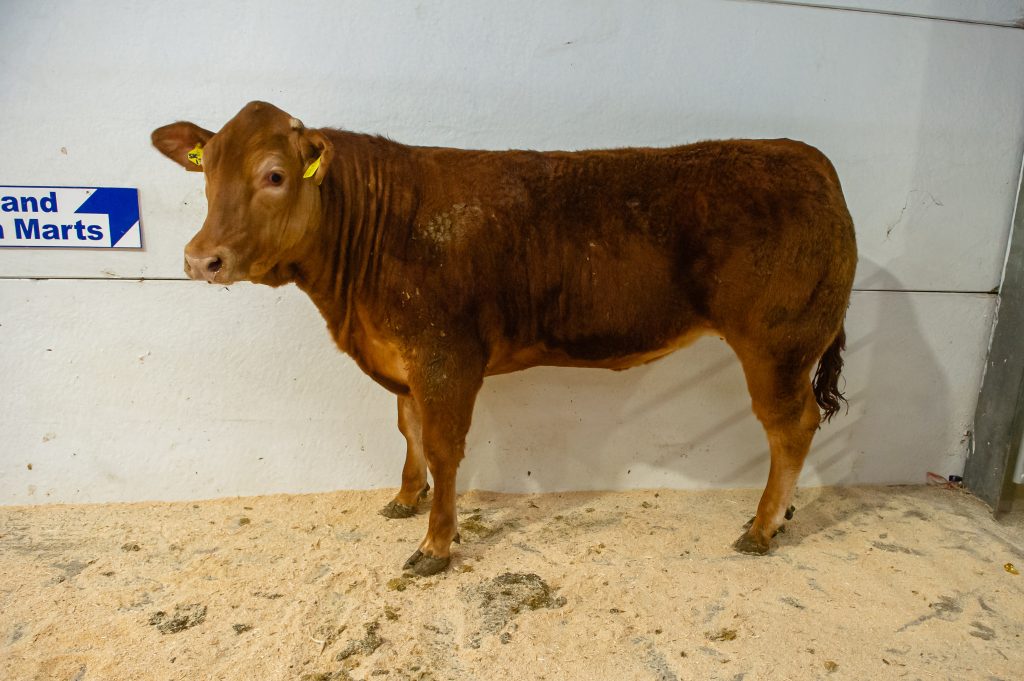 A super entry of YFC calves were presented and as always the company are grateful for the continued support of the British Limousin Cattle Society, I'Ansons Animal Feeds, J S Hubbuck Ltd, Hexham and David Carr Haulage, High Wood, Hexham all of whom play a valuable part in the event each year.
With no prize show results to report the calves were brought into the sale ring at noon and the assembled crowd of regular buyers bid well to ensure all competitors saw fair return for their animals.
Emerging victorious and taking home The J S Hubbuck Trophy was Emilia Heslop of Bridge House Farm, Stockton on Tees, a Sedgefield YFC Member taking part in the competition for the very first time.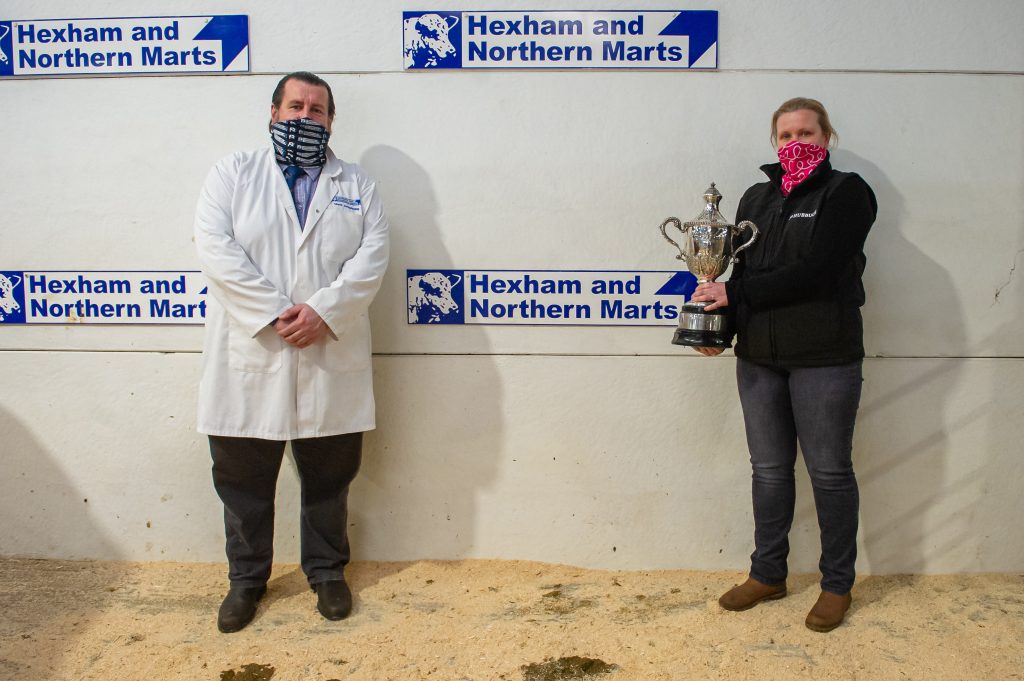 Emilia had purchased a very correct and shapely Limousin cross heifer from Brian Storey, Woodhead, Haltwhistle in October last year and obviously taken very good care of the beast over the winter as it sold for a straight five hundred pounds more than the purchase price of £770 with the hammer falling at £1270 in favour of regular purchaser at Hexham and one of the most longstanding supporters of this competition Mr Les Bainbridge, Seamer, Stokesley.
The greatest profit margins were as follows;
1st – Emilia Heslop, Sedgefield YFC, £1270 (+£500) for a Lim x Heifer from Woodhead, Haltwhistle.
2nd – Bradley Thompson, Stamfordham YFC, £1400 (+£440) for a Lim x Heifer from Colwell Demesne.
Joint 3rd – Grant Cummings, Coquetdale YFC, £1230 (+£430) for a Lim x Heifer from Beacon Rigg.
Joint 3rd – Ruby Heslop, Sedgefield YFC, £1200 (+£430) for a Lim x Heifer from Woodhead.
Top price within the competition was £1470 for an extremely correct, red Limousin cross steer exhibited by Emily Gray, Low Hall, Amble which she had purchased for £1120 from Messrs Reed, Lands Farm, Weardale leaving a nice profit of £350 for the Tritlington YFC member.
The company is delighted to host this event each year and invest in the stock men and women of the future and the auctioneers are pleased to report an average profit figure for the calves sold on this day of £301.47 per animal sold. We look forward to the start of the next competition which will begin in October and anyone wishing to take part should contact the auctioneers during the summer.
Besides the Young Farmers calves a more mixed show of cattle were presented across the catalogue however rates were certainly on a par with those seen in recent weeks.
The best end of older, forward sorts were sought after and topped at £1510 for a super hefty Limmy steer from Messrs Walton, Ogle Castle who sold six in total, three more at £1500 to then average £1480 for the load. Messrs Walker Bros, Satley sold another at £1500; a cracking Charolais cross steer and with a Simmental cross at £1475 saw an average of £1413 for their eight bullocks with size and scope from near Tow Law, County Durham.
Although the dedicated native breed sale will be held next week, the 19th March, a number of Angus were presented on this day and as ever, sold well. Dennis Burn, Aydonshields topped the male entry at £1450 and Mark Featherstone, Allendale Farm was close behind with the dearest heifer at £1430.
Cattle in the 11-17 month age bracket also sold well but these too were more mixed in terms of quality than last week. Messrs Browell, Quarry House scaled to £1380 for their best heifer by the Limousin sire and with a bullock at £1305 saw a worthy average for seven sold at £1219 per head. Robert English, Brownsleazes cashed a smart Blonde bullock at £1325 and Lance Robson, Sweethope sold his best Angus steer at 14 months for £1300 and with a pen of three at £1270 and a cracking Limmy at £1450 averaged £1309 for seven sold, all at the same age.
The third portion of the annual consignment from Messrs Sutherland, Ross Farms, Belford, North- Northumberland was brought down the coast and In-land to Hexham to great benefit. Well-bred Limmy steers at 12 months sold to £1265 and with Heifer sisters topping at £1050 for a smart trio a cracking run of 42 by the Limousin bull averaged £1013 throughout representing a lift just short of one hundred pounds per head on the year.
Cattle at ten months and younger still look to be dearest class when compared with older offerings and these too were more mixed on the day. Messrs Nixon, Stotsfold topped the bullock entry at £1170 for a smart pair whilst Messrs Moore, Highside continue a great run of form through the Hexham ring with heifers selling to £1125 for the Kellah based family.
Messrs Bell, Woodhall brought another great run of smart calves to Hexham and sold steers with shape and style to £1090 and heifers close behind at £1080 to average a pleasing £1022 for 22 sold at ten months of age with buyers-a-plenty for the quality sorts from Bardon Mill.
With weather taking a turn for the worse and the ever present straw shortage weighing on producers minds the auctioneers are confident that best value is increasingly attainable week on week through the ring at this centre. If you are contemplating selling store cattle of any class please contact our team who can advise on the best route to market to maximise your return.
Report by Robert Smith Photography
Leading prices;
Cattle 23 – 30 Months
Limousin x steers – £1510 Ogle Castel, £1255 & £1205 Fallowfield
Blonde x steers – £1200 Whiskershiel
Simmental x steers – £1475 Satley Farm, £1300 Greencarts
Angus x steers – £1450 Aydonshields
Angus x heifers – £1430 & £1260 Allendale Farm
Cattle 17 – 22 Months
Limousin x steers – £1500 Ogle Castle (x3), £1490 Wingates South, £1460 Ogle Castle, £1450 Sweethope, £1410 Ogler Castle, £1385 Sweethope, £1380 Berry Edge, £1370 Fallowfield, £1310 Castle Farm & Fallowfield, £1260, £1235, £1230, £1220 & £1200 Fallowfield
Limousin x heifers – £1360 Berry Edge, £1250 Wingates South, £1220 Springwell Cottage & Berry Edge, £1210 Low Horton, £1180 Berry Edge, £1150 Wingates South
British Blue x steers – £1170 Fallowfield
Charolais x steers – £1450 (x2) & £1380 (x2) Satley Farm, £1335 Fallowfield, £1235, £1205 & £1180 Pelton House
Charolais x heifers – £1230 Rare Dean
Simmental x steers – £1370 & £1300 Satley Farm, £1260 Greencarts
Simmental x heifers – £1260, £1190 & £1130 (x2) Burnhill
Blonde x steers – £1380 Whiskershiel
Angus x steers – £1300 Rare Dean, £1255 & £1180 Fallowfield
Angus x heifers – £1360 & £1275 Allendale Farm, £1110 Church Farm
Cattle 11 – 16 Months
Limousin x steers – £1310 Tenter House, £1305 Quarry House, £1300 Stotsfold, £1280 Town Farm, £1270 Stotsfold, £1265 Brownsleazes & Ross Farm, £1260 Farnbury, £1240 Low Horton, £1220 Fallowfield, Low Horton & Farnbury, £1200 Bulls Hill, £1190 Heatheridge & Bulls Hill, £1185 Ross Farm, £1175 Tenter House &* Town Farm, £1160 Bulls Hill, £1150 Tenter House & Round Meadows, £1140 Beacon Rigg, £1135 Tenter House, £1130 Heatheridge, £1125 & £1120 Ross Farm, £1100 Beacon Rigg
Limousin x heifers – £1380, £1195 & £1165 Quarry House, £1155 Stotsfold, £1130 Farnbury, £1125 Low Horton, £1090 Beacon Rigg, £1080 Stotsfold, £1060 Woodhall, £1050 Stotsfold, Ross Farm & Beacon Rigg, £1045 Town Farm, £1035 & £1030 Wydon, £1030Woodhall, £1000 Town Farm & Wallend
British Blue x steers – £1205 & £1110 Fallowfield, £1050 Woodhall
Charolais x steers – £1500 Satley Farm, £1240 Tenter House, £1190 East Fourstones, £1170 Pelton House, £1140 Low Staples & East Fourstones, £1125 & £1100 East Fourstones, £1095 Wydon, £1090 East Fourstones, £1080 Low Staples & Wydon
Charolais x heifers – £1270 Tenter House, £1085 East Fourstones, £1050 Stotsfold & East Fourstones, £1040 Harnham Hall, £1030 Wydon & East Fourstones, £1010 Cooper House, £4005 West Shields (x2)
Blonde x steers – £1325 Brownsleazes
Simmental x heifers – £1040 & £1020 Burnhill
Saler x steers – £1080 West Shields
Angus x steers – £1300, £1270 & £1220 Sweethope, £1140 Burnhill
Angus x heifers – £1000 Cooper House
Beef Shorthorn heifers – £1010 Cooper House, £950 High Warden
Cattle 10 months and under
Limousin x steers – £1170 Stotsfold, £1130 Quarry House, £1105 & £1100 Round Meadows, £1090 Woodhall, £1045 The Laws, £1040 Tedcastle, £1020 White Hills & The Laws, £1010 Farnbury, £1000 Tedcastle
Limousin x heifers – £1125 Highside, £1095 Farnbury, £1080 & £1075 Woodhall, £960 Round Meadows, £910 Thornley Hall
British Blue x steers – £1040 Woodhall
Charolais steers – £1050 Cooper House
Charolais heifers – £960 Cooper House
Charolais x steers – £1040 White Hills, £980 Thornley Hall
Charolais x heifers – £985 East Fourstones
Simmental steers – £1060 Wydon
Simmental x heifers – £955 Ross Farm
Hereford x steers – £950 White Hills
Breeding Cattle
Limousin x heifers with Calves – £2850, £2500 (x2), £2450 Tosson Glebe