Competing for the first time at each 'major' show has been a focus of the past year for Young Limouisn Breeder Kile Diamond from the Pointhouse Herd in Garvagh, Northern Ireland.
In winning the Champion Young Beef Handler at the Yorkshire Show just under a year ago and again at the 150th Balmoral Show just a month ago expectations were high when Kile travelled to Edinburgh to compete in the young handler's competition at the recent Royal Highland Show.
The junior class of 12 were first in the ring. The participants paraded in the show ring taking it in turn to present their animal to Judge Laura Green of Corskie Farm, Moragshire. Laura quizzed the handlers on their animals, asking each to present and show their cattle.   As they walked, Laura made her selection and placed Kile in first place. Kile then went head to head against the senior class winner. The Judge asked the handlers to swap cattle and circle the ring at which point Kiles new animal spooked and tried to break away. Demonstrating super quick thinking, Kile took control of the heifer, pulling her back in line, at which point she settled well and walked correctly.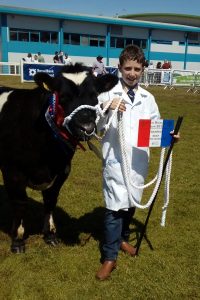 The handlers switched back to their own cattle and Laura stepped forward and tapped Kile out as the Overall Beef Young Handler 2018.
Speaking after the contest Laura Green said "I felt Kile was handling his animal with too much ease, so I thought I would mix it up a little. Due to his quick thinking and obvious knowledge of cattle handling, he mastered the animal well and then smoothly continued on with the competition. He was a pleasure to judge and it was a delight to watch his skills in action".