The Smith-Jacksons of Hightown, near Haltwhistle, Northumberland.
Farming is not just a business, it is also a way of life. That is certainly true for Northumberland store cattle producer, John Smith-Jackson. He manages to combine business with pleasure by producing what the market wants, and achieving considerable success in the showring, with the Limousin forming an essential part of his strategy.
One of the Limousin's strengths is its versatility, says John.
"It is a great all-purpose breed which makes a good suckler cow, because it is very hardy and the cows only need minimal feeding. They are excellent at looking after themselves and also easy-calving, a trait which is becoming more important as farms are operating with fewer staff. The Limousin's progeny generally have a high food conversion rate and they always sell well at the auction, often making the best prices."
John runs 80 suckler females on two separate farms situated about five miles apart and separated in places by the busy A69 link road between Carlisle and Newcastle. The distance makes for a lot of extra work, but as John says philosophically, "That's life."
The main farmhouse is at Hightown, near Haltwhistle, and is made up of about 220 acres of grass, most of which is classified as Less Favoured Area. As well as the suckler herd, the land carries 250 Swaledale ewes and a small flock of Blue-faced Leicesters. North of England Mule gimmers are sold for breeding, while wethers are finished at home.
The farm has been in the family for 25 years, and John runs the enterprises with help from his wife, Mandy. The couple have two daughters, Sarah, aged 20 and Kate, who is 17 years old. The farm also has help from one part-time worker, using contractors to carry out most of the fieldwork.
Within the herd, there are 10 pedigree 'Hightown' Limousin cows, with the rest a mixture of mainly Limousin and Limousin-cross Belgian Blue. The herd is virtually closed to reduce disease risk, but occasionally younger animals are bought in to replace older cows. Belgian Blue semen is also used periodically to produce breeding females.
As well as the 60 April and May calvers, a further 20 cows calve in the autumn. The entire herd used to be autumn-calving, but the management system had to be reviewed during the foot-and-mouth outbreak, when the bull could not be moved from one farm to the other.
The change in policy actually suits the farm better, says John, who believes that conception rates improve in July because fresh grass is more nutritious than silage. He generally takes two cuts of silage each year, with the first covering 100 acres and the second around 40 acres.
Spring calves are housed in cubicles around November-time, with a small number out-wintered on fields due for re-seeding. The areas chosen are usually on the lowland part of the farm which has plenty of shelter, and they generally thrive outside. The aim is to wean calves born in the spring after Christmas, as John finds that the December weather can increase their susceptibility to pneumonia. While they are indoors, spring calves are bedded on straw and offered round bale silage, supplemented with a barley-based concentrate blend. A batch of about 10 animals is selected for showing and pushed a little harder, but the rest are brought on slowly, to be ready in time for the August sales.
The cows that calve in the autumn are also out-wintered and their diet is supplemented with silage and minerals. Their calves are creep-fed with barley concentrate. Stores mainly go through the Hexham and Carlisle auction marts, and over the years a number of customers have become regulars. John gets immense pleasure when his stock win in the commercial showring, and he has a string of successes to his name. Bidding is fierce for animals that look likely to become prize-winners at fatstock events, and he sees this element of the business as making a valuable contribution to the farm's profitability.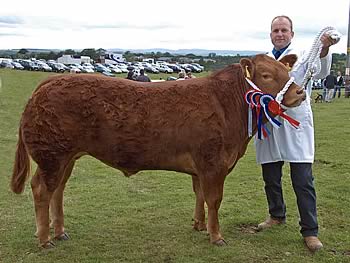 In this year's August sale at Hexham, a pen of 31 stores from John's farm averaged £760, a figure he was well pleased with. He also sold a Limousin steer which took the Reserve Overall championship at the Leyburn Show & Sale. It went for £2,000 to Andrew Richardson of Appleby. The steer named "Rebel" went on to take Reserve Overall at Beef Expo 2006 and came second in its class at the Great Yorkshire.
Further back in 2003, Andrew also paid John £1,700 for a heifer which ended up winning the blue ticket at Countryside Live in Harrogate. The following year, it took the Supreme Championship at the Great Yorkshire. Another success was a steer sold to Harry Emslie of Aberdeen, which ended up Reserve Overall at Smithfield in 2004.
Limousin bulls have been used on the farm for the past two decades and John's father, Joe was a loyal supporter of the breed. Sadly, he died suddenly in 2002, but John is carrying on the tradition and the herd has continued to improve under his care. Cows at Hightown are still being artificially inseminated with semen from the former stock bull, Shire Apollo, which was bred by Dougie Edgar of Penrith and purchased in 1984. The bull died aged 17 years, but he continues to have a tremendous influence on the herd. "A once in a lifetime bull," is how John describes him. He says Apollo's thickset shape was not in fashion when he was born, but has become more popular nowadays.
"I had seen the Shire animals prior to buying Apollo and I had always admired them," says John. "My father and I heard that a bull was going to be offered at Perth sales, so we went down to see him prior to the event, and bought him on the spot. "If a similar bull came up for sale today, I would have no hesitation in bidding for him, because Apollo had magnificent hindquarters and an eye-catching presence."
In 2002, Fieldson Ronaldo was purchased for the farm as a stock bull. By Greenwell Mike, Ronaldo cost 3,800gns at Carlisle and was bred by John Fieldson of Gainsborough, Lincolnshire. "I got Ronaldo specifically for putting to the Apollo daughters which make up half my herd," explains John. "He has been doing a grand job, and I have also picked out a home-bred young calf, which could end up as my stock bull of the future."
Just before FMD, John started retaining his own replacements with the idea of moving towards a closed herd. This practice has been continued with a few exceptions, and the original Limousin cross Friesian female bloodlines have become almost pure Limousin.
"This works well, because although the cows have lost some of their milkiness, there is still plenty for the calf, and the youngstock have better conformation and grow faster on a lower concentrate input," John observes.
"When I go out looking for a Limousin sire, I want a good crossing bull. But it must not be too long in the leg, because that may mean sacrificing carcase weight. When buying a bull I will consider the pedigree, other than that my main concentration is simply on buying a bull that I like the look of," he says.