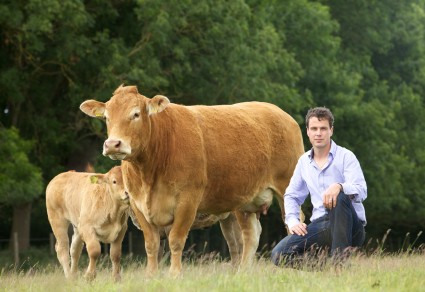 A rapidly expanding herd focusing on the production of high health status black polled Limousins
As well as winning the EBLEX Award, the herd has the highest average Beef Value this year of any Limousin herd in the UK.
The Greensons Limousin Herd owned by Guy Green and his father John, of Bottisham near Cambridge, has been recognised by EBLEX as the Most Improved Herd of British Limousin cattle for 2011.
The award is presented by the EBLEX Beef Better Returns Programme (Beef BRP) to the recorded herd that shows the greatest genetic gain for commercial traits over a 12-month period.  There is a separate award for each of ten UK breeds.
Guy Green, his brother William and their father John farm over 800ha (2,000 acres) of owned and tenanted land either side of the City ofCambridge. In addition to the herd, the family runs an arable enterprise with winter wheat, spring barley and oilseed rape.
The cattle enterprise was originally established by Guy's grandfather with commercial sucklers. His son John imported three French Limousin heifers in the early 1980s, and quickly expanded the herd by keeping replacements, buying in stock and embryos, and joining forces with another breeder.
In recent years cow numbers have fallen but are now increasing with the aim of reaching 40 or so pedigree cows, with the focus on black and/or polled animals.  The herd calves in the spring and has a high health status, accredited free of IBR and BVD, and is testing for Leptospirosis and Johne's disease.
The large-framed milky cows calve easily and produce progeny with good muscle depth and growth rates off grass.  Having polled animals means less work de-horning and black animals seem to attract more buyers at sales than reds, as well as having excellent performance, says Guy Green.
Performance recording
Whilst travelling to America and Canada after selling a home-bred bull in 1989, John.Green saw that performance recording was providing breeders there with a wealth of knowledge, allowing them to make informed breeding management decisions beyond what could be achieved in the UK.
The Greens started performance recording in 1990 when the BLUP runs began. They also scan muscle depth and measure scrotal circumference – a good indication of both bull and cow fertility – a trait which directly impacts on profit margins.
"We have always been interested in having as much information on our cattle as possible – the more you have, the better the decisions you can make," says Guy.
"Recording weights is a good start, but scanning gives actual values for muscle and fat depth. This helps improve the accuracy of the Estimated Breeding Values (EBVs) of our animals, and influences our future breeding plans."
Selecting breeding stock
When selecting cows and bulls for breeding, Mr Green relies heavily on EBVs as well as looking at the animal's style, frame and conformation.
"As a rule, the females have good figures and come from strong family lines," he says.  "The beef values in one family are all in the top 5%. One polled red cow, Greensons Amour, is in the top 1%, with a Beef Value of LM+41, and in the top 1% for 200-day milk."
The long-term objective is to expand the herd and achieve as high a set of EBVs for as many traits as possible – with the aim of producing easy-calving, milky dams that deliver fast-growing, well-muscled progeny.
Using embryos is helping increase the pace of genetic progress, although Mr Green is finding it difficult to find clean recipients to meet the herd's high health status. AI, a more bio-secure way of introducing new genetics, is also being employed.
Sales are made mostly through local commercial sales and some animals are sold off-farm.  As the herd expands, Greensons aim to increase animals sold through registered sales atCarlisle,StirlingandNewark. The black Limousinis relatively new to the UK and Mr.Green has wanted to lift quality as high as possible before marketing to a wider pedigree audience.
The herd has its own website, www.greensons.com, which is a gateway for breeders looking for black or polled genetics.  Mr Green sees himself as an advocate for the breed as a whole, relying heavily on figures to market its attributes.
He actively supports the Limousin Breed Society and appreciates their forward-thinking approach – particularly in promoting recording for traits such as scrotal circumference which started in 2010, and weaned cow weights which began this year.
Commenting on winning the award, Mr Green feels that the stock bull Newhouse Cupbearer was probably responsible, as he was a trait leader for muscle depth, producing nine strong calves last year, including Greensons Fathom which currently is the second highest recorded Muscle Depth EBV of any female Limousin.
Worthy winner
"The British Limousin winner this year is a belting good herd!" says EBLEX breeding specialist Samuel Boon.  "The Greens are experienced and innovative breeders, striving to provide top quality breeding stock that will produce commercially desirable progeny. Their use of records and information to attain top-end results is reaping dividends. In fact they are not only Improved Herd Award winners – they also have the highest average Beef Value of any Limousin herd in the UK (with more than five calves), out of 850!"