Feature on Stephen Nixon, Hunters Hall, Southerfield, Wigton, Cumbria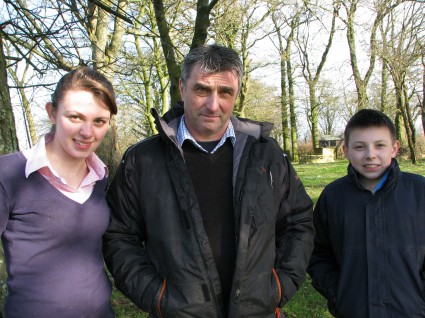 Most dedicated cattle producers can only dream about achieving the leading price at a pedigree sale, especially when they are in the company of some of the top breeders in the country. But for Stephen Nixon, this dream came true on his debut appearance at the British Limousin Cattle Society's Spring Show and Sale at Carlisle in February 2013.
The feverish bidding for Huntershall Gladiator which resulted in the 32,000gns sale price was preceded by a flurry of interest, largely due to the bull's appearance on the Facebook and YouTube websites, courtesy of Stephen's daughter, Alice. The bull was also on display at the Limousin Society stand at Beef Expo last year, with Stephen refusing several "decent" offers to buy him.
On Show day itself, the May 2011-born Gladiator fought off stiff competition in the intermediate section, to take the first prize in his class. He is by the noted bull, Rossignol, which has built up a well-deserved reputation for the production of outstanding show calves. Meanwhile, Gladiator's dam is the Sympa-sired Huntershall Dancer.
"Somebody at the event remarked that I looked very calm during the bidding process," says Stephen. "But in fact, I had to put my hands in my pockets, so people couldn't see how much they were shaking! I felt really out of my league and have never been so scared in my life. But I am delighted with the result and pleased that Gladiator has gone to a good home, where he will be well looked after."
However, Gladiator's popularity stretches even further back, as he was attracting attention quite some time before he had even been booked in at the Show and Sale. His appearance on the 2012 show circuit netted him interbreed championships at Stokesley Show and Hesket Newmarket. He also won Best Male at the Cumberland Show.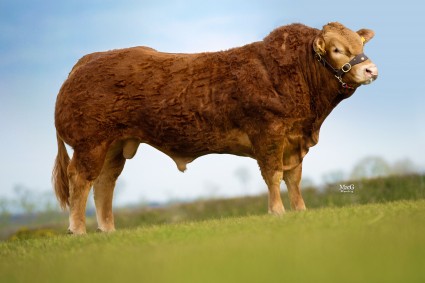 The Gladiator purchase ended up as a three-way deal, which included Cumbrian cattle breeders, NW Hardistry of How Hall, Ennerdale and J Knight, Low Broadleys Farm, Seascale, together with Norbreck Genetics, based at Cockerham in Lancashire.
Mr Hardistry runs a small pedigree herd of 10 females under the Howhall prefix, alongside a 70-strong commercial herd. Meanwhile, the Knights have 120 purely commercial females and the two farms will share the use of Gladiator as a stock bull. Meanwhile, the third member of the purchasing group, dairy farmer Philip Halhead, has plans to market Gladiator semen through his Norbreck Genetics business.
Commenting on his purchase, Neil Hardistry said:
"We bought this bull first and foremost on his pedigree, with the sire, Rossignol being very rare and making one of the best crossing lines for both pedigree and commercial use. The bull himself is long, clean and with a good back-end, great top and good on his legs."
Back at the holding where Gladiator was bred, Stephen says that he and his wife, Leona, are aware that some farmers are disappointed when they discover that their children do not want to follow in their footsteps. But that is certainly not the case for this couple: all four of their offspring take a keen interest in the running of the farm and especially the cattle. Eldest daughter, Hayley (20), works for a local land agent, while Tom (12) and Andrew (10), are still at school. Younger daughter, 17-year-old Alice, is studying agriculture at Newton Rigg College, but spends most of her free time with the livestock.
Docility and ease of handling come first and foremost
It is mainly due to the children's close involvement that intense selection pressure is placed on temperament, explains Stephen.
"We cannot keep any animal which shows aggression – it's as simple as that. It doesn't matter what its conformation is like, it must be bomb proof to handle. The children put a lot of effort into halter training and general show preparation and Alice has been managing Gladiator by herself in the show ring.
"It is down to Alice that we had a win at Stokesley Show. I had decided against entering, partly due to lack of time, but also because of fuel costs," admits Stephen. "But she persuaded me to attend. When we walked away with the interbreed title, I was very glad that I'd let her have her own way.
"Tom is also keen on showing, but he has an unusual approach. It was only after finding a stash of brown envelopes containing cash in his bedroom that I realised he had been pocketing the prize money. I had been under the impression that the winners only received a rosette!"
While the Nixons confine their show outings to pedigree classes, several of their homebred commercial calves have gone on to win for their new owners. For the past two years, Doncaster-based Willie Seels has been a regular buyer, with the Nixons' animals in the ribbons at the Lincolnshire Show and several other events. Homebred pedigree bulls have been sold privately, with most going to dairy farmers, for the past four years.
Stephen's grandparents were farmers, but he started his working life as a joiner, like his father. However, he always had ambitions to keep livestock and worked on several units, before buying the 136-acre Hunters Hall Farm, near Wigton in Cumbria, over a decade ago. The current herd is made up of 60 Limousin-cross British Blue cows, plus 15 pedigree Limousins, the first of which was registered in 2007. The farm carries four stock bulls, with one Limousin/British Blue cross by Newhouse Lagonda and the other three all sons of Rossignol.
Limousin cows are milky as well as easy calving
"Limousin cows are milky, as well as being easy-calving. Their calves are shapely and don't need a lot of concentrate feeding, in order to flesh up," says Stephen. "As with any breed, it is not possible to breed for milkiness and muscle at the same time. At the moment, our cows have good frames but they are slightly lacking when it comes to milk production. This has not gone unnoticed and I have made plans to correct it.
"I like the Limousin temperament and find it makes a perfect cross for the British Blue, to produce the type of high-quality commercial store cattle that buyers are looking for."
The grading up of the herd has historically been achieved through the use of AI. This significantly increased the workload, but at the time Stephen could not afford to buy the stamp of bull he wanted to use. More recently, a couple of the best heifers have been flushed and their embryos frozen, as another way of speeding up genetic progress.
"To observe the cows bulling meant going around the herd at least three or four times a day, which was very time-consuming, especially when they were out at grass," explains Stephen. "When I first went into the field, it disturbed them, so I had to sit and wait for them to settle down. Then I would have to bring in several animals at a time. Now that I have stock bulls as sweepers, life has become a bit easier."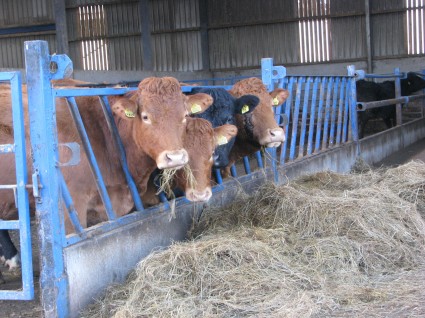 Unsurprisingly, Rossignol is at the top of Stephen's list of AI bulls. However Wilodge Tonka, Haltcliffe Vermount and Sympa all feature as choices, along with Homebyres Vanhee and Cloughead Umpire.
"When selecting sires, I look primarily for muscle and shape," says Stephen. "A bull has to be long and clean bellied, with good plates and a lot of second thigh. He must also have a sweet head and correct legs and feet, of course. That just about describes Rossignol; he has done so much for my herd. I have recently bought another batch of his semen and I will select his cows carefully, to ensure a good match.
"When I first tried Rossignol, I had been warned not to expect too much from his calves in the first few weeks after birth. I'm glad I had been tipped off about that, as his sons and daughters are very small at first and look nothing special. But after a month or two, they are transformed, having grown rapidly and acquired some excellent muscling."
The general aim is for spring calving, but as with many other herds, fertility problems have been an issue in recent months. He puts this down to the poor weather conditions.
"A number of cows have been difficult to get in calf; the quality of the grazing and the silage has suffered because of the prolonged cold spells and high rainfall. This has meant creating a separate calving group and will leave a shortfall in calf numbers. I can only hope that the situation improves, as we head into the spring and summer," he says.
Heifers and steers are creep-fed from around three months old, weaned at six or seven months and usually leave the farm after ten to twelve months, when they weigh in at around 350-450kgs. Sales take place between March and October, with the animals finding a ready market at either Wigton or Carlisle auction marts.
Stephen has signed up to the Herdsure cattle health scheme as another way of improving the value of his cattle and building up a reputation as a seller of good livestock. Managed by the AHVLA (Animal Health and Veterinary Laboratories Agency), the scheme offers the option of accredited disease-free status for BVD, Johne's disease, IBR and Leptospirosis.
Despite the family's strong support of the cattle enterprise, Leona believes that Stephen occasionally gets carried away by his enthusiasm. One example is his decision to have CCTV cameras installed in the calving pens, so that he can keep an eye on his cows from the comfort of their bedroom.
Spurred on by the Gladiator sale, Stephen is considering the idea of increasing pedigree cattle numbers, with plans to flush the Rossignol daughter, Huntershall Gretal, and Huntershall Julietta, a heifer by Volcano.
However it seems unlikely that he will give up commercial breeding altogether, as he looks forward eagerly to the birth of each crossbred calf, to witness the results of his breeding policy.
"It's a bit like waiting to open a Christmas present," he says. "You never know what you will find, because no two crossbred calves are alike. It is very rewarding, when a really good one comes along.
"But the pedigree side is still very important to me and breeding cattle which are good enough to make the Society sales has always been my main goal. I still have to pinch myself over Gladiator's success. Where do I go from here? I don't know if I will ever breed another bull as good as Gladiator, but I'm certainly going to try."
*Stephen and his family would like to extend their thanks to John McKeen of Hartlaw, Silloth, who has been very generous with his time and given them invaluable advice. They would also like to mention their feed merchant, Stobart's, as the high quality feed they produce has helped to bring out the best in the livestock.