QUESTION & ANSWER WITH ERIC & ELAINE NORMAN OF THE NORMAN PEDIGREE HERD, LITTLE ORTON FARM, CARLISLE
The Norman herd, owned and run by Eric and Elaine Norman, along with their two sons Craig and Michael needs little introduction.  A string of sale successes in recent years has put their herd at Little Orton, Cumbria, firmly on the map, and the trend looks set to continue.  The Carlisle bull sales in February this year saw 8 bulls sold to average £7,000 with a top of 11,000gns, and the heifers have been holding their own too, 16 of them averaging £3,700 at the Carlisle Female sale in June.  Eric is a past-British Limousin Cattle Society Council member and regularly judges throughout the UK, whilst Craig is a past Chairman of the BLCS Young Breeders' Club.  Here, Eric and Elaine share their views on the breed with us as we discover a bit more about their herd…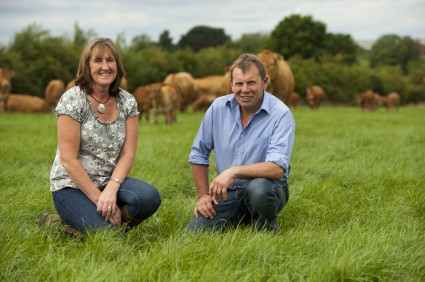 What is the background to the farm? The farm sits just five miles to the west of Carlisle. It extends to 340 acres and we run the 120 Limousin cows and 32,000 laying hens (supplying to Noble Foods' Happy Egg market) and also a contract fencing business.
Why Limousin?  We have had various breeds in the family over the years, but Limousin is a breed that easily meets all the requirements of the commercial market in terms of cow and calf performance, irrespective of the level of success we achieve in the pedigree market.
Can you tell us about the early days of the herd, foundation females etc .   We traditionally ran suckler cows with one or two pedigree Limousins for interest.  The herd was lost in the Foot and Mouth outbreak in 2001 and we decided that post-F&M our efforts would focus on establishing a pedigree Limousin herd.  We were very fortunate to be given the opportunity of buying the Stacey herd from Wilf Wood at Sheffield who was dispersing at the time.  These cows, largely sired by Springsett Formidable and Dyfri Maestro were the foundation for the herd as it is today.  
What is your optimum size of cow herd, how many cow families would that ideally be built around and what are your overall objectives for the herd?   We are currently around our ideal herd size of 100-120 cows and this will continue to develop around four original cow families from Formidable and Maestro mentioned previously, as well as two lines from Rawlsbury and Roughley, which were already dominant in the herd.  Our target markets are pedigree and commercial producers that buy at Carlisle, with the objective of producing breeding cattle that perform well for all our buyers.  If we happen to produce a Champion or two along the way, that would be nice!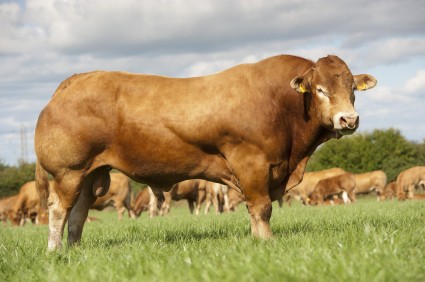 Stock bulls Heathmount Trojan, Drummin Eagle and the exciting newer additions of Claragh Franco and your homebred Norman Goldmine are all making their mark.   What are your priorities and objectives when buying a stock bull?  Our main concern is that we find a bull to match our cows and drive improvements in the areas we want to change.  He must be pleasing to the eye overall, have EBVs (Estimated Breeding Values) we find acceptable – with emphasis on Milk, Calving Ease and Beef Value – and of course be from bloodlines different to our cows.    
We have all enjoyed the recent strings of quality heifers you have brought to breeding sales. What would you describe as the typical type of heifer you are looking to have within the herd?  On what basis do you select your heifer replacements?   The same principles as the bulls (above) apply here; pleasing to the eye and have acceptable EBVs and pedigrees.  However, we also draw them based on our view of their mothers and grandmothers.  Over the years we have occasionally done this the other way round ie selected the grandmother and mother first to see what heifer this would leave us.  More times than not we arrive at the same result, which is pleasing in terms of consistency.  We also typically find that the better animals tend to have the better EBVs.
Who is the target market at bull sales, commercial or pedigree, and what is the typical type of bull you see required for the forward market?  We target both pedigree and commercial buyers since we don't believe the objectives of either customer to be significantly different.  The majority of our bulls will be sold to commercial suckler herds. 
How do you see the market for bulls developing/changing in the industry over the next five years? It is an unfortunate reality the market will get smaller over the short to medium term as the national suckler herd reduces in size.  The Limousin breed must continue to respond to this by producing what Limousins are all about; easy calving, high quality maternal cows and good growth and carcase results in the finishing calves.  Equally it mustn't rest on these laurels and will need to be ready to adapt as markets change.  The encouragement of young pedigree and commercial producers in to the breed is a vital part of this process.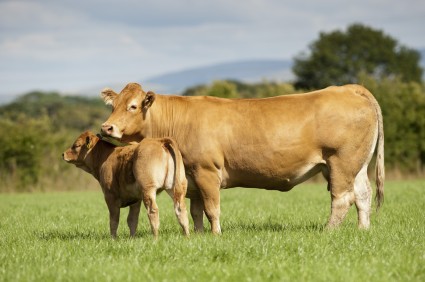 Describe a year in the life of a cow and calf in the Norman herd?  Heifers are calved one to two months earlier than the main herd at around 26 to 30 months of age.  The main herd is Spring calving, with May calvers onwards calving outside.  Calves are disbudded at turnout and then summered on creep when the grass goes back.  They are vaccinated against BVD and IBR and wormed prior to housing, which is typically in October/early November.
The cows are housed on slats in cubicles with mats.  The majority of calves are weaned at housing as a result of this, when calves are typically 300kgs+. The cows are fed silage and minerals whilst the weaned calves go on to a silage, maize and concentrate diet fed twice daily.  This is extended to young bulls, and regular feeding intervals maintained without the need for ad-lib.  Young heifers are taken on with silage plus some concentrate.  In the early part of the year prior to calving, cows are treated with trace element and mineral boluses, vaccinated for BVD and Leptospirosis and blood tested for the CHeCS health scheme.
 How do you sell finishing animals and how do they perform?    The majority of animals are kept for breeding, but those we do sell are sold live through the mart.  Average weights are in the region of 600-700kg at around 16 months of age.
The genetic trends shown by the herd over the years compare impressively with the average for the breed, confirming high rates of genetic gain have been made for the important economic traits.  What wider impact has performance recording had on your herd and the breed in this time?  We don't select our animals solely on figures, but we do use them.  'Good' animals are being identified by 'good' figures nowadays, so we are more willing to use them than in times gone by and they have given us confidence to try harder to buy animals we may have pulled out on previously.  So far as selling stock is concerned, having animals with good figures has definitely been an advantage.  It is becoming more noticeable that buyers are coming to the pens in the mart with their catalogues already marked up with the animals they want to see.  The development of the Basco database and the access to EBVs and pedigree information it gives to everybody is valuable in this respect.