A feature on James, Sarah, Laura and Ben Cooper, partners in Tomschoice Limousins, Hill Top Farm, Dacre, North Yorkshire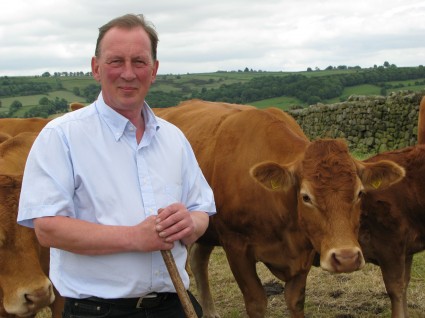 The Coopers are proof that it is not necessary to farm full time, in order to achieve cattle breeding success. They believe that the 'easy-care' Limousin plays a major role in allowing them to juggle their careers with the demands of their herd.
James works part time at Ripon Select Foods Ltd, flour millers and manufacturers of dried food ingredients for the food industry. Sarah and her brother Martin, are joint managing directors at the company. They have been joined by James and Sarah's son and daughter, Ben and Laura, who are trainee managers.
Well established in pedigree Limousin circles the family's 'Tomschoice' herd, amongst a number of achievements, was runner-up in the British Limousin Cattle Society's 40th anniversary National Herd competition finals in 2011, having previously being pronounced North East Limousin regional champions in the same year.
The Cooper family have been at Hill Top Farm since 1988, historically farming around 40 acres and calving 20 cows in the spring. They had been hoping to expand the herd for some time and were delighted when the opportunity arose to purchase a further 70 acres from a neighbour in 2011. This year, they will be calving circa 40 females, with the aim of increasing the herd size to 60-65 cows by 2016. These will be managed on a spring and autumn calving system.
James and Sarah set up the pedigree herd in 1996, after previously farming cross-bred Herefords and Limousins.
"We found that 9 month old, ¾ Limousin bulls were making £100 per head more than Limousin x Herefords, so the Hereford cows were sold'' explains James. "As we only had a small farm, it didn't take long for us to realise that we couldn't make enough from just a dozen commercial cows. Therefore, we decided to 'go pedigree,' to try and increase our financial return per acre.
"We had Charolais and Angus stock bulls on a variety of cross bred cows at home in Lincolnshire many years before, but to be really truthful, we just like the look of the Limousins – they look like archetypal breeding cows.
"The Limousin is also very easy calving, with a short gestation period. The cows milk well and are fertile and docile, while their calves will grow well on any system, whether it's grass or cereal based, or a combination of the two. Limousin calves have their 'meat in all the right places,' and give excellent killing out percentages. The meat is high quality, being both tasty and tender."
The family initially started with a small number of in-calf, older cows from noted breeders. Today, AI is used across the herd, together with two stock bulls; the senior is Kaprico Eravelle, by Wilodge Tonka and out of Kaprico Ravelle by Greensons Gigolo. His EBV is in the top 1% for calving value, gestation length and 400-day growth, with a beef value of +35. The current junior bull is Warrenderpark Geronimo, a Haltcliffe Vermount son out of Sarkley Topknot daughter, Tomschoice Bramble. Keeping it in the family, Warrenderpark is the pedigree prefix of daughter Laura!
"I probably made a lot of mistakes in the early days – and I still do – but my basic aim with the females has remained unchanged," says James. "A good udder and legs are essential, along with a calm temperament, length and a good top line. The majority of cows in the herd are sired by Sarkley Topknot and Ronick Member, with both bulls being used by AI to produce more females. They have proved to milk well, calve easily and have good temperaments."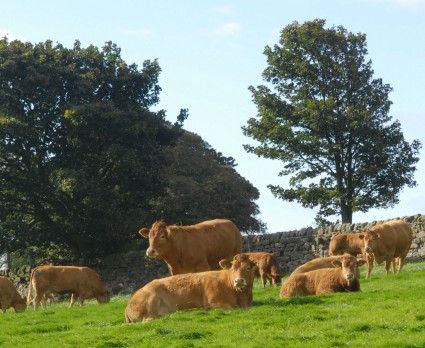 He also has clear vision about the type of bull is he is breeding and to which markets.
"We are trying to breed bulls for the commercial farmer; if we produce a few for other pedigree breeders, then that's a bonus on top. Bulls should breed calves that are born easily and have fast growth rates, with good conformation, as shape always sells.
"We do feel that more and more beef will come from the dairy industry in the future and we are very interested in breeding bulls with short gestation lengths. Kaprico Eravelle was purchased particularly for this quality and he has proved to be very easy calving, with a gestation length of around 283 days.
"We also are very keen on good temperament and we will cull any animal, male or female, that doesn't meet our standards.  We feel temperament is a heritable trait and we want our purchasers to have an easy and quiet life.  The Society has of course introduced a docility EBV and this has been a very positive step we feel"
James admits to being "fascinated" by cattle breeding and genetics and is always looking to improve the general quality of the herd.
"Recently, we have had quite a few calves born with no obvious horn and DNA samples have been sent away, to determine whether these are polled or scurred. I think that if we are getting some natural mutation, this may be an interesting route to follow."
Performance recording plays a key role in measuring the genetic advancement of the herd James says and he has welcomed the Society taking this service on in April of this year through the BASCO database platform.
"We have performance-recorded virtually ever since we started registering animals. The data generated by weighing and scanning helps to us determine how each animal and its parents are performing. This is especially important with young bulls, where we can use the information to alter exercise or feeding regimes.
"EBVs do play a part when we are looking to purchase a bull. Our focus is on calving ease, gestation length and growth rates, as well as maternal characteristics. We will also look at the EBVs going back a few generations, most notably on the dam's side. Performance recording is now much easier, and cheaper, using the on-line facility with BLCS. Data is much more immediately available on this system and I think it will be a really purposeful tool for breeders and potential purchasers."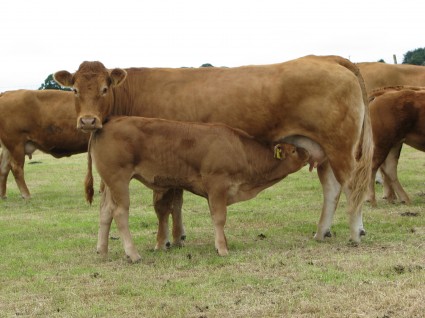 Herd health also comes under intense scrutiny.
"We have maintained a closed herd, with exception of purchasing stock bulls, since 2000. We will only buy from herds accredited free of Johne's (now Risk level 1). Health status is something that we consider to be of prime importance, as we don't wish to put our cattle at risk, or turn out to be responsible for giving another farmer any problems. Our cattle have been accredited free of BVD and Johne's by the SAC since 2004."
"As a breed society, the BLCS has been very proactive in its approach to herd health and has led the way. This in turn has seen other breeds following suit, a move which has got to be to the benefit of the whole industry."
Like many other farmers, the Coopers have struggled with grazing management and silage making over the past couple of years. The holding is in a high rainfall area and the land rises to just short of 1,000 feet above sea-level. James says that cattle and humans alike endured an eight-month winter in 2012/2013. Damage to the pasture in the 'summer' of 2012 is still in evidence.
"When we housed the cows in September, they had lost condition more than we had seen before," he comments. "Rather than following our usual policy of dropping a half to one condition score over the winter, our main aim thereafter was to maintain and improve their condition, coming up to calving.
"But despite the extremely wet period and then later the very cold and snowy weather, we still managed to get the young bulls out for exercise on most days."
The Coopers like to present bulls which are "fit rather than fat; if anything a bit 'raw' looking," when it comes to sale time. They aim to produce bulls that are ready for work. Bulls forward for market are semen-tested prior to sale and the same service is offered for private buyers.
Females are generally calved at two and a half to three years, in an attempt to reach a balance between reasonable stature and minimal fat levels. Creep feed is used to get the calves off to a good start and yearling heifers receive a 16% protein concentrate ration as part of the diet for their first winter housing period. Thereafter, they go on to a forage-based diet until calving.
The winter diet for adult animals is based on silage, straw and molasses, with a policy aimed at the cows losing half a condition score between housing and calving. All the buildings are straw-bedded, with the exception of some stands where yearling heifers are neck-tied for part of the winter.
Despite leading a very busy life, with a demanding job and a herd of cattle to manage, James still manages to take an active part in the industry. He is a North East Limousin Breeders' Club (NELBC) Committee Member and a former NELBC Chairman.  From 2007 he has served as a BLCS Council Member , and from 2005 has been a member of the Yorkshire Agricultural Society Council.  Keen to encourage young enthusiasts, "the future of the industry", he has also been President of the National Young Limousin Breeders' Club since 2009.
Moving forward, the family will continue to monitor and upgrade their female replacements, he says.
"We only have five female lines, although these have become quite diversified over time. The last female we bought was in 2000. Our cattle are primarily to run as a closed herd, for health reasons. At present we are keeping all heifers; anything that doesn't perform well enough will have an embryo implanted into it. In the past, we have culled out some family lines that didn't milk well enough, every cow has to work on our farm and a cow that can't rear a calf isn't worth keeping."
James says that the family like to look to the future and not reflect on past achievements but for the record the herd has met with steady achievement.  Regular vendors, bulls have sold at Carlisle to five figures with a top price to date of 13,000gns.  A Championship has been attained at the Great Yorkshire Show, along with participation in Interbreed team titles, successes at the Royal Show, and numerous regional herd awards.
Later this year, on 25th – 27th October, the British Limousin Cattle Society will hold its inaugural Social Weekend for members in Harrogate.  Central to this on the Saturday will be a much anticipated farm walk at the Cooper's Hill Top Farm.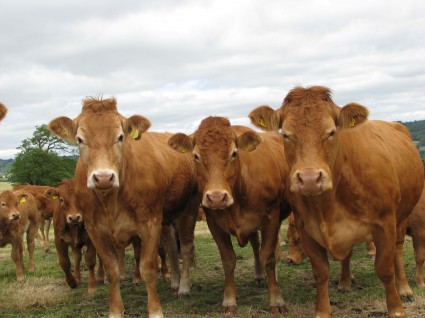 Why the Tomschoice herd?
Tom was a family friend who used to help out on the farm. The idea for the prefix came when Tom picked the Cooper's first pedigree cow; Tom's choice. This was Stoneleigh Ginger and she proved to be a great asset to the herd and her family is still going strong today.
'Profit'Gene
The Coopers are contributing towards the Society's research into the F94L 'Profit' gene, which has been set up as part of its technical and breed improvement programme. This gene has been proven to increase the weight of prime cuts by as much as 19% and overall beef yield by 7%.  In addition, animals with two copies of the F94L gene consume the same quantity of feed as those minus the gene, but they are more efficient at producing beef. The F94L gene is also linked to a 20% reduction in intramuscular fat and a 30% reduction in external fat cover, making it a healthier food product. It goes without saying that the F94L gene is found with very high frequency in Limousin cattle.
"We test all calves for the two copies of the F94L gene at the same time as we send in DNA samples to verify parentage," explains James. "We also weigh our cattle regularly and have them muscle and back fat-scanned, to obtain a greater degree of accuracy for the animals EBV."
CCTV System
Mindful of the fact that the family farms part time, they have invested in a CCTV system that allows them to view the calving sheds via an internet connection, which can be used either at night in their home, or at work, during the day. It includes infra-red equipment for night time viewing and a zoom facility.
"The system was not cheap, but if it preserves the life of just one calf a year, then it will soon pay for itself," says James. "It also saves considerable time, by cutting out unnecessary trips from work to the farm."
Heat Detection and Calving Alert Project
James is currently taking part in an EBLEX-funded trial involving RAFT Solutions and Bishopton Veterinary Group. The aim of the project is to evaluate the efficiency of different technologies at pinpointing oestrus and calving in suckler cows. The two technologies under trial are a rumen bolus and collar activity transponders. Whilst these systems are becoming more widely used in the dairy industry, they have yet to receive comprehensive evaluation in the beef sector.
Rumen Bolus
The rumen bolus monitors the cow's temperature, which is believed to have the ability to predict either the onset of heat or calving. A radio signal transmits a change in temperature to a reader and a software package, which alerts the producer to an approaching heat or, depending on the pattern of change, an approaching calving.
Activity Collar
The activity collars record the activity of the cow and can analyse any changes to determine the onset of bulling or calving.
Alert Systems
Once significant changes have been detected, the two aids will alert the herd owner or manager by text or email. The physical data collected will be measured against James' own visual observations, while the triangular data will be correlated with pregnancy scanning results to measure the accuracy of the systems. Both systems have the potential to offer additional benefits, in terms of other health alerts, although no firm conclusions have been drawn at this stage.