While Clive Rowland may not aspire to a fully pedigree Limousin herd, he is just as passionate about cattle breeding as anyone else involved in the Limousin Society. He also shares the same goal, which is to gradually improve the quality of his animals, through careful research and selection.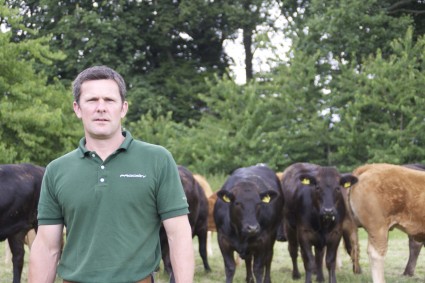 Garrowby Farms is part of a large estate which farms 500 acres of grass and 160 acres of arable crops in hand. The holding supports 125 cows, plus followers, as well as a flock of 700 Texel cross Mule sheep, which are put to the Texel tup. Clive runs the unit with one full-time worker, plus additional help at lambing time.
Clive took up the post of farm manager on the Garrowby Estate quite by chance. He was running his own sheep and cattle enterprises in his home county of Essex, when his wife, Ruth, spotted the job advertisement in the farming press. Since their arrival in the area, the couple have set up their own business, Wolds Edge Holiday Lodges, which offers accommodation in nearby Bishop Wilton. The couple have three boys: Archie, (8), Jack (6) and Ewan (4).
Having now been in charge of the farm for the past 13 years, Clive has gradually moved the cattle breeding policy from South Devon and Aberdeen Angus females, to a herd of pure Limousin and Limousin  cross British Blue cows. Only around 10 pedigree animals are kept at any one time, mainly to improve the value of cattle which are sold for breeding. The cows are put to one of the three Limousin stock bulls, or to the single British Blue bull, to calve from the end of March onwards.
Terminal and maternal balance
"When I took over, I felt that the breeding programme wasn't producing the type of cattle our local butchers wanted. Since I started basing the herd around the Limousin, I have never looked back," says Clive, who hosted a farm walk for the North East Limousin Club earlier this year. "The breed has the advantage of producing both a good maternal female and a good finished animal."
Flexibility is the key when it comes to sales strategy. In the past, the majority of the calves have been finished, but the spiralling cost of livestock feed means that the sale of store cattle may become a regular feature. High feed costs have also influenced Clive's decision to castrate all the male calves this season, although the 2012 crop was left entire and reared through to finishing, with one thirteen-month-old bull, by Glenrock Ventura, selling for £1,800. More recently, an older cull cow made £1,700, which underlines the popularity of the breed in the marketplace, he says.
"There are plenty of farms in Yorkshire which are operating on a larger scale and can source feeds more cheaply than I can," he admits. "The production of store cattle should allow me to put more focus on the breeding side."
"To date, only a few heifers and bullocks have been sold as stores – they have gone through Malton Auction Mart. However prices have been encouraging and I feel this is a route we should probably take at some point in the future."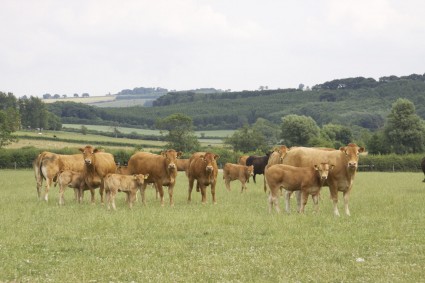 Garrowby cattle are increasingly in demand for breeding and several private customers have made repeat purchases, with first-cross Limousin cross British Blue bulls attracting considerable interest. The farm has sold three such bulls this year, to average £3,000.
The most notable among the bulls which have been brought on to the farm is  Glenrock Ventura, which was bred by Stephen Illingworth and later sold to Ian Handley's Gunnerfleet herd in Chapel-le-Dale, Ingleton, Lancs. Clive bought him after visiting Ian's farm and seeing the bull's progeny, although Ian has retained the semen rights. Clive is full of admiration for Ventura, commenting on the fact that he is easy calving and is in the top 1% for milk and saying that his daughters have proved to be "fantastic" mothers. He has more than repaid his purchase price through the added value of his progeny, he says.
Another bull purchased from Ian Handley is the Nenuphar son, Dolcorsllwyn Brynmor, bred by GP Vaughan and Son. The bull had been Reserve Junior Champion and made the top price of 32,000gns at a breed society sale in 2008. Clive describes him as a "powerhouse" with tremendous length and the capacity to produce calves with excellent plates.
"I have bought five bulls in total from Ian," says Clive. "I like his stamp of cattle and it is informative to see a prospective sire's progeny, especially the females. EBVs are taken into account; if they back up an excellent pedigree and good conformation, then all well and good, but they are not my primary concern."
Buying direct from farm also reduces the risk of contagious disease being brought on to the farm, he adds.
"I will only consider buying from herds with a high health status although Garrowby doesn't participate in a formal health scheme. Instead, we have a programme specifically designed for the cattle, which is put into practice with the help of our vet. Part of this involves animals being tested for BVD and leptospirosis on a routine basis."
Most of the heifers are synchronised and go to AI bulls, with Anside Flint, Crossdykes Goliath, Powerhouse Elite and Plumtree Fantastic among the most recent. A tight calving pattern is maintained; most females are served within a twelve-week period, to fit in with the workload.
"It is vital that every cow on this farm contributes towards profitability; she must produce a calf each year. All the females are scanned and anything not in calf will be removed, unless it has outstanding characteristics. We are very busy during the summer, clipping all our own sheep and a number for other farmers. There is not enough time to manage cows close to calving at this time of year."
Durability and longevity
Despite the rigorous culling policy, Garrowby cows are generally long-lived.
"Certain cow familes perform particularly well down the generations, with granddam, dam and daughter all proving themselves to be consistent breeders of high quality progeny.  Some of the cows reach 14-16 years old, which is an indication of their durability and longevity.
"My ideal female is a combination of 25% British Blue and 75% Limousin, although Limousin bulls have been used so frequently that the Blue influence is gradually being bred out. I prefer a medium-sized animal – nothing too extreme. A cow should look feminine; someone once told me that you can't milk a bullock, and I agree with the meaning behind that sentiment.
"She must also have the ability to lay down fat cover over the summer and use it up during the winter. Adult cows only receive silage and straw, plus a mineral bolus twice a year. They should be able to thrive on this diet, without the need for concentrate feeding."
Creep feed is offered to calves from August and they are initially left with their dams when they move into the straw-bedded buildings for the winter. All the calves are vaccinated, to protect them against pneumonia, with weaning taking place in the run-up to Christmas. Some of the best examples are taken to Leyburn auction mart, where the top price to date has been £2,400, paid for an eight-month-old home-bred female. Sired by a British Blue cross Limousin bull, it is not the only animal which has caught the eye of buyers looking for a commercial show prospect, Clive points out.
While he enjoys showing his pedigree cattle, lack of time limits the opportunity to attend many events. However, the herd had success at its first ever show outing, when the home-bred Ventura son, Garrowby Gizmo, won the overall supreme championship at the Northern Limousin Extravaganza at Skipton Auction Mart in 2012. Gizmo also came third in his class at the Great Yorkshire and was made inter-breed champion at Driffield show; he has been retained in the herd.
More recently, the young heifer, Garrowby Hiccup, was awarded the overall championship at the 2013 Northern Limousin Extravaganza, which took place at Craven Cattle Marts, Skipton in May.
The Garrowby herd was also in the ribbons at Skipton the following day when the farm's only entry secured a first prize in the class for junior bulls. The winner was another Ventura son, this time the fourteen month old Garrowby Hurricane. He attracted a bid of 4,400gns – the second top price of the day – from Stephen Priestley, who bought the bull for his Brontemoor herd near Carlisle in Cumbria.
Future plans for Garrowby include a possible increase in livestock numbers to 140-150 head, which is the limit imposed by the buildings. There may also be additional investment in labour-saving equipment and greater reliance on contractors for routine farming operations.
"I believe that the main way of boosting profitability is to continuously upgrade the quality of the livestock," says Clive. "To achieve my aim, I like to buy in the best genetics that I can afford, as well as matching cows to bulls on an individual basis.
"Calving time can't come around quickly enough for me, as I look forward to seeing which animals have 'clicked' with each other. Everything connected with cattle breeding takes a long time, but that's half the pleasure of it; if it was too easy then I wouldn't get as much job satisfaction."