A focus on quality and profitability is at the heart of the firmly established pedigree Limousin enterprise at Procters Farm Ltd, Slaidburn, Clitheroe, Lancs. Under the day-to-day eye of Farm Manager Gary Swindlehurst, rapid progress has been made with the Procters pedigree herd which was founded in 1996.
The Procters prefix is synonymous with breeding high quality bulls for the commercial and pedigree markets.  Owner Tony Moores along with Gary have a clear aim to pursue continuous herd improvement and provide the type of animals, both male and female, that the commercial beef producer and pedigree breeder wants.   It is a simple philosophy that is paying a high dividend with bulls having sold consistently at Carlisle over the last two years to a top of 28,000gns.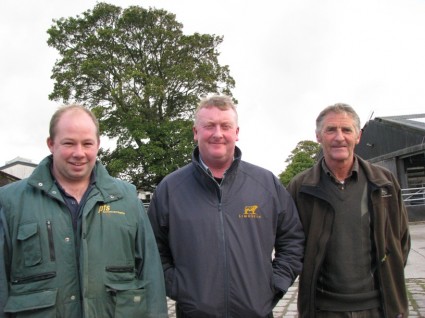 A good deal of the herd's success has been based upon a good eye for stock, rigorous selection of breeding females, and the willingness to heavily invest for improvement. In 2006 at Carlisle, Procters Farm Ltd paid the still world record-price of 100,000gns for Haltcliffe Vermount from Cumbrian breeders Matt & Craig Ridley. The bull's first crop of 11 sons have subsequently grossed in excess of £110,000, with the first four achieving a 16,000gns average and the promise of more to come.  "It was a big investment but the bull had the potential to take the herd to the next level.  He has width, muscle, balance and excellent locomotion, everything that a Limmy should have," said Gary.  "As well as the bulls and semen sold, Vermount has drawn a lot of people to the farm and that is hard to put a price on."  Haltcliffe Vermount is also leaving some excellent females with his first heifers due to calve this backend to the noted A.I. sire Fieldson Alfy.
The Procters herd now comprises of sixty females plus followers, and again the emphasis is on continuous selection for improvement.  "The females are the cornerstone of the herd," says Gary. "We are breeding for medium-sized cows that are easily fleshed and have plenty of milk.  They must have good width in the plates and good top lines.  It is an aim that each of the herd's sixty cows should be able to produce a quality calf – male or female – that is sellable at the pedigree sales at Carlisle."
A regular ringsider at commercial sales at Carlisle, Gary feels that it is an essential part of the pedigree breeder's job to view and assess the type of cattle the commercial producers are seeking and getting paid for.  As a result, the Procters herd is focussed firstly on producing the type of bull the commercial man is looking for, with bulls sold to breeders viewed as a welcome bonus.
Up until October 2008, sales had topped at the 10,000gns paid for Procters Vierzon when selling to commercial producers G&M Halliday, Crawthat, Lockerbie. This 2004 born bull was sired by the then herd sire Greenwell Ronick.  In October 2008, Haltcliffe Vermount progeny lifted the sales averages considerably with Procters Cavalier selling to Emslies Limousins for 28,000gns; Procters Commander to Haltcliffe Limousins for 22,000gns and Procters Cantona  to Tom O'Brien, N. Ireland for 10,000gns. Other sons sold have included Procters Cyclone selling for 20,000gns in February 2009 to the Oag Family, Brims, Thurso; and Procters Cobra in February 2008 for 8,000gns to suckled calf producers Messrs Robinson, Catlow.
"A good backend with width and plenty of shape is a first requirement.  When you are selling at market, or at home, having bulls with conformation is a must to get the attention of the commercial man," says Gary. "For commercial breeders and finishers Limousins are so consistent and efficient at meeting the spec and weights required.  They can be fattened off grass and the extra killing out percentage and meat yield is all profit.  Efficiency and performance is what makes Limousin progeny the best option for farm profitability."
Procters Farm is a 700 acre holding set within the Forest of Bowland.  A marginal hill farm with the steading sitting at 650 feet above sea level, a high proportion is classified as Disadvantaged with annual rainfall as high as 75 inches. The land is mostly made up of permanent pasture with a re-seeding policy started this year, to increase productivity and introduce more white clover.  In addition to the Limousin herd, the farm is also home to a 400-strong commercial ewe flock comprising of Mules and Texel crosses that is put to the Beltex or Dutch Texel. A pedigree Texel flock numbering around 100, established just five years ago, has already seen a tup lamb sell to 8,000gns at Lanark this year.
Pre 1996, the farm had a commercial herd of 70 Limousin cross cows put to a Limousin bull, before the decision was taken to move entirely to a pedigree herd.  The move to pedigrees was taken due to the size and nature of the farm and to increase overall farm profitability.  The view was very much that 'less can be more' with the emphasis on quality animals paying their way.  Heifers are calved at between 2.5-3 years of age in the autumn. They are working towards moving away from the previous policy of calving between January and June. A new, tighter calving pattern is aimed at having the majority of sale stock ready for the February and May sales when the demand for bulls is highest.
The majority of stores from Procters are sold to a finisher who sells the cattle deadweight. They are sold at around 10-12 months old just after weaning and following the selection for the animals that have breeding potential has been made. Bulls are generally taken at 480-500kg, with heifers at 380-400kg. All of the buildings at Procters have been designed with animal welfare and health in mind, with cubicle places taken up by the dry cows and heifers. The majority of the cows and calves are loose housed on straw yards with creep areas over winter.
The herd's foundation females were the Talent daughter, Marnhull Jojo, from Messrs AF Mogridge, which went on to breed bulls to 7,000gns; and Greenwell Leiha from Mr & Mrs JT Nattress which bred bulls up to 9,000gns.  The French-bred Intruse was purchased from the Crowhill herd of Dick Etherington for 14,000gns and her bloodlines continue to feature strongly in the herd today.  The Hartside Hensingham females bought privately from the Thompsons' Hartside herd at Penrith have also served the herd extremely well. In 1998, the 14,000gns paid for the stock bull Neutron, a son of Jockey, bought in partnership with the Thompsons, from Welsh breeders DG & MJ Edwards & Son represented the herd's first major investment in a stock bull.  This was followed in 2002 with the purchase of Greenwell Ronick, a Ronick Member son, for 19,000gns again from the Co. Durham based Nattress family.  Each investment has provided a return with Neutron proving to breed some excellent females and Greenwell Ronick daughters clicking with present stock sire Haltcliffe Vermount.
A busy, but successful autumn pedigree sale period saw Gary having the honour of judging the Limousin section at the first sale held in United Auctions new market in Stirling.  This followed hard on the heels of the Procters Farm team having shown and sold four bulls at Carlisle just two days earlier. It proved to be a terrific sale for the herd with three sons of Haltcliffe Vermount making 20,000, 9,000 and 9,000gns respectively whilst a further bull sired by Greenwell Ronick made 13,000gns.  To boot, Procters Farm also picked up the Reserve Senior Male Championship and the prestigious Group of Three Award in the pre-sale show.  All four sale bulls were performance recorded and had good Beef Values with the herd placing a premium on weighing and scanning data balanced with visual assessment.   Good herd health management is viewed as an important management tool for the farm and the herd, as well as for customers.  Members of the SAC's Premium Health Scheme since 2001, the herd continues to monitor for both Johnes and BVD.