Feature on the Wildgoose Family, Scarcliffe Hall Farm, Scarcliffe, Chesterfield, Derbyshire and Springwood Farm, Sutton Scarsdale, Chesterfield.
Ian Wildgoose says the reason behind his family's unwavering commitment to the Limousin is simple: "Most of my cattle go to private butchers and I have found they prefer the Limousin above all other breeds," he says. "Pleasing my customers and achieving high sale prices are two of my main priorities. But from a farmer's point of view, I need cattle which are fertile, milky, good converters of feed and easy-to-handle. The Limousin also fits the bill on all these counts."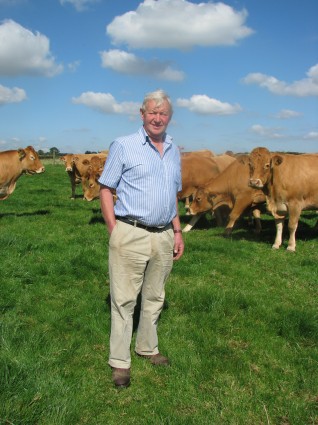 Limousin fits the bill as a suckler cow or a store beast
Ian Wildgoose and his wife, Andrea, farm the 500-acre Scarcliffe Hall and Springwood farms in partnership with their sons, Robert and Jonathan. Alongside the suckler herd of 40 pedigree cows under the Scarcliffe prefix, they also buy in more than 300 store cattle – mainly heifers – each year, as well as growing wheat, barley, oilseed rape, potatoes and maize. Mr Wildgoose says the profitability of the herd is largely dependent on the farm being virtually self sufficient in both cattle feed and straw for bedding, with rolled barley forming a major element of the finishing ration.
The family has farmed in the area for many years and Ian moved to Scarcliffe Hall when he was just a few months old. Originally a dairy farm, it has always supported a feeding cattle enterprise and nearby Springwood Farm has since been acquired, in order to expand. There are no employees on the family unit and contractors are only brought in at silage time and when the maize is harvested.
Lim stores are bought in at 10-12 months
The Limousin was introduced almost as soon as the first imports became available, with the pedigree herd established in 1989 after the purchase of four cows with heifer calves. All the heifers from the suckler herd are retained for breeding or finishing and the bulls are left entire. The single-suckled, bought-in stores arrive at various times throughout the year, usually aged around 10-12 months old. They are occasionally obtained privately, but Mr Wildgoose likes the wider choice available at the mart.
While some heifers are sourced at the local sale in Newark, Mr Wildgoose is prepared to travel some distance to buy the right type of store cattle. He makes regular trips to markets in the North of England and is a familiar face at Hexham, Wigton, Barnard Castle, Skipton and Penrith.
Shape, length and a good top
"Finished cattle prices have come down, but the store trade is still buoyant," he observes. "There are several good breeders whose stock I look out for when I'm bidding, as I know their cattle will perform well on our system. These people consistently produce animals with shape and a decent length of body. Butchers like cattle with a good top loin, as it has become more saleable in latter years, compared with rump."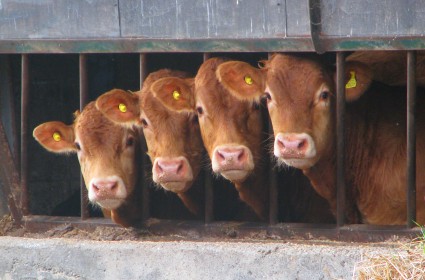 Mr Wildgoose has a great deal of experience in selecting finished cattle and relies on assessment by eye. He feels that paying too much attention to weight can be misleading; pointing out that one animal might be ready at 480kgs, while another can be taken to 620kgs, without laying down excess fat.
Only a small number of animals are sold each week, as a way of minimising the vulnerability of the business to the fluctuating prices which seem to have become a market standard in recent years. A high percentage of finished cattle are sold on a deadweight basis to a long-standing customer, who is a private local butcher with his own small slaughterhouse. The other main outlet is Newark Market.
A consignment of four Limousin heifers at a recent Newark sale saw the Wildgoose Family achieving a top price of 243.5p/kg (£1,400) at an average 236.5p/kg (£1,331). Meanwhile, cattle for sale deadweight are taken direct to the butcher's slaughterhouse and a fair price is agreed on the spot. Presentation is perceived to be very important and every animal is clipped out on arrival and again when it leaves the farm, a process which also reduces sweating during transport.
"We did consider castrating our bull calves when market prices dipped, but the trade for bulls wasn't much better, so we decided against it. Heifer prices seem to have been more stable," comments Mr Wildgoose.
Bulls are finished at 13-15 months
"Another factor was that steers would need to be grazed and we need all the grass for the cows; as we are not prepared to take any land out of the arable rotation. The bulls are usually finished at between 13 and 15 months and the quick turnaround fit in well with our other enterprises."
The breeding programme includes the homebred Scarcliffe Ferdinand, a Sympa son. Born in January 2010, he is out of Scarcliffe Vogue (by Malibu), who Mr Wildgoose says has been a great cow', although unfortunately she has never produced a heifer. The sale of breeding bulls makes a significant contribution towards farm income, but the majority are sold privately, mainly due to lack of time.
One notable exception was a Limousin Breed Society Show & Sale at Newark in 2009, where the family took the 6,500gns top price for Scarcliffe Cracker. A two-year-old son of the French-bred AI bull, Objat, he was out of the Jockey daughter, Scarcliffe Victoria. The bull went to Halifax-based David Bamforth, who is well-known for his success in the prime cattle show ring.
"The first bull I ever sold at Carlisle was purchased by a Mr Gold," says Mr Wildgoose. "Some 14 years later, he rang me and I remembered him instantly. He had called to tell me that the bull was about to go down the road. He wanted me to know that the animal had made a great contribution towards improving his herd. That made me very proud."
AI is used on the 'best' females; among the Limousin bulls used recently are Sympa, Fieldson Alfy, Chytodden Conan and Talent. The females are not synchronised, but the success rate runs at a consistent 70%-80%.
"There are some fantastic AI sires out there to choose from," says Mr Wildgoose. "When it comes to stock bulls, a lot depends on the way they are reared; if they are pushed too hard to look good for a sale, there is a risk they may not thrive when they start working."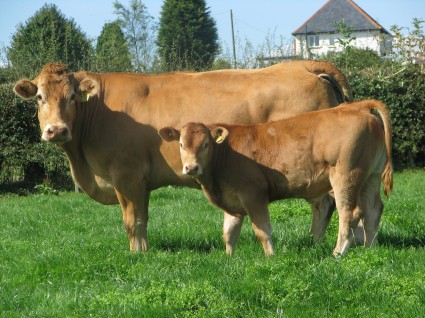 Showing is an activity which the Wildgoose Family enjoy, but they are usually too busy on the farm to take part. However, in 2013, their efforts were rewarded when one of their Limousin-cross heifers was awarded reserve place in the National Festival of Meat's Beef Ribs Competition held at the East of England Smithfield Festival.
The cows form two main groups, with calving mainly during the spring and autumn. Herd health is paramount and the cattle are vaccinated against BVD and leptospirosis, as well as being protected against respiratory disease at housing.
Creep feed is offered to calves from around nine-weeks-old and the growing cattle also receive a molasses meal, which has been used at Scarcliffe Hall for many years and which the family rates highly. The suckler cows are grazed and supplemented with maize silage at housing, with all the youngstock reared in the buildings. Weaning takes place at about 7-8 months.
Milky Females which calve consistently
Mr Wildgoose has a clear idea about the future direction of his herd.
"Our breeding policy is to keep the length and shape of our cattle, while selecting females which are milky and will give a calf consistently every year; some of our cows are 13 or 14-years-old and still performing well.
"The Limousin has done a good job for us over the years and we will stick with the breed, for as long as we have buyers who are prepared to pay a decent price for our cattle," he says.
FOCUS ON THE CUSTOMER – ROBIN MAYCOCK, BUTCHER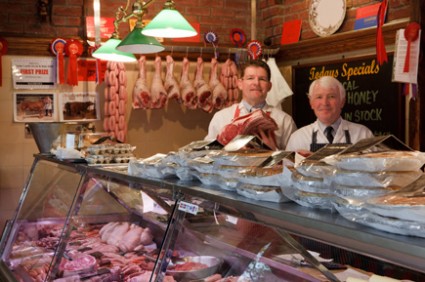 Robin Maycock is an award-winning, independent butcher who is also well-known on the show circuit as a livestock judge. All of the beef he sells in his shop, which is situated in the village of Holloway near Matlock, is supplied by Ian Wildgoose. The relationship between the two businesses spans almost 30 years.
"My customers are looking for traceable beef which tastes very good and therefore these are qualities I look for when I'm buying cattle," says Mr Maycock.
"The success of a village butcher lies in building relationships with customers and I like to get to know my suppliers in the same way, as it promotes trust. The Wildgoose Family know exactly what I'm looking for and it is an added bonus that they also grow feed and utilise their own straw.
Excellent conformation and meat in the right places
"For me, the Limousin has all the traits I require; it has excellent conformation, with meat in all the right places. I prefer heifer beef, as it tends to be closer-grained and has a little more marbling, compared with bulls and steers."