Feature on DR Owen & Son, Sandilands, Tywyn, Aberystwyth
A pastel shade of green might well be the preferred colour choice for most of the 700-plus luxury static caravans on the four sites a Meirionnydd-based farming family runs along the West Wales coast.
But when it comes to their cattle the first choice is most definitely rich gold – Limousin gold to be precise.
Quick-maturing, premium stores
As far as the caravans go, the colour helps to blend them better with the surrounding environment, but for the 500 or so cattle based around the Vaenol herd what matters more is meeting the demands of commercial buyers looking for quality stores that are quick to mature and command a premium on the hook.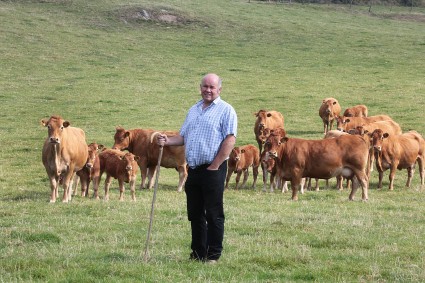 The Owen Family has been at Sandilands Farm, overlooking the sea on the edge of Tywyn, since 1938 with some of the land being requisitioned for military purposes during the Second World War.
While many of the wartime huts are still there today a great deal has changed in the way the largely sandy, free-draining, quick-to-burn ground – some of it lying below sea level – is farmed.
When Bryn Owen took over from his father, the system revolved around buying in store cattle from farms across Wales and beyond and finishing them. Now, just into his 80s, he still oversees the operation but with his two sons and two daughters all playing key roles in the partnership.
While Sian and Bethan look after the leisure side of the business, Geraint and Hugh are in charge of the farming activities – producing finished lambs from around 3,000 breeding ewes, as well as pedigree beef cattle and commercial stores.
"When I finished school and joined Dad on the farm we decided that we needed to take the cattle side of the business in a different direction," says Geraint.
Quality carcases quick to finish
"Because of the strong Holstein influence in the calves coming on to the market we were just not getting the type we wanted – those capable of producing a quality carcase and quick to finish.
"We came to the conclusion that the only solution was to breed our own calves and having taken a good look at what breeds were available in the early 1980s – and more importantly what they had to offer by way of performance – plumped for the Limousin.
Ease of calving and mothering ability
"Our main criteria was the ease of calving, a good mothering ability and a breed capable of producing well bodied store cattle that would command a premium in the market. The Limousin ticked all the boxes and we have not looked back ever since."
Indeed, the family certainly has not. Farming as DR Owen & Son, as well as two farms at Tywyn there are two others further south and across the Dyfi Estuary, near Borth, in the neighbouring county of Ceredigion.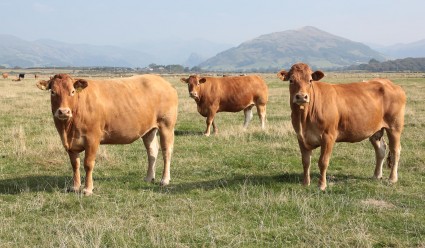 A little over 12 months ago, a fifth farm was also purchased around 40 miles away at Aberhafesp, near Newtown, in Powys.
"In all, with the additional 190ha (470 acres) in Mid-Wales, we are now farming some 635ha (1,570 acres) together with 80ha (200 acres) of rented ground as a family business which also involves the four caravan sites with up to 800 static holiday units and chalets, all of which are fixed on site with the owners paying ground rent and having access for 10 months of the year.
"We provide the site maintenance and it is a diversification enterprise which fits in very neatly with our farming activities," says Geraint.
"Sandilands is our main farming centre and having decided to start breeding our own cattle we began by buying Limousin x Friesian bulling heifers, before taking the plunge in 1986 to buy our first pedigree Limousin bull – Hengrave Vicar – bred by Abington Farms Ltd, a 1984 son of Favori and out of Fervente.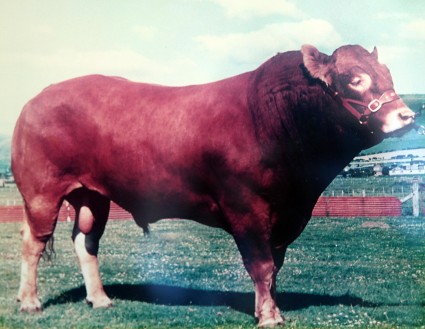 "We bought him in Carlisle for 1,800gns and used him on the crossbred heifers. The resulting calves were absolutely tremendous with fantastic hindquarters; and that decision has turned out to be one of our best ever moves.
"Hooked on the breed, we then bought a bunch of pedigree Limousin heifers at a breed sale in Shrewsbury and those first six purchases from a variety of herds marked the start of the Vaenol herd, named after our other farm near Tywyn.
"Other female purchases soon took our pedigree numbers up to the 20 or so mark and gradually by today we are up to 180 pure Limousin breeding cows and 20 commercials.
"Some 60 of the purebred cows are now forming the basis of a new herd being established with my brother at the Aberhafesp Farm.
"While that was previously a dairy unit, the milking parlour has since been sold off and we will be concentrating solely on cattle and sheep rearing.
"There are 2,000 Texel cross and Welsh Mule ewes at Sandilands and a further 1,000 ewes at Aberhafesp, all going to Beltex or Texel tups for lambing indoors in March, with the lambs being finished and sold live weight through Welshpool Market.
400 purebreds run commercially
"Taking the cows with the heifers and calves, our overall cattle numbers stand at around the 400 mark, with many of the purebreds tracing back to our original female purchases and Vicar.
"I really cannot stress enough just what an excellent job he did for us. In fact, it was purely down to the strength of his calves that we have concentrated on the Limousin breed. He was still fathering calves at nine years old and lived until he was 11."
Other bulls used since have been Wilodge Jester, a son of Uplands Batman; Bailea Nobel, who was by Greensons Gigolo; and Brontemoor Stan the Man, sired by Haltcliffe Olympus.
Currently being used is the 13,000gns Procters Drogba, a Greenwell Ronick son, and other purchases have included Craigatoke Highandmighty, bought for 9,000gns at Carlisle in May 2013, and Millgate Derry at 20,000gns in May 2010.
Half of the cows calve in the spring and the other half in the autumn, with the spring-born ones being sold off grass in October and November the following year. The autumn-born calves will have two winters indoors before being sold in April and May.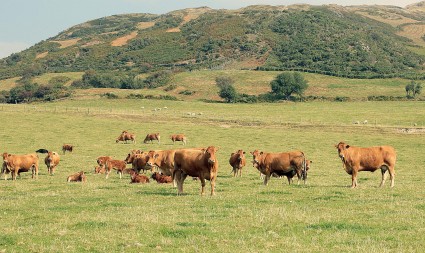 While around 40 cows stay out over winter, the rest are either loose housed or kept in cubicles and while indoors get nothing but home-made clamp or big bale grass silage, while the calves have access to a bought-in creep feed until weaning.
Only around 60 selected females a year are registered, with all the other calves being reared on for the commercial market for selling as 16 to 17 month old stores weighing 500 to 550 kg and in keen demand through both Welshpool and Dolgellau live markets in batches of 30 to 40. A few are also finished.
Regular store cattle buyers
"We find that many of our buyers who come from as far afield as Scotland are regulars so we must be producing the type of store cattle finishers are looking for," says Geraint.
Because there is also a strong demand for potential show cattle from dedicated commercial section exhibitors every year a small number of pure Limousins are put to a British Blue bull to produce the type of black Limousin-cross highly favoured by some judges and over the years there have been some notable championship successes – albeit in someone else's hands.
"The competitive spirit among commercial exhibitors is so strong these days that in order to win an animal has to be really superb – and that is what we try to produce across all our calves," says Geraint.
"When we buy a bull we look for size, growth rate, muscle and good hindquarters and, though we also look at the performance figures, shape and appearance are the key necessities for us. In other words, he has to have a well-developed body on him and look like a bull.
Width, growth and conformation
"In all our cattle we are looking for all-round good conformation, width and excellent growth potential. That after all is what commercial buyers want and what sells well in the market place."