Commercial feature on the 1,000 strong Limousin suckler herd, featuring 35 Limousin stock bulls, of the Alexander family, Mains of Mause, Blairgowrie, Perthshire.
Scottish Beef Association 'Beef from the Hills' event to be hosted at Mains of Mause on 27th May.
This year Scotland's Beef Event run by the Scottish Beef Association on 27th May will have the theme of "Beef from the Hills" and it could not have found a more appropriate venue than the Alexander Family's Mains of Mause Farm on the outskirts of Blairgowrie, Perthshire.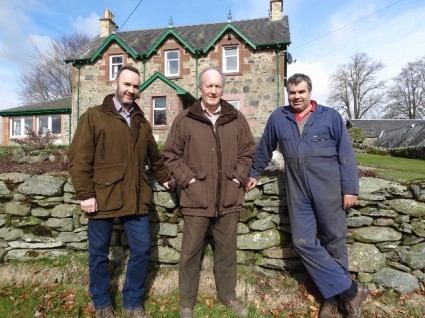 Mains of Mause is just one of four units farmed by Peter, Pat and son Murray, but they are quick to make light of the fact that they farm around 15,000 acres, as around one-third of that is ungrazeable hill rising to 3,000 feet above sea level and bordering Scotland's largest ski centre, Glenshee.
Stocking consists of 2,000 Blackface and Scotch Mule ewes and 1,020 Limousin cows, the largest commercially-run Limousin herd in the UK. There are also 35 Limousin stock bulls. Peter has never regretted his choice of breed. He says: "The Limousin is the ultimate dual-purpose breed. We breed all our own replacements and have a good quality finished article to sell."
The current cattle enterprise began in 1995 with 40 crossbred heifers bought at Oban Market. Peter explained, "In the 80's we sold all the cows and increased sheep numbers to 4,000, but then we introduced a cattle finishing enterprise and saw the potential in breeding our own calves so we bought some crossbred Limousin heifers."
At this time, they also purchased Newhouse Nougat from Drew and Bob Adam at Newhouse of Glamis and from there they never looked back.
Quality Limousin bulls have been critical to the success of the suckler herd and Murray said, "Newhouse Nougat cost £12,000 but was worth every penny as he produced excellent foundation stock. We can justify paying five-figure prices for stock bulls with good maternal traits as their daughters are retained in the herd."
Most of the stock bulls in the past have been bought either from Newhouse or from the Grahams at Airthrey Kerse and Peter prefers to trust his own judgement rather than relying on figures. He does, however, visit the farms and insist on seeing the female lines of a bull before going to the market to buy it. He said, "We like to buy bulls out of milky cows because our priority is the female qualities of milk, temperament and feet."
Newhouse Nougat and Grahams Trooper have been two of the most influential bulls in the herd, and Grahams Dynamite, which was the most expensive they have bought at 21,000gns in 2010 has also bred well. They have also ventured into black genetics. Peter explained, "We were needing a bull to outcross some of the cows and we had the opportunity to buy the first black bull to come into the country after he was finished with the pedigree herds. We have been very impressed with the progeny from Greenwood Black Poll Home Run and around 50% of the herd is now black."
More recently-purchased bulls, selected for milk and temperament, used on the herd at the moment include Haltcliffe Gary, Elrick Falcon, Roxburgh Hoodoo and two black bulls, Swarland Black Generator and Newhouse Black Frisky.
While buying top-quality bulls will remain an important part of the business, there are changes afoot, with Peter and Murray planning to use AI for the first time. Peter said, "We have semen from Nougat and other good bulls we have used in the past such as Trooper and Home Run; it will be good to bring some of these genetics back into the herd."
They have high hopes of a successful AI programme through the French precision farming and monitoring company, Medria. The system involves a base station and collars on cows which send signals to a mobile phone of the optimum time to inseminate. The system should also make the stockmen's lives easier as, by inserting a thermometer into the cow or heifer, it predicts calving and sends a text to the phone 48 hours before. It also sends a signal when the thermometer is expelled with the amniotic sac to warn the stockman that calving has started.
Peter said, "We have never had the confidence before to AI but I believe this is the way forward; we have to embrace new technology. We plan to use the calving detector on heifers and late calvers initially."
Another innovative practice which the Alexanders have adopted is to measure the pelvis of their heifers. They have always worked closely with vet Graeme Richardson from the Thrums practice at Kirriemuir and the herd is BVD accredited and virtually Johne's free. The latest plan to maintain ease of calving is to measure the pelvis of heifers at 14 months before they go to the bull. Anything which is too small will be sold through the fat ring. The first heifers to go through this procedure will calve in October.
The vast majority of the cows calve in the spring with only about 100 calving in the autumn; only the heifers calve inside. While the cows summer high-up on the hills, the majority are out wintered on the various farms. Each farm is self-sufficient in pit silage. Feeding is done in Peter and Murray's designed feeding stances where the concrete feed passage is covered, virtually eliminating wastage from their home-grown diet of silage, straw, barley and beans. They are kept in batches of up to 160 and have free access to stubble fields for exercise.  This eliminates bedding and dungs the field, thus keeping costs down.
For the last few years bullock calves have been sold at a special one-day sale at Forfar Mart in April. Murray explained, "We have enough housing for our young stock over the winter, but grazing is in short supply in the summer so in April we sell our most marketable product, which is the bullock calves."
Last year, 340 yearling bullocks weighed an average 410kg and sold for an average 259p per kg, or just over £1,000 per head.  Murray said the buyers commented on the quality and consistency of the large batch of calves. Most of the customers are repeat buyers and the majority of the calves head north to finishing units.
The remainder of the bullock calves and heifers not retained for breeding are finished at 18 to 20 months and sold to Scotbeef at Bridge of Allan. Steers average 350kg deadweight and heifers 330kg and the majority are U grade with a smattering of E's.
Good staff is key to the farming operation; Peter himself looks after the 1,100 sheep at Mains of Mause, while Graeme Hadden is responsible for 330 cows. Further up the glen at Persie, Fred Baker looks after 160 cows and 500 ewes.  At Baldarroch, closer to Perth, Ian Wilkinson, who cares for 240 cows and 700 ewes, has been with the Alexanders for over 20 years and he has his own Redstroke Limousin herd. The most low-lying farm, Douglasfield, is where Murray lives and where most of the barley and beans are produced. There are 290 cows there looked after by Stephanie Rainey with the help of student Lucy Christie. Greg Wilkinson is responsible for the arable side and Tom Baker is returning from 6 months in Australia to be part of the team. Apart from some extra help at lambing, that is all the staff on the farms.
From their experience of feeding and handling systems, Peter and Pat developed a building business thirty years ago which is based on the farm. Algo, now under the directorship of Murray, is responsible for many farm buildings, industrial and storage units in Scotland including Lawrie & Symington's new market at Lanark and the  Highland Hall at the Royal Highland showground.
Murray left school at 16 to come home to work on the farm, which he enjoyed, but after five years, his father had other ideas for his future.  Algo had just been awarded the contract to build Oban Market, so Murray, along with a couple of others, was sent to Oban on a one-way ticket and told to come home when the new market was finished – quite a contrast from farming – but with a successful conclusion.   That was the start of Murray's involvement with Algo and over the years he has experienced all trades and now, with Peter's encouragement, he manages the business, including 36,000 square feet of letting office accommodation in Perth.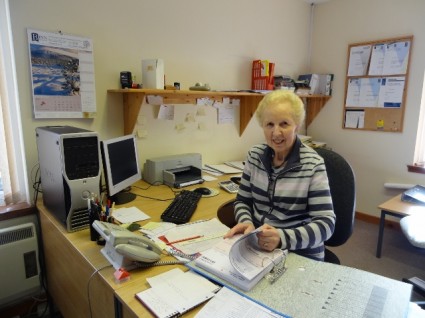 Peter, Pat and Murray are no strangers to hosting events at Mains of Mause; in 2002 they held Scotsheep, then in 2004 they had an Open Day for the International Limousin Congress. More recently they welcomed the British Grassland Society to an Open Day. It is the ideal farm to host Scotland's Beef Event with a focus on reducing costs and maximising returns from a hill suckler herd by utilising all the latest technologies.
Although he is hosting it, Peter said the aim is to hand the organisation of Scotland's Beef Event over to the younger generation who see their future in beef production. He said: "We will be five months into the new Common Agricultural Policy at the time of the event and Chairman Robert McNee will lead a team of enthusiastic younger farmers with new ideas to demonstrate how beef production can be made profitable and the relentless downward trend in suckler cow numbers in Scotland reversed."