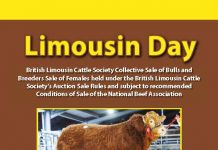 Newark Sale Limousin Sale at Newark Saturday 21st April 2018 Show at 8.30am Sale at 12.00pm at Newark Livestock Market 246 Head of Cattle Comprising: 56 Pedigree Limousin Veterinary Inspected Bulls 64 Pedigree Limousin... South Wales and Mid West Limousin Breeders Club Club Report 2008 The prominence of the Limousin in the cattle population of Wales continues to gain momentum...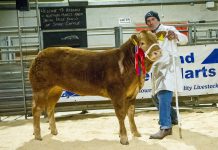 Hexham & Northern Marts held their Special March Prize Show and Sale over the 8th and 9th of March. The prize show was held...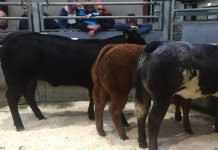 Once again, across Northern Ireland the autumn season saw several suckled calf shows and sales run by the Northern Ireland Limousin Cattle Club in...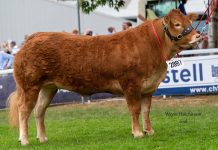 Limousins ruled in the Supreme cattle placings at Brecon County Show held on Saturday 4 August at The Showground, Watton, Brecon. Fresh from success at the... Herd Competition Results Small herd Stephick - Stephanie Dick Aultside - Garry Patterson Joint 3rd Ritchies - Aileen Ritchie & Eagleside - Tom Illingworth Medium Herd Lodge – WI &...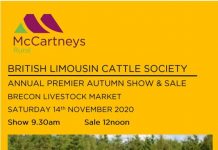 The BLCS Society sale is to held on Saturday 14th November at Brecon Livestock Market. To view the official catalogue click below Brecon Limousin Catalogue 14... 99% Clearance Rate  Sale grosses £196,087  An evening sale of Limousin females held at Carlisle's Borderway Mart on Friday 17th February met with a lively demand... SOUTH WEST MULTI BREED SHOW & SALE Thursday 7th October 2010 A catalogue of 516 pedigree cattle were entered for the South West Autumn Multi-Breed Pedigree...
Results from calf show 25/10/15 Bull 1st Oct 2014 to 31st Dec 2014: AMC Eddy's Treloweth Johno Bull 1st Jan to 28th Feb 2015: Mr &...
.... with the black heifer Towthorpe Geisha (lot 23) selling to Andrew Ewing for 4,100gns.   Worth the trip over from Northern Ireland Frewstown...
With only 23 per cent of sires currently registered on passports, AHDB Beef & Lamb is urging farmers to start recording to improve profitability...
48 Bulls average £3,201 - Averages up £656 - Eleven bulls over 4,000gns 35 Heifers average £1,743 (+£330) – Cows & Calves average £2,488 Total...