11 lots make 3000gns or more  The March 2013 born Wilodge Inform from Christine Williams, T/A DA Williams, Lodge Hill Farm, Shifnal, Shropshire made 7500gns...
The latest BLCS Magazine should by now have arrived on your doorstep.  67 pages packed full of news around the UK's No 1 Breed....
The BASCO system will be down due to maintenance from 9am on Thursday 25 August.  It is anticipated that it will be unavailable all...
Corsairtly Harley Top Price 5,000gns 20 Bulls Average £3,554 Corsairtly Harley from Messrs R & K Davidson, Corsairtly Farm, Keith, Banffshire secured the leading price of... Small Herd 1st                   Alagils                        Mr A & Mrs G MacNab 2nd                  Windsole                    Mr W Lawson 3rd                  Fodderletter            ...
Trueman Jukebox also wins Interbreed and Beef Stakes titles The Northern Ireland Limousin Championship held at Antrim Agricultural Show, Shanes Castle on Saturday 25th July,... N.I. LIMOUSIN BULLS TAKE TOP 4 PLACES IN I.A.W.S ALL- IRELAND BULL DERBY William Smith wins Ulster Bank Heifer Derby for Second Year Exhibitors, the Irish...
Bulls sell to 5,000gns for Tomschoice Hurricane A sale on behalf of the East Midlands and North West Midlands & North Wales Limousin Clubs held...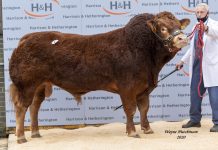 Female Sale - Friday 15 OctoberA sale of 87 pedigree Limousin femalesIncluding the Breconside herd dispersal sale, a sale of calves...
South Eastern Limousin Cattle Club Club Report 2006 The South East Limousin Cattle Club started the year with the AGM, held at the Blue Anchor, Bindley...
Columbpark reduction sale hits 3300gns The four year old stock bull Fieldson Guna sold for 5000gns and topped the dispersal sale of the Broadoak Herd...
It was a near full clearance of the bulls coming forward for sale at the British Limousin Cattle Societys Spring sale at Brecon Livestock...
4,200GNS KILLYDUNN OZZY TOPS DUNGANNON LIMOUSIN SALE 14 bulls average £2,820 Bulls - 82% clearance rate Females - 82% clearance rate 9 females...